As founder and CEO of Inpower One, a China-based management consulting firm with global scope, Dal alum CINDY JENSEN (BComm'84) embraces her fast-paced life in Beijing.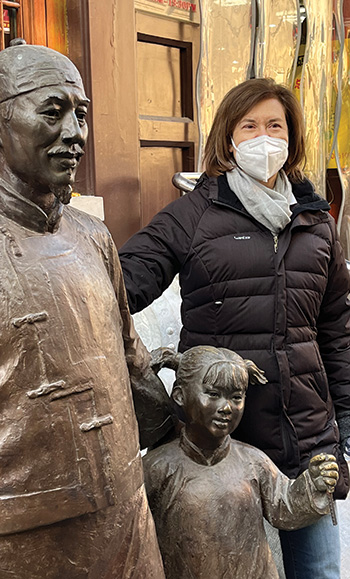 6 A.M. I use this time to exercise my mind and body before my day starts. Today, I choose Pilates.
7 A.M. My mornings always include coffee with my husband, Scott. It keeps me grounded. There's a creative component to the work I do, so it's great to bounce ideas off him and to get a new perspective.
8 A.M. I'm working toward a master's in applied neuroscience, so I dedicate time to that each morning. It's demanding and intensive, but exciting. It helps set me up for my workday.
10 A.M. I'm at the office and check in with some clients over WeChat. They're keen to get together today to discuss new ideas I have. It's that spontaneity that excites me. Clients here are incredibly responsive and accessible. There's a real agility in the work done in Beijing.
12 P.M. I stop at a restaurant near my office for some dumplings, a favourite of mine. I enjoy chatting with the restaurant staff, which allows me to speak Chinese. We moved here over 20 years ago for Scott's work, which was only supposed to be a three-year plan, but we loved it and decided to stay.
2 P.M. I'm leading virtual meetings at the office. We work with clients all over the world, so time zones are a factor. This afternoon we'll be chatting with clients in Germany and later in the evening, with clients in Brazil, each about how we can support them in change management projects and a global IT rollout. I love the idea of co-design, of combining forces to come up with solutions.
6 P.M. I'm heading home and look forward to reconnecting with Scott and having our daily call with our daughter, who is working in Amsterdam. Scott is the cook in our family, it's a real passion of his. Tonight, he's making garlic prawns, salmon fish cakes, and steamed clams, alongside fresh vegetables, toasted French bread, and red lentil soup.
7:30 P.M. After dinner, we walk round our village. We live in Beijing's business district of Chaoyang. There are always people outside cooking, walking, talking, and sometimes even dancing. It's stimulating. The community always feels so alive.