This article is part of a series focusing on the grads of the Dalhousie Class of 2023. Spring Convocation runs from May 29 to June 7 in Halifax and Truro. Read all our profiles here as they are published, and for more information visit the Convocation website.
Giving back to the community is a core value for Ethan Eastwood, a recipient of the coveted Schulich Leader Scholarship, who is graduating this spring with a Bachelor of Science and combined honours in physics and mathematics. As the next chapter unfolds, the 20-year-old from Williamswood, N.S., is passionate about learning, giving back to his community and knows a thing or two about batteries.
In 2019, Ethan was awarded the Schulich Leader Scholarship, and was among 50 incoming undergrads recognized at universities across the country. 
Launched in 2012, the Schulich Leader program funds scholarships for the most promising incoming science, technology, engineering and math (STEM) students at top universities in Canada. At Dal, the scholarship provides $120,000 to selected incoming engineering students and $100,000 to selected students entering a science, technology, or math program.
"The Schulich Leader Scholarship has allowed me to focus completely on my studies. I could devote all my time to pursuing studies in math and physics," says Ethan.
An early passion for STEM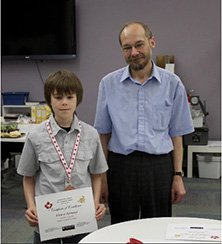 Ethan's curiosity for STEM, began at a young age. He developed a passion for math and learning as a participant in Nova Scotia Math Circles, a Dalhousie-based program designed to get children enthused about mathematics.
As an active participant in Math Circles for over eight years, the program fueled a passion for learning and exposed him to the possibility of studying at Dalhousie.
"Before Dal, I participated in the Kangaroo Math Competition and Nova Scotia Math Circles, where I met Dr. Dorette Pronk, a professor in the Department of Mathematics and Statistics. Dorette was someone who was always there — even before I started at Dal," says Ethan.
Giving back to the community

Growing up, Ethan was devoted to helping his community. Prior to Dal, he volunteered at the local food bank, refereed and coached junior hockey and spent his summers as a camp counsellor. 
"I was invested in being a leader in the community," says Ethan. "My biggest leadership accomplishment was volunteering at a Malagash Bible Camp. I learned a lot of valuable leadership skills throughout this experience."
Working in his local community, specifically at the local food bank, demonstrated how a small amount of work can significantly impact vulnerable people in his community. 
Battery research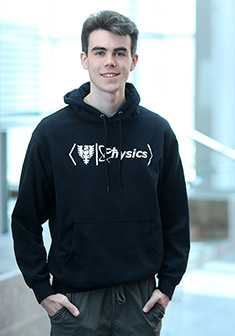 At Dal, Ethan experienced many unique research opportunities. His most memorable was working with Dr. Jeff Dahn, recognized as one of the pioneering developers of the lithium-ion battery. Since his second year, Ethan has worked with the Jeff Dahn Research Group and made significant advances in battery research.
"This year, I've been doing research on cooking batteries. This is basically high-temperature experiments," he says.
Ethan and his colleagues have developed batteries and tested them in an Autoclave cycle — where they baked batteries for approximately 40 minutes in an oven and then repeated the process. 
"We compared the batteries we created in the Dahn Lab with industry batteries that we purchased from reputable companies, used for high temperatures. We found our batteries performed much better than the ones we purchased," he says.
How does this impact the public? He explains, "This research can be good for so many people. For example, someone with a hot electric vehicle down south, the sanitization of medical equipment — pretty much any situation that batteries that are used in a high-temperature environment." 
Ethan credits Dr. Dahn as being one of his most influential mentors in the Department of Physics & Atmospheric Science.
"Many academically gifted students have little practical work or research experience. Ethan worked in our lab for a summer and then as an honours project student. I believe this experience has helped Ethan become a student with a broader range of experience and hence become more attractive to employers or to post-graduate programs at leading universities," says Dr. Dahn.
What's next after Dal?

As Ethan's time at Dal wraps up, he reflects on being home-schooled by his parents. "It allowed me to pursue what I enjoyed and taught me the skill of hard work. This was one of the big things that came out of being home-schooled. It's also because my parents were great teachers." 
Ethan plans to take a year off before pursuing his next adventure.
"Eventually, I want to complete my Masters, but I want to keep my doors open. I'm hoping to find a position that relates to my research in the city."