This article is part of a series focusing on the grads of the Dalhousie Class of 2023. Spring Convocation runs from May 29 to June 7 in Halifax and Truro. Read all our profiles here in one place as they are published, and for more information visit the Convocation website.
A chance to listen, learn, network and grow was all Agricultural Business graduates Rachel Sheffield and Gabby Schenkels needed to know before applying to attend the Advancing Women in Agriculture Conference this past March in Calgary, Alberta.
The conference is created for women who want to enhance their family life, community, and career and matches students from agricultural degree and diploma programs across Canada with companies looking to invest in future leaders.
"The opportunity was shared with us by a professor we both respect and admire, who encouraged us to use this as a chance to build our networks as we enter a new stage in our careers upon graduation," explained Gabby.
The women were sponsored by the Credit Unions of Alberta and Agriview Ltd, as well as Dalhousie University for travel costs through the Haley Memorial Fund.
"Neither of us had been out West before and we were excited to get the perspective of Western producers," added Rachel. "The travel opportunity appealed to us as well, as we will be graduating into a very demanding field and experiences like this will be harder to come by. We were so glad we got to travel together and have this great experience in our final year at school together."
Over a period of three days and addressed by Federal Agriculture Minister Marie-Claude Bibeau, Rachel and Gabby learned about financial management and independence, career planning, goal setting and much more.
"This event gave me a new perspective on the many different roles and perspectives women have in agriculture," said Rachel. "All the women who spoke at the conference had a different story and had to find their own path with the support of others. It opened my eyes to how big the reach of the agriculture industry really is, and how there are so many places we can reach out to for support as we start our journey."
A vital space for women in agriculture

Both had a chance to connect to alum Kyla Ripley, (Class of '93) general manager of Carlo Genetics in Manitoba, who was also a speaker at the event.  A Dalhousie Ag Campus graduate with a BSC in Agriculture and Animal Science, Kyla has a real passion for the hog industry.
The Advancing Women in Agriculture Conference offers a unique and essential opportunity for women.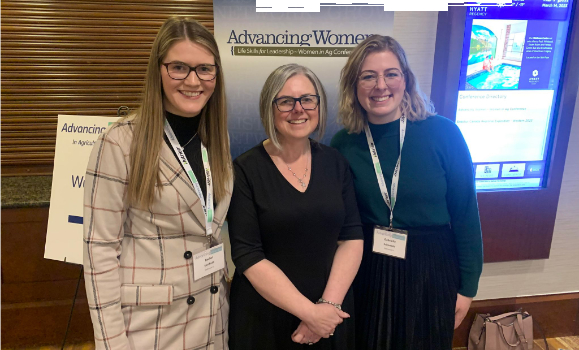 "The experience of being together with hundreds of other professional female agrologists in one space, learning from each other and making connections to last a lifetime is very powerful and hugely impactful," explained Kyla, shown above centre with Rachel, left, and Gabby. 
"As a graduate of the Faculty of Agriculture in 1993, there were not many women in leadership roles in agriculture to model," she added. "This conference is so vital in filling that need. To show brilliant young women like Rachel Sheffield and Gabby Schenkels at the start of their careers, the sky is the limit is the goal of the many presenters of the conference from entrepreneurs to business leaders to politicians. I was so proud to see Dal students there and hope more will attend in the future!?
After graduation on Monday, May 29, Gabby will continue to contribute to the fight against climate change with her position at the New Brunswick Soil and Crop Association as their Northshore Agro-Environmental coordinator.  Rachel has returned to the family farm, Wilmar Acres Ltd., in Annapolis Valley. 
"I learned so much from the other students that were sponsored at the conference, we had a networking event just for us at the beginning and it really helped us connect," added Gabby.  "Even though we're across the country from each other, we all share in our passion for agriculture and have exciting goals for how we want to contribute to it. I learned how women play so many different roles in agriculture, and that considering ourselves just one thing doesn't do us credit. We are women, but we are also farmers, researchers, entrepreneurs, caretakers, and more."
AWC East will be held in Niagara Falls, Ontario, November 19, 20 & 21, 2023.