So, you have an idea you think can improve the world? An innovation that can help people in their lives? Don't keep it to yourself, especially when it could earn you a trip to Berlin to share it on the global stage at the Falling Walls Lab competition.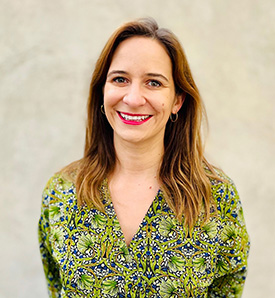 With the deadline to enter Dalhousie's regional competition fast approaching on June 21, we ask Lara Elena Kadegge of the Falling Walls organization in Germany, to make her pitch for why students and alumni should take the plunge.
Sure, there's the chance to win a flight to Berlin, the free accommodation, and registration for the Falling Walls Science Summit 2023, where you'll mingle with Nobel Laureates and other global thought leaders. But for Kadegge (shown left), it's really about the "once-in-a-lifetime" chance to take their ideas to the global stage.  
Why should students and young professionals consider competing in the Falling Walls Lab pitch competition?
Falling Walls Lab is a once-in-a-lifetime opportunity for students and early-career professionals to share their research and ideas with the world. By participating in one of the many international Labs worldwide, innovators not only develop their communication skills and drive their innovations, but also join the global Falling Walls Lab network of aspiring changemakers who want to break down walls in science and society, all while competing to win a ticket to the prestigious Falling Walls Science Summit in Berlin.
A celebration of breakthrough ideas, the Science Summit is a fantastic networking opportunity where Lab winners gain international recognition for their research. During the Falling Walls Pitches Day on 7 November, Lab winners present their research in front of a high-calibre jury and global audience. Throughout the Summit, participants connect with other scientists, investors, policymakers, and Nobel laureates, making connections that will last a lifetime. Breakthrough winners additionally receive a cash prize and get to present their winning pitch on the Falling Walls Breakthroughs of the Year stage on 9 November.
Potential competitors may be nervous their idea isn't bold or revolutionary enough. Can you put into perspective what Falling Walls expects and why the curious should take the plunge?
Our understanding of a breakthrough is an idea, a research project, a business model, or a social initiative, which is at the same time original/new, innovative (overcoming old ideas and concepts), and relevant to the problems of the world today. This means that your breakthrough could be a project you have already implemented, a research topic you are currently developing, or a business idea yet to be realised. Our jury members appreciate authentic presenters with a clear vision and proof of concept.
For some participants, their Falling Walls Lab pitch is the first time they present their idea to a larger audience. Experiencing an international Lab is a great experience that expands one's network and creates confidence on stage. Receiving tailored pitch advice from other presenters and questions from a diverse and interdisciplinary jury can help to improve one's pitch and science communication skills, which is of utmost importance for every scientist, even beyond the lab.
Lastly, applying to and participating in a Falling Walls Lab is free! Why not take the plunge?
Participants only have three minutes to grab the attention of the judges and audience. What makes a perfect pitch?
Three minutes is all it takes – an elevator pitch is a brief, persuasive, and memorable speech that sparks the interest of the audience and takes them on a clear and logical journey. The jury uses three criteria to evaluate presentations: the breakthrough factor (how innovative is the proposed idea?), the relevance/impact (how relevant is the idea to the discipline and beyond?), and the performance (how convincing was the pitch?). A tip that never fails? Focus on the solution, not on the problem!
Pitching takes practice and presenting the pitch in front of different audiences brings in new perspectives. Be creative – previous winners have pitched their ideas in front of friends, family, or even in pubs in front of an anonymous audience prior to the Lab! Watching previous winners' pitches in the Falling Walls content library can inspire presenters and help them gain a better understanding of the required format.
What will the winner of Dalhousie's Falling Walls Lab Atlantic Canada experience?
During their time in Berlin, Lab winners take part in an exclusive extended programme, which includes a networking dinner, expert workshops, and other events hosted by prominent German research organisations and one of the world's leading global research, educational and professional publishers, Springer Nature. 
The journey continues after the Summit, as Lab winners become part of the global alumni network. Falling Walls Lab offers a range of different events and formats for the alumni community, including summer schools, virtual cafés, and mentoring opportunities. These events provide participants with the opportunity to widen their network, find new ways to collaborate with peers, improve their science communication skills, and foster their expert knowledge.
Is there potential for competitors with innovative ideas to make connections that could help bring them to life?
The Falling Walls Science Summit offers many great networking opportunities and can be a real steppingstone for Lab winners. The Science Summit attracts many investors, sponsors, and entrepreneurs from around the world, who are always on the lookout for new talent. A range of networking events, such as Braindates, provide great opportunities to make important connections during the Summit. Furthermore, some winners get interviewed by the international press, and many Lab projects can be found in newsletter articles after the event.
Past Lab participants have reported that the Summit provided them with important contacts for their research, that they received invitations to speak at universities around the world about their research, or that the Summit provided them with the credibility needed to raise funds for their start-up.
Lab winners also receive international exposure beyond the Summit, as the finale is livestreamed around the globe and their pitches are made available online in the Falling Walls content library after the Summit.