Since Dr. Rachel Ollivier (PhD'22) graduated from Dalhousie's School of Nursing, she has dedicated herself to continuing her research on women's sexual health after birth.
Now, Dr. Ollivier has received a Top 25 Women of Influence award which acknowledges the unique achievements of diverse women representing various sectors, career stages and contributions to the advancement of women.
Dr. Ollivier says she was inspired by her grandmother and the impact she had on patients as a volunteer pastoral care provider in Calgary for over 25 years. After her undergrad, Dr. Ollivier came to Dal, "in large part due to the individual support [Dal] offers." She adds, "I had a particular interest in working with Dr. Megan Aston given that she and I had matching research interests, including global health and maternal health. That combination was the perfect match and Dr. Aston took me under her wing before we even met."
Alongside Dr. Aston, Dr. Ollivier was also inspired by her other co-supervisor, Dr. Sheri Price. Dr. Ollivier worked in several research assistant positions and assisted professors in Tanzania with maternal health research as part of the Queen Elizabeth Scholars program. After building connections across campus, she worked with Dr. Justine Dol and a team of researchers on two systematic reviews, one looking at the timing of global neonatal morbidity and mortality and the other on maternal morbidity and mortality.
Diving into her passion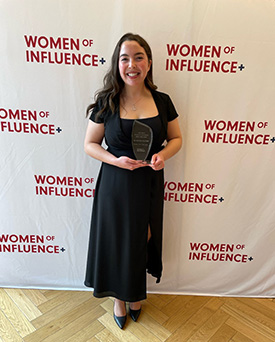 Dr. Ollivier was inspired to do her research because, she says, "We didn't have a lot of research on sexual health after birth that specifically looked at sexual health in the context of a more holistic approach."
This meant not only seeing sexual health as sexual activity but as something emotional that connects physical, social and relational aspects—something that is complex and interwoven with physical health issues and mental health issues postpartum. As part of her work at Dalhousie and on the gynecology unit at the IWK, Dr. Ollivier created the first patient educational tool in Nova Scotia on sexual health after birth, ensuring that it was relevant and useful for patients while also using gender-affirming language.
Dr. Ollivier has always strived to empower women. "Women are strong and resilient, and I think through research we're just uncovering or shifting the discourse that exists around women's health issues," she says. "That is my little part to play in the grand scheme of things by opening these conversations. Not only should women feel supported around postpartum sexual health, but we need to shift the conversations, taboos and myths to reflect more authentic experiences that reflect people's lived truths." She goes on to say it's important to approach women's health research in ways that advocate for improved care and that also uncover what women have always known to be true.
Dr. Ollivier serves on the Board of Directors for the Canadian Association of Perinatal & Women's Health Nurses, a non-profit organization that provides leadership in perinatal and women's health to promote quality care for Canadian women and their families. She is the youngest member of the board and is excited to learn and collaborate with the other members from across the country.
Message to the next generation of nurses

"If people have a certain area of interest, passion or lived experience that they can share to help contribute to health care, we need that personal piece," says Dr. Ollivier. "There is always room for new ideas and approaches, and I commend folks who are driving that change."
While discussing the Top 25 Women of Influence award with Dr. Ollivier she shared, "It is such a profound honour and it's a testament to the mentorship I've received throughout my career. I've been so fortunate and with the people who have been recognized in previous years and this year, I'm speechless. It's an absolute honour to stand beside them. I have a lot of people to thank, I stand on many shoulders.")