A Global Game Jam held in Nova Scotia earlier this year revealed just how much pent-up demand there is in the province for opportunities to experiment with video-game development.
More than 200 people showed up at locations in Halifax, Yarmouth, and New Glasgow to participate in the hackathon-style event, which challenged teams to build a game in less than 48 hours. It was the first in-person Global Game Jam post-pandemic.
"We ended up having the third largest event in Canada and created more than 40 games," says Emily Fenton, manager of ShiftKey Labs in Dal's Faculty of Computer Science, of the February event.
ShiftKey partnered with the Faculty and its HCI4Good lab as well as local industry players Ubisoft and Code Ninjas and non-profits SuperNOVA and Ignite Atlantic to host the event.
"Global Game Jam is a worldwide hackathon-style event that aims to give people around the world the chance to experience being a game developer," says Fenton. "The event is strictly non-competitive — it is about learning, experimenting, taking risks and is perfect for all skill levels."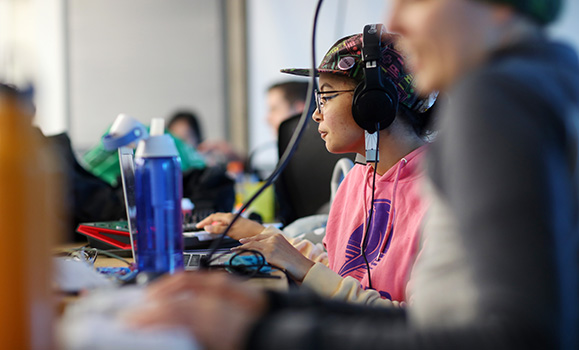 The event is comprised of two categories, Game Jam Next, which is for gamers aged 8-17, and Global Game Jam for gamers age 18 and over. The Nova Scotia sites were one of the few to host both categories.
There were participants from 108 countries, over 800 sites, and 40,000 participants across the globe.
"The theme of this year's challenge was roots, and we saw lots of creative interpretations of the theme during our events," says Fenton. "Teeth, hair, family trees, underground, and plants, to name a few."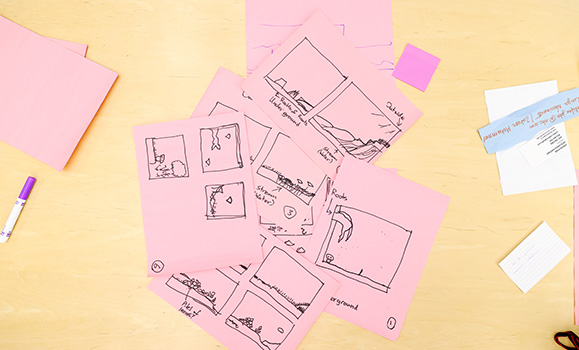 An exciting new venture

Collaborating on Global Game Jam aligns strongly with ShiftKey's mission to give Nova Scotian students the tools and connections they need to foster entrepreneurship and find meaningful careers in innovation, technology and computer science, says Fenton.
But the event needed an expert in the field of gaming to be a success. That's where Dr. Rina Wehbe came in.
The entire weekend came about after a proposal by Dr. Wehbe, an assistant professor in the Faculty who researches game design for social good and education. Dr. Wehbe championed the event early in the academic year, finding collaborators in the faculty and industry to bring this event to fruition.
"I think this presents a lot of opportunity to understand how people learn and engage with computer science educational materials through the design of games," says Dr. Wehbe.
Dr. Wehbe, shown above with students, says she was eager to bring Global Game Jam to Nova Scotia for a variety of reasons, including the importance of using extra-curriculars as a method of teaching and engagement.
The event also presented the perfect opportunity to directly connect students with professors and industry stakeholders to learn and network for future career opportunities.
Most importantly, Dr. Wehbe stated, "My research is about games, I understand the importance of games as a method for research, education, teaching and really an underestimated form of art."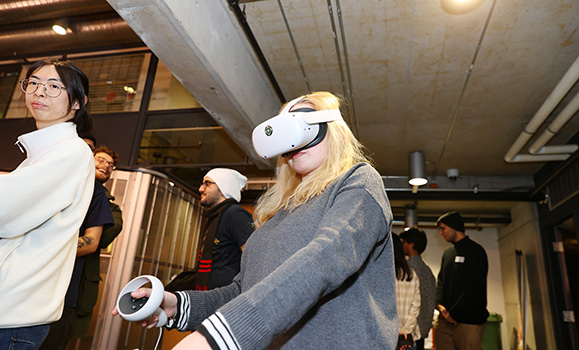 Building a supportive tech community

ShiftKey held a series of workshops in the week leading up to the Jam, led by game developers at Ubisoft (makers of the globally popular Assassin's Creed game) and computer science faculty members, with Code Ninjas, WiTS (Women in Technology Society) and SuperNOVA assisting.
They were also there on the ground during the live events to assist students.
"It was great to have real game developers assisting the Game Jammers throughout the event," Fenton says.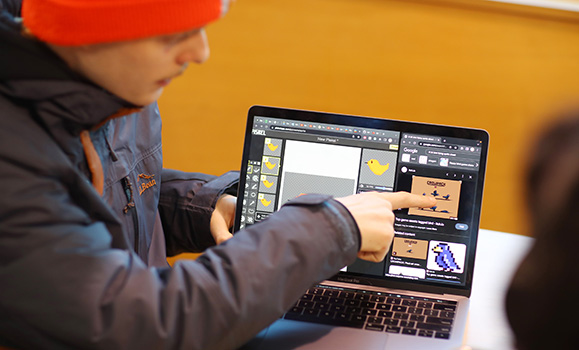 Bringing the tech community together in new ways has many benefits.
"It is a way to promote equity, diversity, inclusion, and accessibility amongst our students," says Dr. Wehbe.  "We can see a wider range of skills and talents needed in the world of games, not just coding, design and art, but also level design back end and front engine UX UI, all of these things are necessary."
With Dal's Faculty of Computer Science growing rapidly, faculty and staff have been looking for more ways to expand extracurricular offerings. Tie this in with being at the centre of Nova Scotia's booming tech industry and you have the means to generate a lot of excitement for the future computer scientists in the province.
"For ShiftKey, it was a great chance to fulfill many of our goals at once," says Fenton. "Connecting with students across the province, facilitating the growth of student networks within private industry, and helping students explore the career options open to them as computer science students. Not to mention how rewarding it was to see the creativity and hard work that went into the games they created!"
Both Fenton and Dr. Wehbe are optimistic about the future of Global Gam Jam and already have plans underway to make next year bigger and better when the event is held at the end of January 2024. They'll look to involve even more industry stakeholders and provide a bigger space to allow for more participants and plans to increase pre-training opportunities for students.
Check out and play the games that were made by the Global Game Jam participants.
Dr. Wehbe currently has opportunities for researchers under her supervision. If you are interested in learning more, visit her profile page on Dal.ca.