Fourth-year acting students at the Fountain School of Performing Arts take the stage for their final Dal performance this week in a brand-new adaptation of an ambitious, globe-spanning epic from one of modern theatre's most famous names. 
The production of Henrik Ibsen's Peer Gynt, directed by Toronto-based Alistair Newton, encompasses a vast array of characters, time periods, locations, mediums, set pieces and costume changes, providing a fitting conclusion to the DalTheatre season.
Performances kick off in the Sir James Dunn Theatre this evening (March 28) at 7:30pm, running each evening at that time through Saturday (April 1). There will also be a 2pm matinee Saturday.
The play follows a man named Peer Gynt throughout his life as he seeks to become a "Great Man of History," often harming others in the process. The shift in scenes between realistic and fantastical have made the play notoriously difficult to stage, but Newton's new adaptation keeps the vastness while zeroing in on important themes. 
Newton has chosen to cover 70 years of Peer's life by beginning the play's story in the 1860s when the original was written and ending just on the precipice of World War Two. 
"Conceptually, it's all about how everything is changing in the background of Peer's world," says Newton. "But does he change?"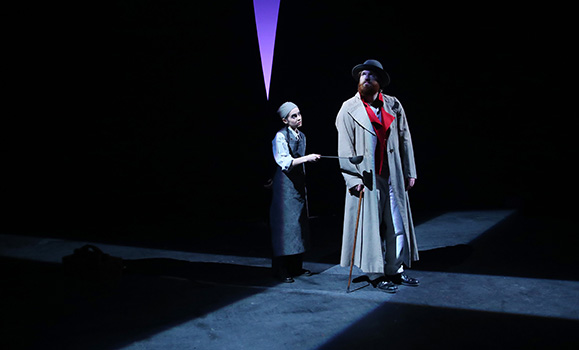 What does it mean to be "great"?

Peer's quest to become great and "be himself" takes him across the world, and the play checks in on Peer at each stage of his life. We follow Peer from young manhood in Norway to as far away as Egypt, and even to a famous scene at the court of the troll king. 
"We kind of catch windows into what's going on with Peer Gynt," says actor Jack Wiggan, who plays the lead. 
These different stages of Peer's life also grapple with big topics such as gender, environmentalism and capitalism. As Peer strives to achieve "greatness," his ambition proves detrimental to others, to the environment, and, eventually, to himself. 
"It's a lot about the ways we can get tunnel-vision and myopic about ambition and about drive," says Newton.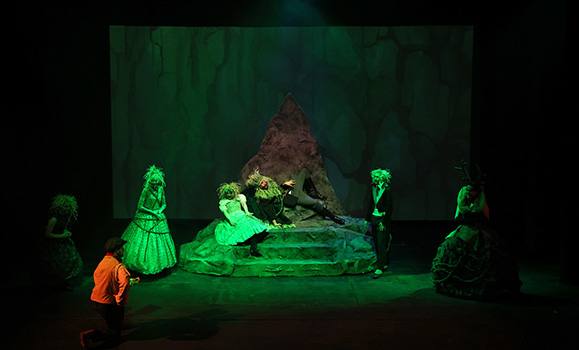 Newton says his adaptation connects this to ideas of toxic masculinity: "Peer has a tragic fatal flaw, which is that he denies the feminine aspects of himself … and it's up to the audience to decide whether he finds redemption at the end of the play."
Wiggan says that despite Peer's flawed character, the rehearsal process has allowed him to find deep empathy with the character. 
"This is a man who is enraptured with storytelling and performance, but feels like he has to kind of be the tough, macho, stereotypical man in order for people to think highly of him," says Wiggan. "So I think finding sympathy for this character is a really interesting track to get to play, because the character goes through so many changes."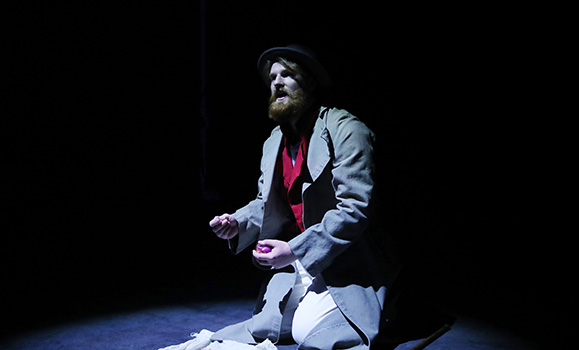 Shifting through time and space

While the story may be called Peer Gynt, the work is truly an ensemble piece, with every character fully explored and developed. Student Sophie Wilcott, who plays a bride named Ingrid, describes how each actor plays a "track" of different characters throughout time. 
"It's kind of a fun mishmash of people. We have Susan Stackhouse, who is an excellent vocal coach, making sure that all of our characters have a lot of vocal variety," says Wilcott.
Some characters have also been slightly altered from the original play to better reflect the themes of masculinity and social change. Says Wilcott of her character, Ingrid: "In the original, she's this damsel in distress who Peer Gynt steals away from the marriage. But in this adaptation, Alistair has written her to be a lot angstier, she doesn't want to get married in the first place."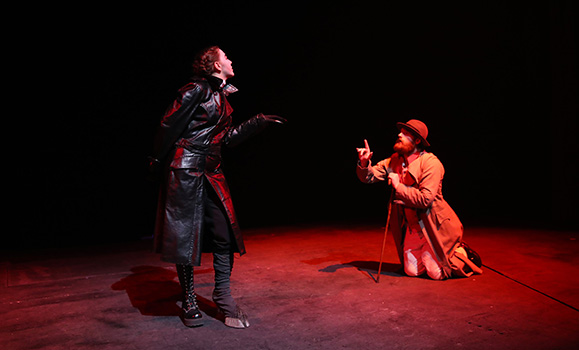 The play's different time periods are captured through various technical elements and through more than 50 individual costumes, created in collaboration with Dal's Department of Costume Studies. 
"In the opening scene you'll see the big 1860s silhouettes on the women, and then we go all the way to a streamlined 1930s look at the end," says Newton.
Production designer Karyn McCallum has created design that goes on as long of a journey as Peer Gynt himself. The play uses everything from a traditional wooden wave machine to elements of film, projection and live stream as the story continues.
"It's a lot of different kinds and eras of theatre technology, because the narrative is demanding of so many different environments," says Newton. 
Further collaboration with the Dalhousie Music program means that almost every scene is underscored with original music from composition students.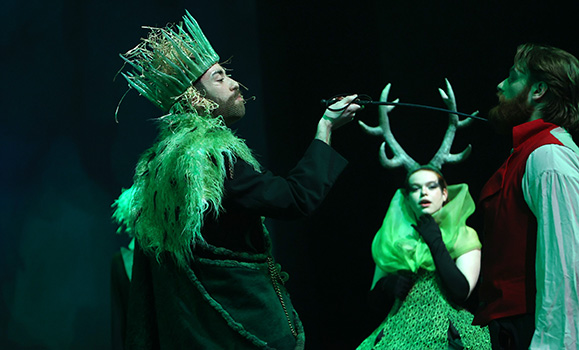 Celebrating with spectacle

The sheer number of characters, scenes, eras, themes, costumes, sets and technical elements means creating Peer Gynt has been a huge undertaking for everyone involved. However, the actors say that because of the extensive research and preparation done beforehand, it's been mostly smooth sailing. 
"I think the thing that's making the ship float is the amount of preparation that was done before we even got into the room," says Wilcott. "Because Alistair's been working on the show for years now, he's been delightfully prepared and a wonderful resource for us."
Newton says this was no accident. He wanted the actors and crew to have the experience of being in large-scale production with many moving parts. "I like to push at the edges of what is achievable in terms of stagecraft, and the way to achieve that is through preparation," he says. "Coming out of a pandemic, doing a big, bold, spectacular piece that could only happen on the stage is really worth doing… it's a celebration of the theatre, and what makes the theatre so special." 
Buy tickets at the Dal Arts Centre box office or at dal.ca/artscentre.