In 2022, as the world continued to come back together following the worst years of the COVID-19 pandemic, Dalhousie co-op students didn't let anything stand in the way of accomplishing their goals and sharing positivity throughout their work-integrated learning experiences.
Many of them had the opportunity to work in-person for the first time, or in a hybrid model of working in-person and from home, providing the opportunity to experience a workplace environment and develop deep professional connections with colleagues.
Each year Dalhousie's co-op offices — Management Career Services, and Science, Information Technology, Engineering Co-operative Education, along with the former Architecture and Planning Co-op & Career Services (which merged with SITE Co-op this past year) — celebrate these work experiences, along with the employer partners who make them happen, at the Dalhousie Top Co-op Awards. Coinciding with the National Day of Work Integrated Learning, this year's celebration on March 22, held at the Atlantica Hotel, is the first in-person Top Co-op Awards since 2019.
Keep reading to learn about the six brilliant minds chosen as the 2022 Top Co-op Students of the Year.
Saher Anwar, Bachelor of Computer Science Co-op

"Co-op has done nothing short of kickstarting my professional career," says Computer Science student Saher Anwar, who leveraged his work-integrated learning experiences to gain skills relating to different facets of electric vehicles.

In April 2021, Saher secured his first co-op as an Electronics Product Developer at Exro Technologies, a leading competitor in clean technology changing how the world optimizes energy. Saher gained hands-on experience developing applications using .NET framework, advanced C# concepts and data structures, displaying and logging data between different electric control units in electric vehicles. He was able to take part in projects that allowed him to upgrade existing coil driver software to resolve errors and adapt to new performance requirements, resulting in increased motor profile efficiency. "These experiences not only improved my technical skills, but also my ability to effectively solve problems and find creative solutions."

Saher was pleasantly surprised at the amount of autonomy and trust he received from his team and attributes much of his success to being able to exercise leadership. "The projects I participated in allowed me to take on a leadership role and develop teamwork and communication skills. I got to work with dynamic teams such as developers, designers, and stakeholders to deliver high-quality products, providing me with a wealth of opportunities to network and build professional relationships in the industry."

At the core of Saher's learnings from his co-op positions was the positive impact he began to see on his academic performance. "The hands-on experiences I have gained has helped me apply theoretical concepts learned in the classroom to real-world projects. My strong familiarity with Agile Development and the MVVM software development patterns have added to my academic understanding by providing me with a broader perspective of the methodologies."

Although Saher is uncertain which industry he will focus in, he is confident that the skills he's learned through his two co-op work terms have prepared him for a promising professional career. "My co-op experiences have not only enhanced my academic career but have also helped me grow as an individual. I am confident that these experiences have prepared me for a successful career in computer science."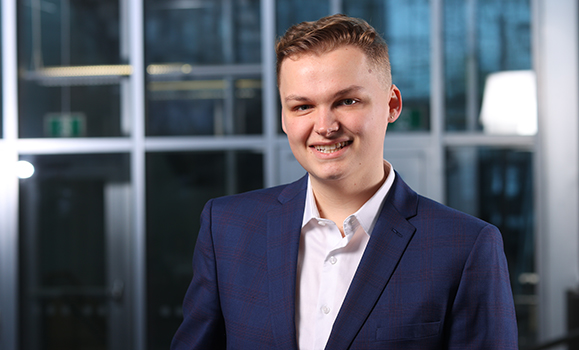 Aidan Bonner, Bachelor of Commerce Co-op


When applying to post-secondary institutions, Aidan Bonner knew he wanted to gain new experiences through co-op opportunities, making the Bachelor of Commerce Co-op program of immediate interest due to co-op being a mandatory component of the program.
In winter 2022, just three weeks into his first co-op, working remotely as a Marketing and Communications Analyst at BMO, Aidan was tasked with a last-minute project in relation to a new company partnership. He immediately consulted with his team and laid out expectations to ensure he stayed organized as he undertook the task. "I finished developing marketing materials and communications strategies late that evening, and even though I had to continue working late, my individual contribution was crucial to me as I wanted my team to learn how dedicated I was." His colleagues were astounded by his extensive commitment to the task so early on, excited to witness more of his capabilities.

Throughout his time at BMO, Aidan was also appointed a BMO Wellness Champion. This connected him to a network of other BMO employees who focused on advocating for mental wellness within their respective teams. "As someone who has struggled with mental health, it has become a passion of mine to bring this energy not only to my school community, but also to work." Using his personal network from Jack.org, an organization that works to empower youth to revolutionize mental health, he co-hosted a Wellness at BMO x Jack.org virtual event, bringing in speakers to educate team members about mental health support.

Aidan was able to source an extensive amount of previous knowledge on the topics of community, health, and wellness from his passion project called the Happy Human Project. Centred around creating marketing initiatives to unite individuals, he created this project in his first year of studies, stemming from the isolation and lack of community presence felt during the height of the COVID-19 pandemic. "We've advocated and fundraised for Indigenous and homeless populations and donated to the community fridge in Halifax. It's just a great opportunity for a group of passionate individuals to come together and unite for something that's larger than us."

Through changing views in the prominence of corporate social responsibility, Aidan is excited for the future and sees himself working for a company that reflects his personal values. "I want my 9-to-5 to reflect my 5-to-9 and have the same values, while working for a company that has a strong mission and supports me as an individual."

Aidan accredits much of what he has learned about the importance of company values to BMO, echoing their purpose, he says, "I can proudly say I have made a strong commitment to boldly growing the good in business and life."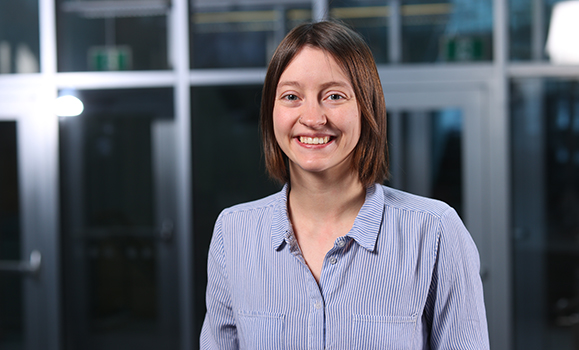 Samantha Horner, Master of Planning Co-op Internship

"I often tell other students that my four-month co-op taught me just as much as the first year of studies in the Master of Planning program," says Samantha Horner. "This statement is not a commentary on the quality of my educational experience at Dalhousie, which has been excellent, but a commentary on the value of the co-op program."

In April of 2022, Samantha completed her co-op with ZZap Consulting, an Architecture and Planning company in Dartmouth that values relationships and strategy. Throughout her time with ZZap, she was able to build new skills, make mistakes, and tackle unfamiliar responsibilities. "The dedicated mentorship I received from my supervisor and the planning team was complemented by learning from other professionals, both within and outside of the organization. Architects, engineers, and municipal staff extended their knowledge not just to me, but with each other."

Throughout Samantha's co-op, she was enlightened with all the learning opportunities she was presented with, such as being included in conversations and projects, as well as the fostering of an open-sharing work culture. "In the beginning, I felt nervous to speak up because I saw myself as 'just the student.' However, as I discovered what I was able to contribute, it gave me the confidence to speak up and believe in my ability to bring new ideas and skills to the team. I accredit much of this to ZZap, as they really supported me in making me feel like my opinions were valued."

She says her most impactful experience was the degree of collaboration that the planning industry entails, and how collaborative the overall environment truly was. "My biggest takeaway from the planning industry as a whole is that it is very much a team effort. Many aspects use extensive collaboration, and some ideas are based off trial and error, so having wealth of knowledge and experience from other architects was extremely useful."

Samantha also had the opportunity to take part in responsibilities outside of her immediate role, such as writing Request for Proposals, presenting to councils, and helping engage the public to raise awareness about a new project. "It entailed everything from coordinating the newspaper ads, to contacting venues to book space for the event, which was really fun because those were things I had never done before."

She believes her co-op encapsulated all aspects of what she has learned in class, translating that to real-world situations. "Being a planner is being a part of a team, and the co-op program perfectly rounded out my academic experience by allowing me to experience that team."

Samantha is currently continuing her employment at ZZap as a part-time Planning Assistant and has since been presented with a full-time offer of employment post-graduation, and she couldn't be more elated.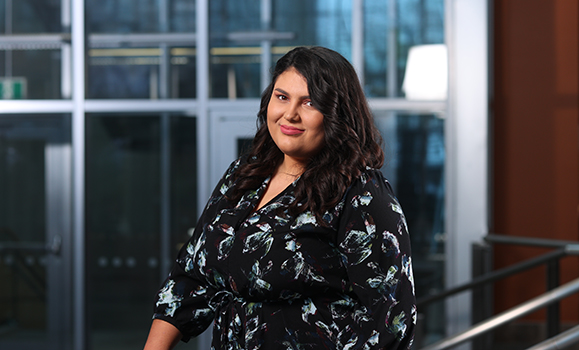 Julia Linhares Santos, Bachelor of Science Co-op


After attending a co-op presentation and learning about the ability to gain work-integrated learning experience combined with academic learning, Biochemistry and Molecular Biology student Julia Linhares Santos couldn't contain her excitement. "I remember calling my parents on the same day, to tell them about the prospect of entering the program and being able to have relevant work experience before I graduate."

Originally from Brazil, Julia did not have a history of work experience, especially those related to the field of science, opening endless possibilities through the potential of co-op positions. "In Latin culture, teenagers don't commonly work, so with the co-op aspect and the support of Dalhousie, it allowed me to gain my first real job experience ever."

For her second and remaining work terms, Julia secured a position with Sanofi Pasteur in Toronto, the largest company in the world devoted to manufacturing vaccines. Julia worked in the microbiology unit as a Microbiology and Virology Scientist. After rigorous training, Julia was able to gain experience conducting laboratory experiments, gaining autonomy to work on a project related to E. coli Lambda Bacteriophage Plaque assessments. "I was able to test cleanliness of vaccines, optimizing and regularizing everything into the system. I was responsible for a bacteriophage test method, which included writing Standard Operations Procedures (SOP), conducting the development report of the respective protocol." Further, Julia exceeded expectations and was able to sign the SOP as an author, a rare feat for a co-op student.

Julia noted the autonomy she received in completing projects and working in the laboratory itself. "What was great about my position was I showed my superiors how much I was willing to put in the effort to do well and learn, and they gave me the independence and space to thrive and do so. I was able to deliver projects on time, which was very gratifying," she says. "I was able to enhance my teamwork abilities by being part of a great unit that had pre-established roles in which I easily adapted to."

Moving forward, Julia will be employing all she learned during her co-op experiences as she prepares to enter the workforce this spring. "Being a co-op student exceeded my expectations. I was always impressed with the extent of responsibilities I was given as a student and am very glad to have been given the opportunity to flourish as a professional. I am certain I will continue to blossom all the more in my future endeavours." Julia plans to apply for permanent residency in Canada before potentially pursuing further education. In terms of employment, she is interested in searching for positions in Microbiology in Toronto.
Katie Robinson, Bachelor of Engineering Co-op

Chemical Engineering student Katie Robinson took full advantage of the optional co-op available to her, collecting experience from multiple co-op positions. She persevered throughout the COVID-19 pandemic while also gaining professional connections and experiences that will last a lifetime.

Before beginning her co-op journey, Katie was nervous to take on new roles and apply her academic knowledge to real-world engineering projects. Shortly after accepting her first co-op at Irving Pulp and Paper in January 2021, Katie was given the opportunity to take on a large project, one that she didn't shy away from. "I took on a project with their wastewater treatment system, which comprised of completing proposals, trialling with operators, and organizing lab testing with technicians. It gave me a lot of experience, not just technically, but with communication between different departments." Katie designed and implemented a model to improve nutrient control in the effluent treatment system. After presenting her model to senior engineers, she gained full approval and successfully implemented her model into the control system.

Katie was also involved in many hands-on opportunities during her third co-op with Spindrift Brewing in May 2022, where she learned about the brewing process and operating the filtration systems. Although it was challenging work, she found it extremely rewarding. "I was able to apply concepts I had previously learned in my academic courses. This helped me improve my understanding and gain new perspective of schoolwork I had previously completed."

Although Katie felt the impacts of COVID-19, she didn't let anything deter her from accomplishing her goals. "The job search was not always easy, but it taught me about perseverance. I completed many interviews each term before finding a position, which gave me the chance to exercise my professional communication skills and helped prepare me for my job search after graduation."

After completing her co-op, Katie found a new sense of confidence, propelling her forward through the remainder of her studies. "Within the first week of my first co-op, I felt much more comfortable and knew I had the skills and knowledge to be successful. Each work term helped me gain more confidence and now I feel prepared to graduate and start my career."

Feeling confident in her abilities as a professional in her field, her future goals include searching for work within a company local to Halifax, and striving for a position in bioprocesses, wastewater treatment, or fermentation. "My co-op experiences have given me the opportunity to work in a variety of different industries, proving to me that I love hands-on work, collecting and analyzing data, and learning about bioprocesses." Overall, Katie says her co-op experiences have been incredibly valuable and have given her opportunities to learn and grow as an engineering student.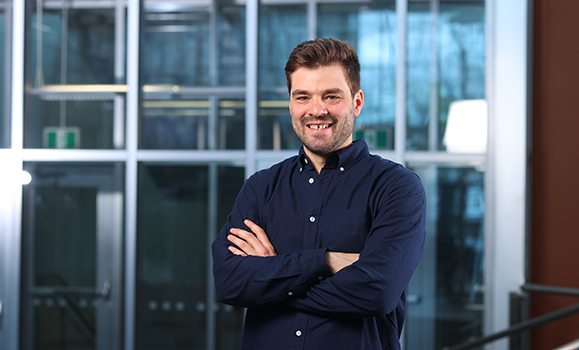 Patrick Stewart-Jones, Bachelor of Environmental Design Studies, Architecture Co-op

Bachelor of Environmental Design student Patrick Stewart-Jones gained eye-opening experience while completing his co-op in Whitehorse, Yukon — experience that he says will permanently alter the way he perceives and understands architecture.

Interested in learning about architecture in northern Canada, Patrick yearned to work for a small firm to gain unique learning opportunities. "I wanted to work for a firm with a diverse range of projects where I would get a variety of experiences. I also have friends and family who call the Yukon home, and I wanted to experience living in the North."
In fall 2022, Patrick had the opportunity to work for s.no architecture, a firm of just four design professionals with a collective of 15 years' experience focusing on projects in both the private and public sectors. During his time with s.no, Patrick learned a valuable lesson that reframed his understanding of the extent of an architect's responsibilities. "My experience during my work term made me realize that an architect's responsibilities extend well beyond their obligations to clients and to the general public. Rather, due to the lasting nature of our designs, architects carry responsibilities to future generations and to the planet as a whole. The decisions we make with the buildings we design, the materials we use, and the locations where buildings are constructed influence entire ecosystems. In most cases, the effects of these decisions will long outlast us."

Patrick was able to be a part of a project involving a housing development for Community Land Trust, a stewardship model that creates and preserves affordable, community-driven housing. "Even though my position wasn't on the design end, I was able to prepare presentations, give input on efficiency of the build, and dive into a very current issue in terms of the housing crisis in the Yukon — affordability — and address creating potential space for people to live in and engage in community."

With future plans leading Patrick to pursue his Master of Architecture, and eventually becoming a licensed architect, his idea of what the definition of architecture means to him will be forever resounding. "While I developed many practical skills during my work term, I believe the lessons I learned on architects' responsibilities are what benefited me to the greatest extent. I have an entire lifetime of learning ahead of me and my experience during my co-op has made me more motivated for what is to come."