It's been more than a year since Shawna O'Hearn started the menopause conversation at Dal. 
O'Hearn, who is director of Community Partnerships and Global Health in the Faculty of Medicine, was completing a PhD looking at the experiences of Canadian physiotherapists during their menopausal transition when she was asked to share her research during Dalhousie's Employee Wellness Day. The topic of her session was, Why We Need to Talk About Menopause in the Workplace.  
"Attendance for the presentation was high and there was additional interest by Dalhousie employees who watched the online video," recalls Dr. O'Hearn, who did her doctoral research at the University of Waterloo. "Through my research I've learned that people want to talk. People want to share their story because they feel alone. What I heard on that Wellness Day was that people wanted a space to be able to share their experience and gain understanding of how we manage menopause within our workplace."
The Dalhousie Menopause Support Group emerged out of the conversation that day.
Unsupported and unsure

O'Hearn's move to build support for women at Dal experiencing menopause comes at a time of growing awareness about the lack of support in the workplace.
Late last year, the Menopause Foundation of Canada released The Stigma and the Silence: Menopause in Canada, a landmark national research report on Canadian women aged 40 to 60.  
The report reveals that although women account for almost half the workforce in Canada, with more than five million working women over the age of 40, "their health care and societal needs related to menopause — a natural yet complex transition experienced by all women — have largely been ignored."  
In fact, three-quarters of the working women who were surveyed felt either unsupported at work or unsure about supports to help them manage this stage of life. More than half of the women surveyed felt the topic of menopause was still taboo, or not an acceptable topic of conversation.
Visit the Menopause Foundation of Canada website to learn about the stages of menopause
Removing the cloak of invisibility

Dalhousie's Menopause Support Group has been meeting monthly under the leadership of Dr. O'Hearn with support from Human Resource's Janice MacInnis. The meetings typically welcome 20-30 people for open discussion or to learn from guest speakers. Last month, for example, Janet Ko from the Menopause Foundation of Canada spoke about the Foundation's research report and the importance of raising awareness about menopause.  
"In the group, members share their menopause experience with each other, which is critical to creating a community of support. There's also an educational element, so we invite guests to share their expertise. For example, by having the Menopause Foundation join us in February, we heard our experiences reflected in a national organization," says Dr. O'Hearn. "We do always tie our conversations back to how we can manage at work. What are the things we need to be working on at Dalhousie as individuals and as an institution? We recognize the importance of removing the cloak of invisibility and normalizing menopause into our conversations and workplaces."
Find Menopause Support Group meetings in the Employee Learning Calendar (login required)
In October 2023, Dr. O'Hearn is planning to mark World Menopause Day with an in-person event that will invite the Dal community to learn more about menopause, give people a chance to share their experiences, and hear how others are managing their symptoms at work. 
Creating a menopause inclusive workplace

As those attending Menopause Support Group meetings have discovered, talking with others who are in the menopause transition can alleviate stress and reduce feelings of isolation. Normalizing the conversation also makes it easier to support people who might need accommodation.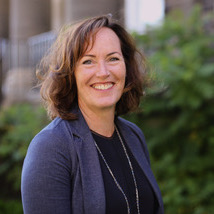 "When people feel they don't have to hide their menopause, they can have a conversation with their manager or their supervisor," explains Dr. O'Hearn (pictured, right). "The average age of Dal employees is 47, which is the exact time that the transition to menopause impacts many women. Although it is important to understand that menopause can be experienced much earlier and is not always or only a midlife and aging issue. By creating the support group, I hope this opens the door so there is less taboo, and we eliminate stigma for those living through menopause. I hope that people ask questions, become curious to learn about this transition, and learn to support their colleagues. Across all genders, everyone is affected by menopause — they just might not know it."
Research shows that one in 10 women leave the workforce because of difficulty dealing with menopause-related issues. Since symptoms are often felt most acutely at an age when people are in the prime of their careers, the implication is that menopause may be the missing link to explain why more women aren't breaking through the glass ceiling.  
The Menopause Foundation of Canada sees creating menopause inclusive workplaces as the next barrier to overcome in the gender-equity discussion. As their report says, "we have made great strides in key areas. Almost every workplace, for example, now supports women through pregnancy. Like pregnancy, menopause is just another phase of life. The difference is pregnancy doesn't happen to every woman — menopause does."
Expanding the conversation

Now that she's defended her PhD, Dr. O'Hearn is eager to have the conversation more broadly. She's been asked to speak to several groups at Dalhousie about how to include aging and menopause into orientation and leadership training. She's also exploring how the university might help expand awareness beyond campus. 
"We are learning to talk about race and gender in the workplace. It is time to include menopause on the agenda. An important step forward is opening the conversation, listening, and creating brave spaces that normalize menopause in the workplace. What else can we do? Education is critical as there is a lot of misinformation about this life stage. Focusing on menopause as part of well-being in the workplace will benefit everyone."

Recommended reading: Dal spotlights progress on employee wellness in new report