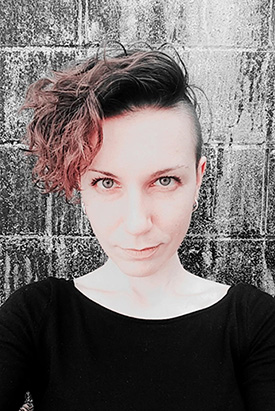 Playwright, director, dramaturge and Dalhousie Theatre Studies' graduate Annie Valentina (BA'04) started writing the first draft of her most recent play, Ballad of the Motherland, in 2014, soon after the eruption of violence in the Donbas region of Ukraine. Though at that point, the North American media were not covering the situation there in as much detail as they do right now, Valentina (pictured left) was intrigued by the true story of a Russian-born U.S. journalist reporting from the ground who was abducted by separatist forces.
This incident became the central inspiration for her play, on stage at Halifax's Neptune Theatre from March 21-April 2. Valentina says her reimagining, Ballad of the Motherland, focuses on a down-on-her-luck writer named Kate. Kate initially sees an internship at a prestigious international magazine in Kyiv as a perfect opportunity to explore her ancestral homeland and culture first-hand. Very soon, however, Kate is deeply embroiled not only in the discovery of her own identity but also in a major international conflict that threatens to spill over the borders of eastern Europe.
 'The world changed overnight'
 
Though Valentina had a clear sense of the story, she wasn't initially making much progress on the play.
"I had to put it away because I didn't really know where it needed to go," she says. Then, in the spring of 2020, the pandemic struck and gave her enough time to look at her notes again. She returned to her draft and began to revise it. Several months later, the text was ready to be workshopped, and Valentina lined up the actors for the first reading.
"We were going to do a Zoom reading on February 25," she recalls, "and then the day before our reading was scheduled the Russian invasion of Ukraine started…. I had finally finished the draft, and the world had changed overnight. And we were all wondering what this meant. What does it mean to be working on this play in this world?"
Valentina answered this question in the only way a playwright can: she revised her script again.
"If the play was going to exist," she says, "It needed to account for the fact that that this was now a global conflict. So, when I went back to the play, I changed the framework of the plot."
Recommended reading: DalTheatre's latest imagines what happens when a group of students create their own pandemic rules
Exploring fractured identity
 
The play is now melding the public and the personal, the intimate and the historical. It is no longer, in Valentina's own words, "about something outside of me that was happening to someone else." Instead, it is both about a world in crisis and about Valentina's own journey from a childhood in Bulgaria to her home in Halifax, via a 10-year growing-up interlude in Norway. Through Kate's struggle with her fractured cultural identity, Valentina is also describing the life stories of thousands of young people in Canada who navigate their everyday by perpetually balancing between not only one but often two or three different cultures.
Valentina says Dalhousie played an important role in her own personal search for a place that feels like home. She chose to study at Dal due to the theatre program's great reputation and because it was on the ocean. "I really wanted to live on the coast," Valentina says, "so it was either University of Victoria or Dalhousie." The East Coast prevailed, but by the time she came here, she was no longer certain where she wanted to be and what she wanted to do.
"What defined my ability to feel at home was actually connecting to the community," she observes now, "and in this respect Canada, with its complicated cultural identity matched my complicated cultural identity. Halifax and Dalhousie were a welcoming environment for me, as someone who was already an outsider."
Recommended reading: Young fox takes centre stage in DalOpera's The Cunning Little Vixen
Finding a home at Dal
 
She met some of her best friends at Dal : fellow Theatre Studies alumni Stephanie MacDonald (BA'05), Stewart Legere (BA'07), and Matthew Walker (BA'07) who is now a tenure-track Assistant Professor in the Fountain School of Performing Arts in the Faculty of Arts and Social Sciences at Dal. Legere and Walker were also Valentina's first collaborators, and they all still help her to belong.
She has now lived in Halifax longer than anywhere else in her life and is a well-established theatre artist, working currently as the TD Artistic Associate at Neptune Theatre, where she coordinates the INKubator play development program for emerging artists and the Chrysalis arts mentorship initiative. Prior to Ballad of the Motherland premiering at the Neptune Theatre on March 21 (tickets are on sale now through the Neptune Theatre Box Office and Neptune Theatre is donating $1 from every ticket purchased for this production to the YMCA's Nova Scotia Supports Ukraine fund).

"The process of finding a home here," Valentina says, "was really about stripping away a lot of those layers of past experiences and of seeing the effects that migrations had had on me."

Valentina will deliver a masterclass to Dalhousie Theatre students on Feb. 10.
Masterclass details:

Thinking Outside the Career Box with Annie Valentina.
In collaboration with Neptune Theatre
Friday Feb. 10 | 2:30 pm
Dalhousie Arts Centre – Studio 2
Free and open to the public, masks are mandatory.