In January 2023, three Bachelor of Science students with an interest in sustainability and the environment will be escaping the Canadian winter to spend a 15-week internship in the Bahamas as part of the Queen Elizabeth II Diamond Jubilee Scholarships (QES) program.
Meghan Oliver, Phoebe Seely and Sophia Friesen will be working with the research scientists at the solar-powered Cape Eleuthera Institute, where interns gain hands-on experience in areas such as conservation science, sustainable systems management (biodiesel, solar, wastewater management), aquaponics and permaculture research. In addition, QES Scholars are expected to participate in leadership and community engagement activities during their time abroad.
The QES project at Dal receives funding provided by the Waugh Family Foundation to the Rideau Hall Foundation, which leads the program in collaboration with Universities Canada. In September, the Government of Canada announced a $20 million gift to the program to mark the legacy of Her Majesty Queen Elizabeth II and ensure that approximately 3,000 additional students across Canada will have the opportunity to participate in future QES projects.
Dalhousie has received two rounds of funding to operate the QES program – the first round ran from 2014 to 2019 and was administered by the Department of Marine Affairs, while the second round runs from 2019 until 2025 and is administered by the Department of Earth and Environmental Sciences.
"The Queen Elizabeth Scholarship funding makes this a more accessible opportunity for our students and allows us to continue to strengthen Dalhousie's ties with Bahamian partner institutions," says Dr. Tarah Wright, Dal's QES program coordinator and a professor in the Department of Earth and Environmental Sciences.
Dr. Wright notes that there is enough funding to send six students to the Bahamas each year, as well as bring three graduate students from the University of the Bahamas to Dal for one semester to experience life in Canada and access courses that may not be available back home. Global travel bans related to the COVID-19 pandemic prevented students from making trips abroad in the last few years, but QES Scholars have recently been able to resume visiting the Bahamas.
Experiential learning in the field

Since arriving at the Island School at the Cape Eleuthera Institute earlier this fall, marine research intern Bennett Brulé has studied stone crab behaviour, in particular predator-prey dynamics, while also teaching a stone crab research class twice a week and helping the coral research team on their scientific dives and with other tasks in the field.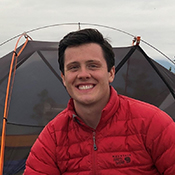 A co-op student doing a double major in Marine Biology and Environment, Sustainability and Society (ESS) with a certificate in Aquaculture, Bennett is due to return to Halifax in early January and has enjoyed his experience so far. "I've learned a lot about animal husbandry, the realities of running your own experiment, and made many important connections with people in my field." The location has been a plus, as well: "South Eleuthera is beautiful."
Meet the latest group of students who will be heading to the Bahamas in January 2023:
Meghan Oliver (she/her)
Program: BSc in marine biology with a minor in sustainability (third year)
Role: Marine conservation and research intern
What made you apply? I was searching for a co-op opportunity for next term to get hands-on field work experience, which, as you may imagine, is a little bit difficult to do in Canada over the winter. So, I did some research and when I found out about the QES and the opportunity to intern at Cape Eleuthera Institute, where they do world-class field research work in conservation science.
What are you looking forward to most about the internship? I am most excited to work with marine flora and fauna in ecosystems as rich in marine biodiversity as those in the Bahamas and getting to work with and learn from the experienced team of scientists at the institute. I also lived in the Caribbean for almost a year while travelling with my family when I was a teenager, so I'm really looking forward to returning to this beautiful part of the world and getting to know the people and places even better!
Phoebe Seely (she/her)
Program: Combined honours in environment, sustainability and society (ESS) and physics and atmospheric science
Role: Sustainable systems intern
What made you apply? I was drawn to the interdisciplinary research within the context of sustainability at the Cape Eleuthera Institute. With a background in physics and atmospheric sciences as well as sustainability, I'm always excited at the opportunity to partake in research which applies various disciplines towards sustainable problem-solving. I am excited to learn from the various projects at the CEI for how to approach sustainability from various scientific perspectives.
What are you looking forward to most about the internship? I am most looking forward to applying the skills and knowledge that I have learned in the classroom to real-world projects! I feel grateful that I will have the opportunity to work as part of an institute which conducts research that can have a direct impact on how to live a more sustainable lifestyle. I'm excited to be able to contribute to both innovative and applicable research, and to meet like-minded and sustainability-oriented people who make up the CEI community.
Sophia Friesen (she/her)
Program: BSc in marine biology (4th year)
Role:  Marine conservation and research intern
What made you apply? I applied because of all the opportunities it would open up in the field of marine biology.  Being a QES intern will accelerate my career and allow me to help the planet by contributing to the ongoing work at the Cape Eleuthera Institute. I truly believe that this experience is just the beginning of a fulfilling lifelong career in marine biology.
What are you looking forward to most about the internship? I am incredibly excited to get the opportunity to go out on the water and see so many of the animals that I have learned about in class, like sharks and coral. Last year, a professor of mine told us that the amount of time we have to see coral is limited and that if we hadn't already, we should make every effort to go and experience the beauty of coral reefs in person before it's too late. This experience is exactly what I want to be doing given the current state that the natural world is in.
Learn more about the Queen Elizabeth II Diamond Jubilee Scholarships.