One of the most common topics of conversation today is the high price of consumer goods, particularly groceries. Everyone is feeling the pinch of inflated food prices.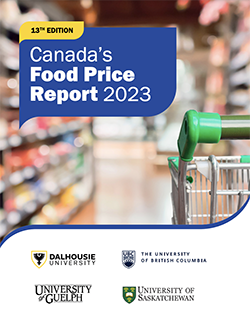 Unfortunately, consumers can expect those prices to keep rising. Canada's Food Price Report 2023 predicts a 5% to 7% food price increase in 2023, with the most substantial increases in vegetables, dairy, and meat. The report forecasts that an average family of four, including a man (age 31-50), woman (age 31-50), boy (age 14-18), and girl (age 9-13) will spend up to $16,288.41 per year on food, an increase of up to $1,065.60 from what was observed in 2022. 
"To say that it's been a challenging year for Canadians at the grocery store would be an understatement," says Dr. Sylvain Charlebois, project lead and director of the Agri-Food Analytics Lab at Dalhousie University.nFood security will remain a concern for many in 2023.
Canada's Food Price Report (CFPR) is an annual collaboration between research partners Dalhousie University, the University of Guelph, the University of Saskatchewan, and the University of British Columbia. This cross-country research team uses historical data sources, machine-learning algorithms, and predictive analytics tools developed over many years to make predictions about Canadian food prices. 
Download the Canada Food Price Report 2023 l English, French
"Forecasting of food prices is a challenging business," says Dr. Kelleen Wiseman, UBC campus lead. "Forecasting models generally use history to predict future food prices. However, when a country experiences large and recent inflation values, the price forecasts from these models may be overstated. Thus, a new model, Vector Autoregressive Model or VAR, using historical data plus the additional variables of forecasted inflation and CDN-US exchange rate were utilized for the 2023 report. The result is a rebalance between past data and forecasts being used to predict future food prices in Canada."
These price predictions are helpful on several fronts. "Each year, the Canadian Food Price Report provides consumers with important information on how the coming year might affect them in terms of food prices and affordability," says Andrea Rankin, the Master of Public Administration candidate at Dalhousie University who worked on the 2023 report. "It also gives important context for why prices are changing. Climate change, supply change disruptions, carbon taxes, geopolitical climates, and rising transportation costs are all contributing factors." 
Higher prices, less healthy choices

Policy makers should also pay attention. "It is important to understand that as healthy food becomes more expensive, people are forced to buy cheaper, more calorie dense alternatives," says Janet Music, research program coordinator at Dalhousie's Agri-Food Analytics Lab. "This has health implications, especially for children. There is an equity factor to food prices. Single income people, women, the elderly, and people living in Northern communities are much more impacted by these rising costs."
The report finds that 47% of Canadians have purchased cheaper alternatives, brands, or items to adjust their spending in the face of current inflation rates. Food Banks Canada reports that there were nearly 1.5 million visits to food banks in 2022, marking the highest March use in history.
Serious geo-political issues, whether at home or far away, can be overwhelming to the average Canadian consumer who is just trying to pay their bills. It is easy to feel a lack of control.
But there are options. Now is the time to become a "smart shopper" if you have not already. Consult flyers for specials, create and stick to a budget and shopping list, look for substitutes for expensive foods (such as frozen fruits and vegetables instead of fresh, and plant-based proteins like chickpeas or lentils instead of meat), and freeze meat when it comes on sale. Initiatives such as CFPR can at least help you understand the prices you are seeing at the store.
Possible positives

And there is some good news.
"Based on our findings, the increases we have predicted are still quite high but not as high as the increases for 2022," says Dr. Simon Somogyi, University of Guelph campus lead. "That may be cold comfort for Canadians, as food prices are already high, but if inflation can come down due to Bank of Canada interest rate changes, oil prices remain stable and the Canadian dollar remains strong against the US dollar, it's possible that we could see price increases for 2023 on the lower end of 5% or below."
The conversation continues.
For more information, please read the complete Canada's Food Price Report 2023. 
Dalhousie University Authors and Advisors:
 
• Dr. Sylvain Charlebois (Project Lead: Dalhousie University), Faculties of Management and Agriculture 
• Andrea Rankin, Faculty of Management
• Stacey Taylor, Faculty of Computer Science
• Dr. Vlado Keselj, Faculty of Computer Science 
• Dr. Gumataw Abebe, Faculty of Agriculture 
• Dr. Stefanie Colombo, Faculty of Agriculture 
• Dr. Kathleen Kevany, Faculty of Agriculture 
• Dr. Paola A. Marignani, Faculty of Medicine
• Janet Music, Faculty of Arts and Social Sciences 
• Dr. Rick Nason, Faculty of Management
• Dr. Phoebe Stephens, Faculty of Agriculture 
• Samantha Taylor, Faculty of Management