Looking to pursue a healthy lifestyle? Where you live should be on your list of considerations. And now, thanks to a new study published in the journal Environmental International, you'll have more information about the environmental conditions of 30 Canadian cities.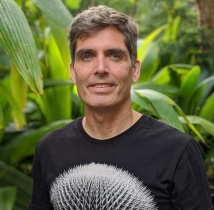 "We created an easy to interpret index or scorecard for each neighbourhood that tells us about the quality of the environment and the types of conditions that drive higher or lower scores," says Daniel Rainham (shown right), a professor in Health Promotion at Dalhousie and the study's senior author.
Many factors might make one city's environment more, or less, healthy than another. This can happen either directly, such as exposure to pollution, or in the way the environment influences behaviour and choices.
Until now, there was no way to compare the varied environmental conditions of Canadian cities, which made it difficult to understand the role of the urban environment on Canadian health.
To make up for this gap in knowledge, Dr. Rainham and colleagues developed an innovative approach that assesses environmental quality based on nine indicators which were drawn from five environmental domains: outdoor air pollution, natural environments, built environments, radiation, and climate/weather.
London or Edmonton? Your choice could impact your health

Each indicator was reviewed by multiple environmental health experts and evaluated using epidemiological evidence of the associated benefit or risk.
The result is the Canadian Environmental Quality Index (Can-EQI) of 30 Canadian cities with populations over 100,000. The Can-EQI distills this comprehensive review of complex environmental characteristics into a single value for each location, with higher values indicating more desirable environmental conditions.
London, Ontario is reported as having the best environmental conditions in the country with a median EQI of 70, followed by Guelph, Ontario (68.9). The lowest values belong to Edmonton (42.2) and Calgary (46.6). Halifax finds itself in the middle of the pack with an EQI median of 62.2.
Read the study: The Canadian Environmental Quality Index (Can-EQI): Development and calculation of an index to assess spatial variation of environmental quality in Canada's 30 largest cities
Healthy city, healthy population

More than 80 per cent of Canadians live in urban areas, so it's important to know how these spaces are contributing to or working against the health and wellbeing of different populations.
The study is the first to develop a comprehensive portrayal of how environmental conditions can change — not only from city to city but also from neighbourhood to neighbourhood.
Supported by the Public Health Agency of Canada's (PHAC) Centre for Surveillance and Applied Research, the Can-EQI is likely to provide new insights into the mechanisms behind socioeconomic and health disparities in urban areas.
The research also provides a tool that can assist planners and decision-makers with developing strategies to improve environmental conditions, particularly in equity-deserving communities.
"Where you live matters," says Dr. Rainham. "We know that environmental exposures can be both detrimental or beneficial. Now we have a tool that can inform the creation of interventions to reduce harmful exposures and where best to apply them."
Recommended reading: Ask the experts -- The world's population just hit 8 billion. What now?