Brazilian dentist, orthodontist, and PhD candidate Cristiane Maucoski spent 11 months as a researcher in the Faculty of Dentistry at Dalhousie University. When she arrived in Halifax in September 2021, her goals were to improve her English, learn more research methodologies, and take advantage of laboratory facilities and equipment not available to her in Brazil.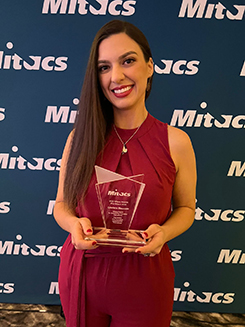 Winning the Mitacs Award for Outstanding Innovation – International was not on her list of goals, but that's exactly what she did on November 22, 2022, in Ottawa. It is, she says, "an incentive to keep working and keep learning".
Dr. Maucoski received this prestigious award for her research on new high-powered curing lights and their ability to harden the over 800 million white composite fillings dentists place each year. 
She describes her work as three-pronged. "I'm helping manufacturers get products to market quicker, dentists to make stronger, longer-lasting fillings, and patients to spend less time in the dental chair with less risk to their health caused by an incompletely cured filling."
Related reading: Shining a new light on tooth restorations

Why white fillings?
 
White fillings are popular with patients because they can be made to match their tooth colour and they do not contain mercury. They also do not require as much drilling, so more of the tooth can be preserved. But these white fillings do not always last as long as they should and need to be replaced more often.
The difficulty, explains Dr. Maucoski, is that "when a dentist makes a filling, he or she can only see that the top of it is hard. They cannot see or test the bottom to see if it is cured." Dentists rely on research to help them achieve the best results.
White fillings are hardened (or cured) with a hand-held curing light. If they are not properly cured all the way through, however, patients may experience problems, says Dr. Maucoski. These include breakage, decay, pain, and the potential for harmful chemicals to leak into the body. If the fillings fail, dentists need to carry out more restorative work, which means more time in the dental chair for the patient.
Light work

Working with the Faculty of Dentistry's Dr. Richard Price under simulated clinical conditions and using extracted teeth, Dr. Maucoski analyzed the effectiveness of several recently introduced high-powered curing lights and different exposure times, with funding from the MITACS Globalink and the Accelerate programs https://www.mitacs.ca/en and the Faculty of Dentistry Research Fund.
Among the lights Dr. Maucoski tested in her research was the new Valo X from her MITACS Accelerate industry partner, Ultradent Products Inc. The Valo X is a powerful polywave curing light. It has a larger tip compared to previous Valos and emits a very uniform light beam. Dr. Maucoski found that it delivered better results than other curing lights she tested.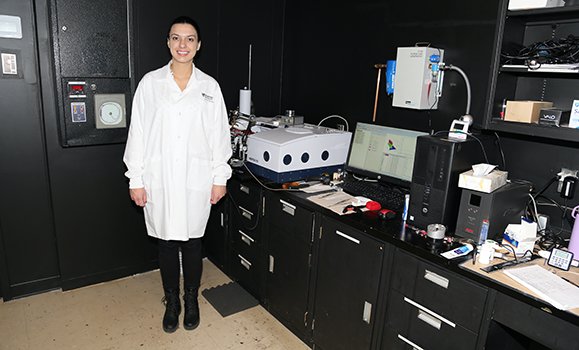 This topic is important to Dr. Maucoski because she sees a problem that needs solving. According to the World Health Organization, the treatment of oral disease now accounts for the third highest health expenditure among non-communicable diseases, and much of that expense is down to replacing fillings. Curing lights are not used just for fillings, but are important in all aspects of clinical dentistry, including to cure the cements and glues used to secure crowns and orthodontic brackets. 
"It's estimated that over 50 per cent of most dentists' income relies on curing lights," Dr. Price adds, "and if you're an orthodontist, it's closer to 100 per cent. Plus, there is the headache of constantly bringing patients back to replace fillings or rebond orthodontic brackets if the resin is not properly cured."
What next?

Dr. Maucoski has a special interest in the heat, energy, and temperature increases caused by curing lights. Before she came to Canada, Dr. Maucoski was already conducting studies and publishing papers. She is the author of 10 peer-reviewed publications, five of which were published in 2022 and four more that will form part of her PhD thesis.
She says the work she has been able to do at Dalhousie has given her a strong direction for her thesis by bringing together efficiency for dentists, patient care, and reduced demand on the health-care system. "My work has a purpose," she says.
Basking in a post-award ceremony glow, Dr. Maucoski says that being in Canada was the "best experience I've had so far in my life". She is "happy and grateful" for all the opportunities she has had here, including working with Dr. Price as her supervisor. "It's also great for my résumé."
Dr. Maucoski returned to Brazil and the State University of Ponta Grossa at the end of July 2022 with plans to complete her PhD by the middle of 2023. She isn't sure what will happen after that, but she hasn't ruled out a return to Canada, perhaps with the help of Mitacs postdoctoral funding.