When the curtain goes up on DalTheatre's production of 7 Stories, the audience will see a stage and a play unlike any other.
Morris Panych's classic of Canadian theatre takes place entirely on the ledge of an apartment building seven stories off the ground. The main character, called only "Man," stands on the ledge, contemplating their next move. 
As Man interacts with the various neighbours whose windows look out on the ledge, the play brings out questions of identity and perception through this both terrifying and whimsical premise.
The fourth year Fountain School of Performing Arts acting students, directed by Ann-Marie Kerr, will perform this unique and heartfelt piece from November 29 to December 3 at 7:30pm in the Dunn Theatre, with a matinee at 2pm on December 3.
Everyone Has a Story

The play's title reveals not just its setting, but also its structure.
"There are seven windows, because there are seven stories going on, because the title is a double entendre", says actor James Ersil, who plays the central character of Man. "To me it's about how everyone is caught up in their own lives, but we're really all connected somehow". Not only is Man precariously balanced seven stories above the ground, but they are also about to be transformed by the seven stories of other people who similarly are questioning life and their role within it.
These seemingly disconnected vignettes with which Man interacts certainly show an urban world of people distant from each other. Kerr notes that the play finds comedy in this, despite the bleak premise. She says, "Laced through, we get so much comedy that is connected to the fact that nobody really cares about this person standing on the ledge". 
While the characters are self-absorbed, their stories are each eccentric and unique.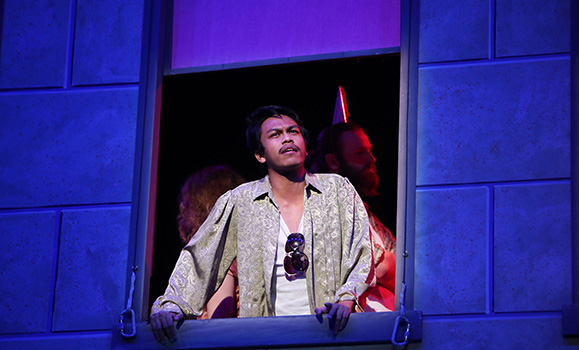 Actor Neo Alexander Ragsac.
Not As They Seem

Some of these vignettes on meaning may be very relatable to a modern audience. Actor Jack Wiggan's character, Al, is hosting a party within one of the apartments. Paradoxically, Wiggan says, "Al…really doesn't like people at parties".  The distance between outward social actions and inward feelings is certainly one we have all felt before.
Wiggan notes that despite this detachment from people, Al "…has a fairly intimate moment with Man, trying to almost coax them off the ledge, before falling back into the self-serving persona".
Other vignettes in 7 Stories use strange premises to explore the idea of appearances and reality.  Another actor, Sophie Wilcott, discusses the importance of this theme to her character, Rachel, a woman who uses trickery to prove to herself and others that God exists: "She's a bit of a con man…but she would tell you through and through that it's with good intentions."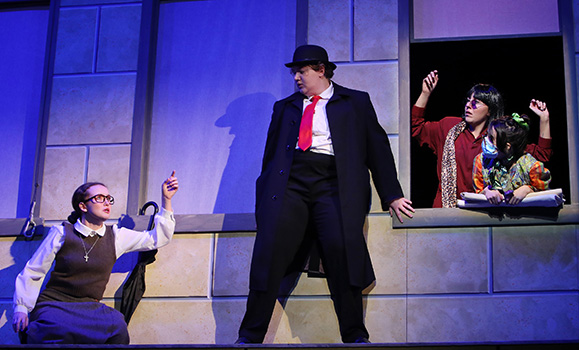 Left-right: Sophie Wilcott, James Ersil, Emily Ranson, Rhys Parks.
Creating a Floating World

Though the play's themes run deep, the actors have the unique challenge of playing them out in a very restricted performance space. The ledge, created by stage designer Sean McMullen, stands five feet above the stage, and is only a few feet wide. In. many ways, however, this limitation has forced the directors and actors to explore inventive staging. "This is kind of a fun look at how you can add in choreography to almost a two-dimensional space", says Wiggan. "But I think that what we've been able to do with this two-foot ledge is visually entertaining and engaging". 
In early rehearsals, the ledge was lower to the ground, but Kerr chose to increase the height, to give the audience a realer sense of setting and danger. Trying to create this realistic atmosphere has informed much of the play's design process. Kerr says, "I wanted to offer the audience an actual feeling of danger, of what it is to be poised on a ledge." There's also a surrealist influence from artists like Magritte, using projections by projection designer Avery Johnson. "It's going to give us this ethereal, floating world", says Kerr. 
7 Stories' combination of real danger and surreal whimsy means that involving circus into the play felt only natural. The production will incorporate juggling, along with taking inspiration from tightrope walking and clown. There's also a circus-related surprise you'll have to watch the play to learn about: "It is amazing what they are trusting us with", says Ersil, hinting at this unique element.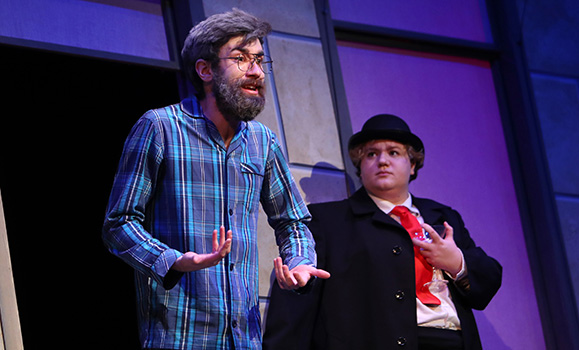 Sam Cooper and James Ersil.
A Precious Experience

While the play may be a balancing act, the rehearsal process has been surprisingly steady. This cohort of fourth-year students has faced three years of COVID limitations on their acting education. Additionally, this season's first show, The Tamer Tamed, had to rehearse through a hurricane and other disruptions. Now, the cast is glad to be in person, steadily rehearsing each night. "After a hard rehearsal process with the last show, which is no one's fault, and a long university experience, I think working on this show with these people…feels like coming home in a way", says Wilcott. 
Kerr taught the class all through third year, and in many ways this show is a culmination of the meaning they've found with each other in difficult times. She credits these difficulties with giving the class a closeness, and the drive to create a truly spectacular performance.  "This class is so hungry to have a serious, intense, dedicated experience with this show, they want it so badly", says Kerr. The looming possibility of disruptions has made the whole team want to soak up every second of rehearsal they can. Kerr describes this joyful urgency: "I can feel the preciousness of those nights".
The warmth, whimsy and meaning the team has found in this process is perhaps exactly what the characters of Panych's play are searching for. Much like the dozens of actors, designers, costumers and more working on  7 Stories, they will have to find it through both profound introspection and playful connection.
If audiences wish to enter this eye-opening world, they should purchase tickets at the Dal Arts Centre website for what promises to be a unique production.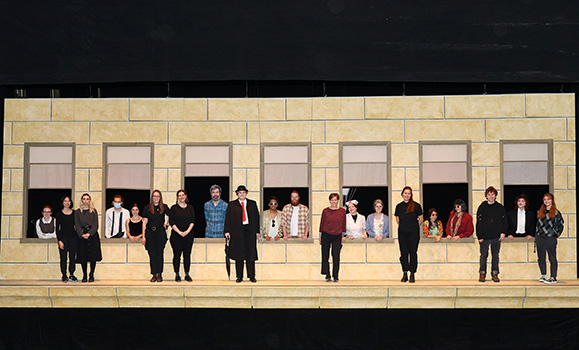 Full cast, left to right: Sophie Wilcott, Sky Jiang, Emma Lamont, Riley Reid, Hayley Dollimont, Tegan Porter, Tess Kotsibie, Sam Cooper, James Ersil, Neo Ragsac, Jack Wiggan Ann-Marie Kerr, Geneviève Richer, Jessie Walker, Gina Woodward, Rhys Parks, Emily Ranson, Callum Anderson, Gaby Girard, Veronica Jollimore.