Human resources. Research support. Finance. IT.
Dalhousie faculty and staff rely on these and many other key administrative services as part of their work at Dalhousie. And Dal's strategic plan, Third Century Promise, places a strong emphasis on ensuring administrative processes are as effective and efficient as possible.
Now, for the first time, the university is launching a comprehensive process to check in on how well those services are meeting Dal's needs — and learn where and how they could be improved.
This week, nearly 2,000 faculty and staff will be receiving the first-ever Dalhousie Service Effectiveness Survey. They'll be asked about various services they may use in their roles at Dalhousie, and how well those services are working for them. It's the first step in a larger process known as UniForum, one used by several of Dal's peer universities across Canada and around the world to not only assess administrative work but evaluate how we compare against other institutions.
Learn more: dal.ca/uniforum
We sat down with Vice-President Finance and Administration Gitta Kulczycki for a conversation about the Service Effectiveness Survey, UniForum, and what it will mean for how Dal provides critical support and services to its faculty and staff.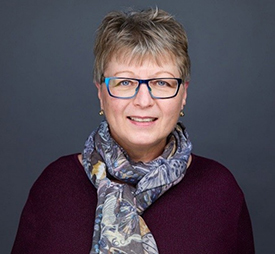 Q: This is the first time Dalhousie has conducted this Service Effectiveness Survey. What is the university hoping to learn?

We want to learn what's working well for people and where we can do better in supporting people's daily work, and ultimately, focusing on Dal's academic mission.

Faculty and staff do such amazing work for Dal — and they deserve the best possible administrative supports to help them do that work, whether that's HR support, or finance, or IT or many other key services. That's what this is all about.

Q: Who is going to be receiving the survey?

The survey is focused on services mostly used by faculty and staff, and so we're inviting a subset of our employees — just around 2,000 or so — to take part. The people who will be receiving the survey are those who, based on their role, would be in a position to use a wide range of different admin services in their work. It's based on the standards set by Cubane Consulting, the firm that manages the UniForum process.

But as we move along through UniForum, we'll be making sure to keep our faculty and staff community informed and, eventually, engaged on our progress.

Q: So what is UniForum? And how does this survey contribute to it?

It's a collaborative global administrative benchmarking program, one that was built specifically for research-intensive universities. It was started in Australia but there's now more than 60 universities across Australia, New Zealand, the U.K., and Canada taking part, including a growing number of schools here in Canada. Dalhousie will become the eighth Canadian university to use UniForum to help us better understand how we're doing in providing administrative services.

What's great about UniForum is that it looks across the whole university, in faculties and departments as well as in admin units, to assess administrative processes — 65 of them — and how they're conducted. In addition to the Service Effectiveness Surveys — one now, and a second part in the spring — there will be a process to gather information on where and how administrative work is being done at Dal. Together, this will give us a more complete picture of how – and how well – we support faculty and staff in our daily work.

Q: And what does it mean that this is also a "benchmarking" program?

We want to improve — we want to do better by our employees, and we want to help them do their important work that moves Dal forward. We consider ourselves a top-ranked university in Canada, and the universities who take part in UniForum, many of them are world-leading institutions. What can we learn from them? How can we keep getting better?

UniForum will give us access to results from other participating schools, giving us a sense of how we measure up in our administrative services — just as world university rankings paint a picture of how we compare to other institutions in the academic, research realms. But what's great about UniForum is that the universities who participate are  a really collaborative group. There's lots of information sharing between institutions, and it's very collegial. If there are areas where other schools are doing well, we get to learn from them and figure out how to make improvements ourselves.  In areas where we excel, we'll likewise share willingly. Of course, every institution is unique, but we can learn immense amounts from this community of practice.

Q: You've been meeting with people across the university in recent weeks — deans, other unit leaders — and introducing them to this survey and the UniForum initiative. What are some of the questions you've been getting?

People want to know about how we'll use the data — and it really depends on what the data says. In some service area, we may find we're spending relatively more money and getting great results so it becomes a question of looking at how others are able to spend less money with equally good resulst.  Whereas if there's an area where we're spending a lot of money with poor results, then we will want to take a deeper dive to understand how to improve the service and do so more cost effectively.

People have asked whether we are undertaking this as a cost cutting exercise. I do hope we find some cost savings — we absolutely need to make the best possible use of the limited resources we have. But this is not about reducing our workforce. In fact, in many of the sectors we compete in to hire administrative staff, we're seeing labour shortages — ones that likely aren't going to go away anytime soon and we know that many staff are reaching an age and stage where retirement is on the horizon. So that means we need to make sure the capacities of the people we have now are used to the highest and best potential of everyone's abilities.

Another worry is around the time it will take us to gather all of this information, and how much it will distract us from our daily work. The UniForum surveys and data collection have been created to minimize the "ask" of our community – after all, we will need to repeat it in future years. The service effectiveness surveys are divided into two parts, so participants can respond to a survey in just 15 minutes. Unit leads will handle the resourcing data collection to bucket work performed over the year in increments of 10%. That piece will take a couple of hours, once per year. The goal is to obtain information in a way that is not overly cumbersome for people – robust participation is key to ongoing success.

Q: What will this mean for Dalhousie in the years ahead? How might things look in the future?

This first round of data collection — two surveys and data to understand how and where that work is done — will be complete through next summer. Together, that will give us, for the first time, that complete picture of how administrative work is being done across Dal, and how well we're doing in it. We'll also see how our results compare to our participating peers, and hopefully gain some insights there to help us start identifying where improvements can be made.  That comprehensive analysis will be received in the early fall in 2023. It will be up to Dalhousie to decide what makes the most sense to work on in the context of other initiatives on campus.

We'll be repeating the service effectiveness surveys every two years going forward, and the time and cost collection will be undertaken annually and that's where you start to see how this becomes part of how we keep getting better. The schools in Australia and New Zealand, who were the first to start UniForum, they've been at it for 12 years now and when you talk with them, you see how this results in processes that are still leading to improvements year by year – and typically with a more satisfied work force as well!

Dalhousie has ambitious plans reflected in Third Century Promise, with many different funding demands across the university. Understanding that our priority has to be the academic mission of the institution, UniForum will help make sure we're making the right decisions when it comes to administrative work — to help us be the best we can be in supporting our faculty and staff.

To learn more about the Service Excellence Survey and UniForum, visit dal.ca/uniforum