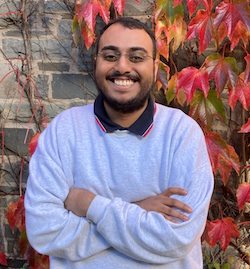 This article is part of a series focusing on fall grads of the Dalhousie Class of 2022. Read all our profiles here as they are published, and visit the Convocation website for more information and to access the live webcast. 
Rony Joseph openly admits he struggled to complete his degree in the Bachelor of Management program but also believes his Dal experience prepared him for the bigger world.
"Dal was an eye-opening experience for me," says Rony, who transferred here from the University of Sharjah in the United Arab Emirates, where he studied accounting. "It can be overwhelming to come here as a transfer student," he continues, adding he wishes he'd known more about resources available for students dealing with the challenges of coming from another country and taking on the academic pressure of the program.
"I never grasped the academics," says Rony. The large class sizes made it difficult for him to pay attention and personal issues made it hard to study. He was nervous about approaching professors when he didn't understand a concept. And he found it difficult to interact with people in his group. "Lots of times I'd miss projects or have to do them by myself," he says.
Rony describes his fellow students as great people and he was motivated by being around them, but even their enthusiasm and success could dampen his spirits at times. "When you're not doing well, and you see these other people who are happy with what they're doing, it can bring you down."
A positive force

Fortunately, Rony did find the support he needed to successfully complete his program thanks to his advisor, Katie Haigh. "She always had kind words for me especially during the difficult times," says Rony. "During our appointments, she would ensure I was able to be at ease and speak freely. She always sent positive words my way. The only reason I graduated is because she was so helpful."
He also now sees his Dal experience in a positive light. "My time at Dal was a mix of emotions — some good, some bad — but the whole thing gave me a mirror and said 'this is what you need to be to go out in the world.'"
Rony feels the most important lessons he learned didn't come from the classroom. "The Dal experience prepared me for how the outside world treats you," he says. "I'm much more confident now, and I know what I'm capable of. I'm able to be more assertive and negotiate better. I also have a thirst for knowledge; even with my academic issues, I'm still eager to learn, eager to be better."
Post-graduation, Rony is considering furthering his education by studying accounting, and maybe getting his MBA. But for right now, he's just looking for a full-time job so he can settle for a bit and "pay off some bills."
Even though the pressure he felt as a student at times hindered his ability to perform and he's not happy with his grades, Rony says he's definitely happy he came to Dal.
"It was a rollercoaster ride, but I fought through it and I'm here."