This article is part of a series focusing on fall grads of the Dalhousie Class of 2022. Read all our profiles here as they are published, and visit the Convocation website for more information and to access the live webcast. 
Weather-wise, Nova Scotia and the Bahamas don't have much in common, but one thing the Atlantic Canadian province and Caribbean country share is that they are often targeted by hurricanes in late summer and fall. This means that new actuarial science grad Anastasia Forbes's well-honed elevator pitch is easily understood wherever she is giving it, whether in her new home or her place of birth. 
"Actuaries are scientists who study risk, using statistics and probability, for insurance or pension companies," Anastasia says, explaining her profession. "Let's say you're from the Bahamas, whose hurricane season is from June 1 to November 30. An actuary would look at that period and calculate the possibility of a hurricane happening during that time and tell their company what kind of life, home and car insurance should be offered to their clients." 
Anastasia graduates this week with a Bachelor of Science in actuarial science and a minor in gender and women's studies. While her Dal experience hasn't always been easy, she has overcome challenges to set an example for her younger siblings and will begin a job in her field shortly after Convocation.
A program for a "numbers person"

For someone who has chosen a career path centered around numbers, Anastasia says math didn't always come naturally to her. She discusses sitting by the desk of a high school math teacher, asking them questions until it just clicked. "Math has always been a challenge to me, but it's the type of challenge where when you succeed, it feels amazing." 
A self-described "numbers person," she considered taking accounting in university, but that same math teacher suggested she look into studying actuarial science because it requires problem solving and analytical thinking — "something that isn't just for everybody." 
A Dal pamphlet picked up at a high-school career fair in the Bahamas revealed that the Halifax university indeed had an actuarial science program, so she made the decision to apply.
Life at Dal "looked amazing," but upon arriving in Halifax, the Canadian climate took some getting used to. She remembers flying in just over four years ago in August with her mother, father and younger sister. "We all had winter jackets, it was so cold," she recalls with a laugh. "I think the temperature was maybe 20 degrees. I remember thinking, 'I don't know if I can survive the winter because I'm freezing.'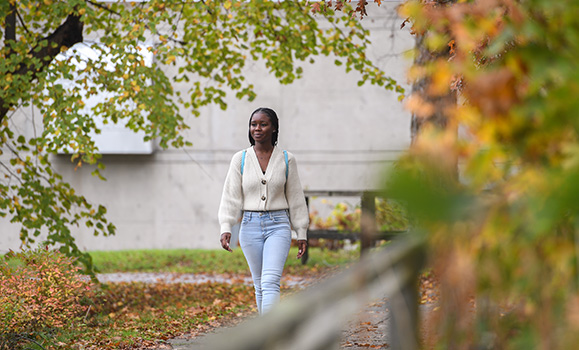 Dealing with challenges along the way

Anastasia recalls struggling with a second-year prerequisite course, Theory of Interest. After the professor told her that if she studied for 12 hours per week, she could get a C+, she opted to drop the course late in the year. "I felt really discouraged," she says. While taking it again in her third year, in which classes were held virtually due to the pandemic, she found the recipe for success.
"I had the same professor again, so I thought, 'Oh no, I'm going to get a C+,'" she says. But having lectures recorded and available online meant that she could watch them again and take extensive notes. That professor also turned out to be "so, so helpful online" and she ended up achieving an A+ in a course she once dropped. She also credits Patricia Laws, the Faculty of Science's assistant dean student affairs, for helping her navigate challenges during her degree.
That year of online learning also resulted in her finding a tight-knit community of classmates as the number of actuarial science students in her graduation year narrowed.
"I met some people in my class online and they said, 'Are you new?'" Anastasia recalls. "How come we've never met you?" The small study group became a "godsend." "We're all doing the same exams, we're doing the same homework, we're (virtually) sitting together in class. It felt so good to have that community."
Most of those peers graduated in May, but she feels she has made connections for life. "I'm not going to let these people go."
Anastasia also developed an interest in gender and women's studies, which began as a desire for an easy elective and ultimately became the subject she minored in. "After taking a couple of 1000-level classes, I thought 'this is really interesting,'" noting that topics like human sexuality and gender and diversity "weren't really taught back home in the Bahamas." She also enjoyed that the subject matter of her courses could be discussed in casual conversation, unlike actuarial science. "You can't really ask someone if they've ever heard of the fundamental theory of calculus."
The importance of family

At times, Anastasia says she didn't always think that actuarial science was for her or that she would be able to make it through the program. Having conversations with her mom ("my biggest fan") helped, as did realizing that if she put forth her best effort, she could be satisfied with whatever the results were.
She was also inspired to be a trailblazer for her five younger siblings (three sisters and two brothers), the oldest of which started university in the United States this fall. "I am an older sister of five and I have been making waves and setting a pathway for them my entire life," she says. "I never want them to think that because they're black or female, they can't achieve anything.
"I've always been the type of person to know that maybe the odds are stacked against me, but as a statistics major, I know it's not impossible, it's not zero per cent."
Unfortunately, while her parents were hoping to fly into Halifax, likely with their winter coats in tow, to attend Convocation, a family situation in the Bahamas will keep them from coming. While she is disappointed ("I was going to spend 24/7 with them"), she has invited some of her former co-workers in their place.
Even without putting a percentage on it, it's fair to say Anastasia is on track for a successful career in her chosen field. An internship this summer with LifeWorks was a "great experience," and she recently landed a full-time position with Mercer Canada as an actuarial analyst that will begin a few days after she crosses the Dal Arts Centre stage with the rest of the Class of 2022. She is also studying for the Society of Actuaries (SOA) exams, which are essential for professional certification in her field.