This article is part of a series focusing on fall grads of the Dalhousie Class of 2022. Read all our profiles here as they are published, and visit the Convocation website for more information and to access the live webcast. 
Sijie (Jessie) Yang's first step to becoming a dental hygienist was to discover that it exists as a profession. In China, where she spent her childhood, the dentist cleans your teeth. It was not until she was at university in Ottawa that Jessie first had her teeth cleaned by a dental hygienist. And it completely changed her life.
Jessie and her family immigrated to Vancouver when she was 14. After high school, she didn't have a clear vision of what she wanted to do. She felt that a science degree would provide a versatile starting point, so she began studying human kinetics at the University of Ottawa. Not really enjoying it, she switched her major to biopharmaceuticals. It was a subject she was more interested in, but it was still "not my passion."
It was while she was a student in Ottawa that Jessie had her first encounter with a dental hygienist, who not only cleaned Jessie's teeth, but noticed that she was struggling mentally. "I was in Ottawa with no family or friends and I was really homesick," she says. It turns out she was depressed.
The experience was a major turning point for Jessie. "My dental hygienist recommended a therapist to me and followed up on the whole process, not just my oral health. I realized that a dental hygienist can be a health-care professional who actually changes the quality of people's lives and I wanted to be someone like her."
Getting started with dental hygiene

Jessie applied to George Brown College in Toronto to take the dental office administration program. It was a one-year program and she was able to have a job at the same time. 
Jessie describes the program as highly practical, offering useful skills like patient communication and schedule management. It also enabled her to meet and talk with oral health-care professionals, which solidified her ambition to become a dental hygienist.
During her two-year dental hygiene program, also at George Brown College, Jessie enjoyed gaining practical clinic knowledge. She also had the opportunity to volunteer at the Queens West Health Centre and do a student placement at Sunnybrook Hospital, which enabled her to observe dentists communicating with patients about research and taking them through the consent process.
"I could see that there were different patient priorities and barriers, depending on cultural backgrounds and socio-economic status. I liked seeing this diversity in practice and it made me realize there's so much more to dental hygiene beyond clinical care," says Jessie.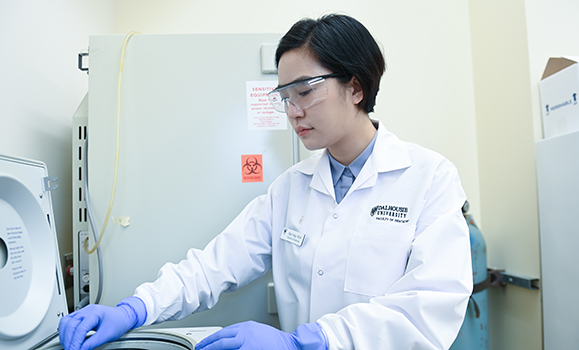 The decision to learn more

Jessie decided she wanted to know more, so early in her second year, she applied for admission to Dalhousie's Bachelor of Dental Hygiene (BDH) program. Unfortunately, it was 2020 and the COVID-19 pandemic interfered with her plans. Although she was accepted into the program at Dalhousie, her graduation from George Brown College was delayed and Jessie's class was unable to sit for its licensing exam, which is a requirement for admission to the BDH program.
Jessie didn't waste the year she had to wait before applying again. Far from it. She spent time in China helping her grandmother, who had recently had eye surgery, worked as a dental hygienist while she was there, and took four Dalhousie courses online, which she would need to graduate with her BDH.
Although she looked at other BDH programs, Jessie says that Dalhousie's stood out for its "practical, comprehensive, and highly interactive structure" and the public health and teaching components. She felt that the program would make her a better clinician and a more well-rounded dental hygienist.
Jessie found the program's outreach rotations in different communities, graduate perio clinics, and opportunities to observe and assist specialists both practical and valuable. And somewhat to her surprise, she also discovered a passion for research through a first-term introductory class, taught by the director of the School of Dental Hygiene, Dr. Leigha Rock.
"We were taught the building blocks of research in a very structured, systematic way," says Jessie. "I learned that research involves ethics and all the quantitative and qualitative aspects. It was amazing to learn about the whole system."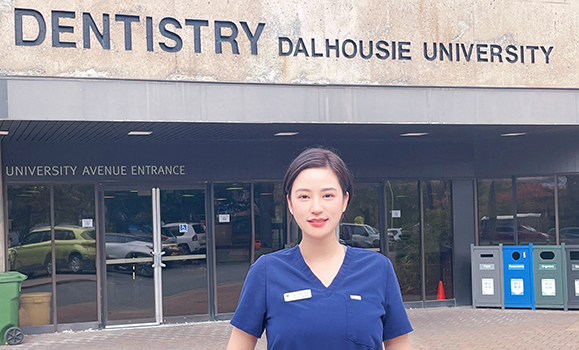 Success and a passion

Jessie's passion for research is currently being translated into published articles and prizes. Her BDH research project, carried out with fellow BDH student Miriam Spina, under the supervision of Prof. Heather Doucette, was a scoping review on the cultural implications of new Asian immigrants' access to oral health care. It will be published in the Canadian Journal of Dental Hygiene in February 2023.
Her essay, "Child abuse and neglect: Recognition and reporting responsibilities of dental hygienists in Canada", won the 2022 CDHA/CJDH Student Writing Competition in the Best Essay category.  It will be published in the fall/winter issue of Oh Canada!. 
Her most recent accolade is the CADR-NCOHR Student Research Award (Junior Category) for her research project, "Evaluating Dental Hygienists' Anxiety in Relation to COVID-19 Policy Changes". She will present her research at the AADOCR/CADR Annual Meeting in Portland, Oregon, in March 2023.
This final project is the result of a student research project carried out over the summer and Jessie delayed her graduation until the fall to be eligible to do it. 
After many years of studying, Jessie is looking forward to working in clinical practice. Living in Halifax, she has learned to swim and kayak and now calls it home. She believes that her interest in research will enrich and deepen the care she is able to give her patients. She hopes that more research opportunities and teaching will be part of her future. One thing she knows for sure: she has found her passion.