What does it take to build a thriving, supportive community rooted in the values of equity, diversity, inclusion and accessibility?
Dalhousie has invested considerable time and energy into answering this question in recent years. Now, the university is taking its efforts one step further by consolidating new and current strategies into a comprehensive, actionable plan that will involve all levels of employees.
"Dalhousie needs to move beyond saying what is right to doing what is right," says Huwaida Medani, manager of Employment Equity with Human Resources at Dal. "I want everyone in the Dal community to know about the plan, to read it, to recognize their role in its implementation, and to help action it."
Dalhousie's Employment Equity Plan (2022-2026) has two major goals:
To increase the recruitment of employees from equity-deserving groups.


To enhance the experience of employees from equity-deserving groups.
Dalhousie defines equity-deserving groups as Indigenous peoples (especially Mi'kmaq), persons of Black/African descent (especially African Nova Scotians) and other members of racialized groups, persons with disabilities, women, and persons identifying as members of 2SLGBTQ+ communities. 
The new plan seeks to strengthen the Dal community and demonstrate its commitment to collaborating with and uplifting the communities of equity-deserving groups throughout Nova Scotia. 
It also consolidates, aligns with, and builds on other initiatives happening at Dalhousie and serves to support a core pillar of the university's latest Strategic Plan (2021-26) along with the work of the African Nova Scotian Strategy, the Indigenous Strategy, Workplace Wellness Strategy, Accessibility Plan, and other unit-specific initiatives.
Reaching out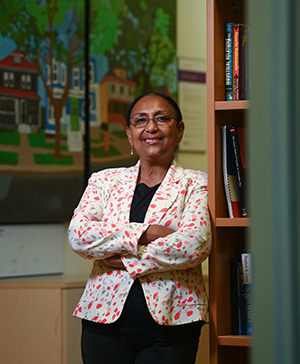 Medani, who joined Dal in the newly created manager position recently, is leading the rollout of the Employment Equity Plan. Medani stepped into this role in recent months and has been a strong advocate for its success.
"It is essential for us to be proactively reaching out and inviting community members from equity-deserving groups," she says.
Medani will be meeting with Faculties, departments, and units to present the plan and identify leads who will assist in carrying out its implementation. 
She credits her life and work experience to shaping her path and preparing her to take on this work.
"I am a racialized woman who is Black, Muslim and an immigrant. I have an accent and a little bit of stuttering. There are so many layers to my personal experience and barriers that could potentially keep me underemployed, but I pushed forward and got the attention of some employers who believed in equity and inclusion."
Before coming to Dalhousie, Medani worked as senior advisor, diversity and inclusion with Halifax Regional Municipality. She has a vast amount of professional experience as a community educator, teacher, and advocate for equity and social justice. She has worked as a supervisor for immigrant women and family programs at the YMCA, as manager of the African Diaspora Association of the Maritimes, and as a career counsellor at Women's Employment Outreach.
Igniting change, inviting diverse talent

To accompany the new Employment Equity Plan, Medani is also developing three training modules.
The first module is an overview of the plan to help the Dal community understand and learn more about it. It is an invitation for faculties, department and units to analyze their strengths, identify any barriers that could help or hinder their implementation of the plan, and develop a strategy to overcome those barriers. 


The second module is designed for supervisors, managers, and directors to help them understand their capacity and ensure their accountability in implementing the plan. Unconscious bias training will be an important aspect in this module, as well as a continuing conversation on topics that address the needs of employees from equity-deserving groups. 


The third module will be for equity-deserving groups and will empower employees to keep pushing forward in their professional and personal lives. It will encourage them to identify their rights as a member of an equity-deserving group and utilize additional resources.
Medani knows how important the plan is for the Dal community as well as those who are considering joining Dal.
"Community partners outside of Dalhousie are waiting to see tangible efforts like the plan so that they can encourage job seekers from diverse backgrounds to consider working at Dal," she says.
The work to develop the Employment Equity Plan began long before Medani's arrival at Dal. Many people from different faculties, departments and units were involved in its making, including Mimi Breslow and Laura Godsoe, members of the Human Resources department.
"I thank everyone at Dal who took part in the creation of this plan and, in particular, I would like to thank faculty, staff, and administrators from the equity-deserving groups. The plan was basically created by them," says Medani. "From the collaborative effort of many of these Dal community members who knew what barriers they faced and offered solutions for them, Dalhousie can now execute this plan with over 50 items that are actionable and achievable."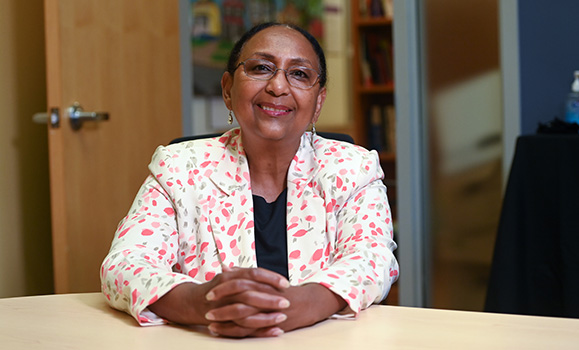 For more information about employment equity, visit dal.ca/employment-equity.