How many activities and fun can you squeeze into a single day on campus? Turns out, a lot.
Dal's Halifax campuses sprang to life last Saturday under sunny skies as a record number of prospective students and their parents and supporters dropped by Fall Open House for a taste of the university experience.
A total of 2,483 people attended the day-long event to explore the many unique opportunities and experiences offered at Dal. It was the university's first Open House event held in person since 2019. Virtual events were held in 2020 and 2021.
Prospective students and their guests explored the many corners of Halifax's Studley, Carleton, Sexton campuses during the day, taking part in campus tours, residence visits, and Dalplex viewings. A hidden-gem prize hunt led propsective students to lesser-known parts of campus, while a speed-friending social featuring human bingo and trivia fostered new connections. 
Attendees also took part in a variety of informative and interactive sessions and fairs to explore the breadth and depth of academic offerings and student supports at Dal, a highlight of the day according to feedback received by organizers.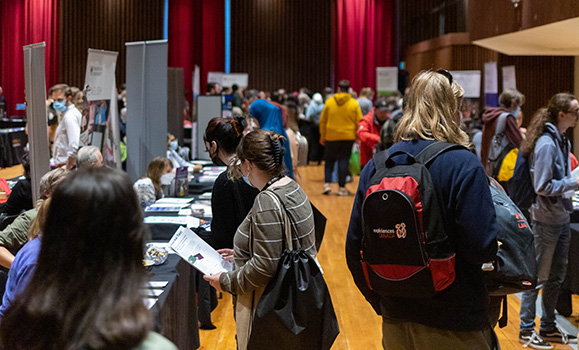 As one of the university's largest events, the Halifax Open House requires a lot of planning and logistics. More than 150 staff and volunteers contributed to making this fall's event possible.
The day's events attracted several larger student groups, including 27 students and three chaperones from Mount Saint Agnes Academy in Bermuda. Chebucto Connections, an organization that provides pathways to post-secondary education for students in the Spryfield catchment area, also brought a group of interested students to campus. 
Find out more about the success of this year's event below. 
Recommended reading: Dalhousie emerges as one of world's top 100 universities for sustainability in new QS ranking
Fall Open House in Halifax: Highlights
 
Attendees by type: 1,215 prospective students + 1,268 parents and supporters


Provinces represented by attendees: British Columbia, Alberta, Ontario, Prince Edward Island, Quebec, New Brunswick, Nova Scotia


Countries represented by attendees: Bermuda, Jamaica and the United States


Number of introductory, academic, immersive activity and pathway sessions: 91


Number of booths at information fairs (academic, student life, & student support services): 90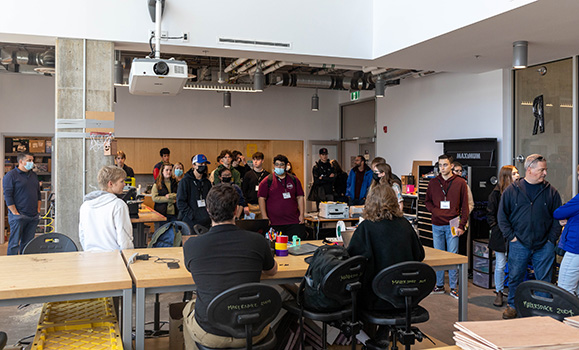 Still to come: Truro and Virtual Open Houses

Truro Open House happens this coming Saturday, Oct. 29. Registration remains open until Friday.
Those who missed or were unable to attend either in-person Open House events this fall can register for Dal's Virtual Open House on Saturday, Dec. 3. Current registrants come from a vast array of countries, including Argentina, Bangladesh, Brazil, Cameroon, Canada, Colombia, Ecuador, Egypt, Ethiopia, Ghana, India, Iran, Israel, Jamaica, Kuwait, Mexico, Morocco, Nigeria, Oman, Pakistan, Scotland, South Africa, Spain, Switzerland, Trinidad & Tobago, Turkey, Uganda, UAE, UK and US.