Dalhousie's strengths in addressing environmental and social issues have earned it a spot among the world's top 100 universities in a new global ranking that measures performance across a range of sustainability issues.
QS World University Rankings (WUR): Sustainability places Dal 86th in the world out of 700 participating universities — affirming the university's impact on an issue central the university's latest Strategic Plan (2021-26). Dal is top 10 among Canadian universities, with an eighth place overall ranking.

QS WUR: Sustainability is the second major international ranking designed to assess how universities are taking action to tackle the world's greatest environmental, social and governance challenges. Dalhousie also ranks in the top 200 globally in the Times Higher Education Impact Rankings.
Related reading: Dalhousie ranked among the top 50 globally for improving good health & well‐being and life below water
Uniquely placed to lead the world
With a mandate to recognize universities that lead the world in accelerating the pace of environmental and social change, the QS Sustainability ranking assesses data collected from universities themselves as well as from data partners at Elsevier, Yale University, and the Academic Freedom Index.
The QS WUR: Sustainability ranking evaluates contributions based on two broad categories, Environmental Impact and Social Impact. Each category contains a handful of performance "lenses" based on indicators related to specific United Nations Sustainable Development Goals (SDGs).
Dalhousie is ranked 66th in the world for Environmental Impact and is tied at 182 for Social Impact — scores that place Dal above the global median in both categories. 
Environmental Impact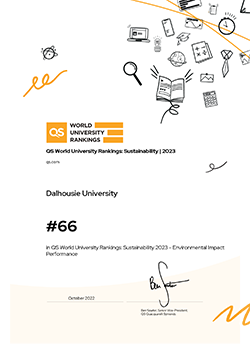 Environmental Impact attempts to capture whether the university is strategizing, researching and educating with the environment in mind.
Dalhousie ranks 66th in the world for Environmental Impact with a score of 62.20 out of 100. This places the university seventh among the 26 Canadian universities that participated.
Environmental Impact includes the lenses of Sustainable Education, Sustainable Institutions, and Sustainable Research.
Sustainable Education is the strongest Environmental lens for Dalhousie, earning a global rank of 34 (74.7/100). Nationally, Dal ranks in third place among other Canadian universities. 
The Sustainable Education lens assesses how institutions are educating students to both understand and make a difference to the environment. It combines academic reputation in Earth, Marine, and Environmental Science; alumni outcomes data; presence of environmental research centres; and available curriculum on climate-related subjects.
The university ranks 191 (45.2/100) for the lens of Sustainable Institutions and is tied at 201 (71.3/100) for the lens of Sustainable Research.
Social Impact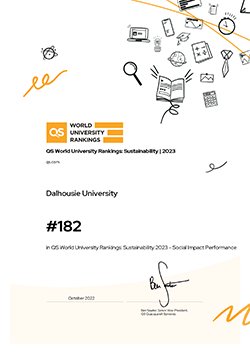 The category of Social Impact looks at how the university is working to ensure social progress and quality education.
Dalhousie is tied at 182 in the world for Social Impact, scoring of 60.7 out of 100, which places it eleventh in Canada.
Social Impact includes the lenses of Employment and Opportunities, Equality, Life Quality, Impact of Education, and Knowledge Exchange.
Equality is the strongest Social lens for Dalhousie — the university is tied at 75 globally (82.6/100). Nationally, the university's efforts toward Equality have earned eighth place.
The Equality lens assesses the climate of equality at the institution. It considers research related to SDGs 5 and 10, operational activities, student and staff gender ratios, and national-level statistics on equality.
Among the other Social Impact lenses, Dalhousie is tied at 316 (48.3/100) for Employment and Opportunities, tied at 225 (69.1/100) for Life Quality, tied at 204 (62/100) for Impact of Education, and ranks 338 (52.1/100) for Knowledge Exchange. 
Research for a better future
When QS looked at the sustainability-related research papers published at Dalhousie between 2016-2021, a few key areas were highlighted that show the impact of the university's signature research clusters.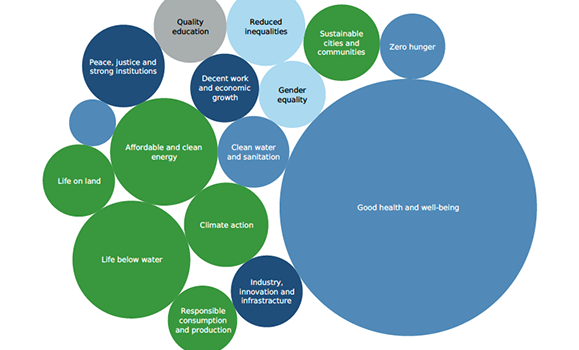 The reasearch was tracked to the UN SDGs (see above image) and there is a clear research effort focused on SDG 3: Good Health and Well-being, which relates to the signature research cluster of Healthy People, Healthy Communities, Healthy Populations. Research toward SDG 14: Life Below Water, which relates to the Sustainable Ocean cluster, and SDG 7: Affordable and Clean Energy, which relates to the Clean Tech, Energy, the Environment cluster also feature prominantly. 
Related reading: Supercharging solutions for people and the planet
Dalhousie's top 100 placement in the new QS WUR: Sustainability rankings is a reflection of the university's commitment to leveraging global activities to fulfill local commitments and the important work that's being accomplished to support accomplishing the UN SDGs by 2030.
Related reading: Dalhousie ranks in top quarter of universities in 2023 QS World University Rankings