Work long enough in the same place and you're likely to see changes come and go. Dianne Landry certainly has.
When Landry got her start at Dal as a secretary to the Killam Memorial Library's archives and special collections team in 1975, it was just as the unit was undergoing a split into two. Thirty years later, she was still offering her services when the teams amalgamated again in 2005.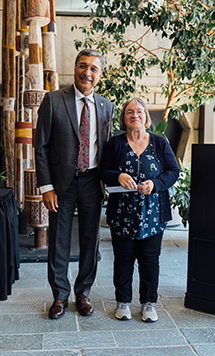 Now in her 47th year at the library, Landry (pictured right with Dal President Deep Saini) works as an archives assistant — helping students, the public, and others meet their research and records needs. Through it all, she has remained passionate about the work and those she serves.

"I really like people, and I like helping students and the public," said Landry at a recent reception where she and 63 others were honoured for their long service to the university.
The Milestones Tea ceremony was the first since 2019 and celebrated those, like Landry, who reached impressive milestones of 25, 35, and 45 years of service to the university in 2020. Each received a special commemorative pin.
"It is a privilege to stand here in front of you and to welcome you all finally after a long wait for an opportunity to celebrate these milestones together in person," said Dal President Deep Saini at the event. "The pandemic prevented us from doing this for two long years."
Those who reached milestones in 2021 and 2022 will be recognized next year.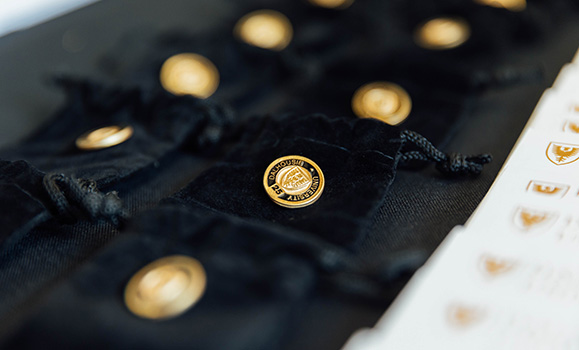 Stronger than ever

President Saini said Dal has entered its third century stronger than ever thanks to the dedication and service of those being honoured.
"This reception brings us here together from all across the university. There are those here who inspire our students in classrooms and labs, there are those who work to keep our campuses beautiful and safe, those who conduct research that moves the frontiers of knowledge and create better societies around us and change lives, and those who ensure that our staff and students have access to the services they need, and many other services," he said.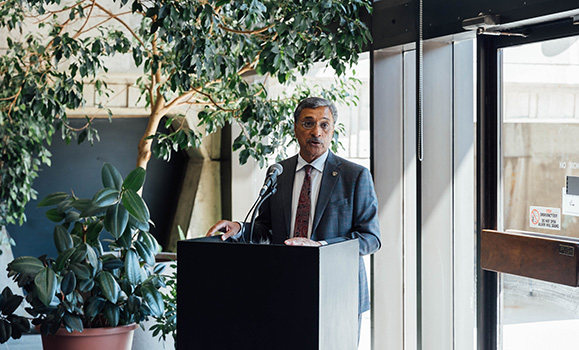 While those celebrating milestones for 2020 had seen the university through many ups and downs over the years, President Saini said, the pandemic was a test of a different magnitude.
"None of those challenges tested our resilience, our endurance more than this pandemic."
As Landry approaches her own 50-year milestone, the prospect of retirement has begun to creep into her thoughts — but she's not sure yet if she'll give in.
"I'm thinking about it," she says. "I haven't decided when, but who knows — I love the work."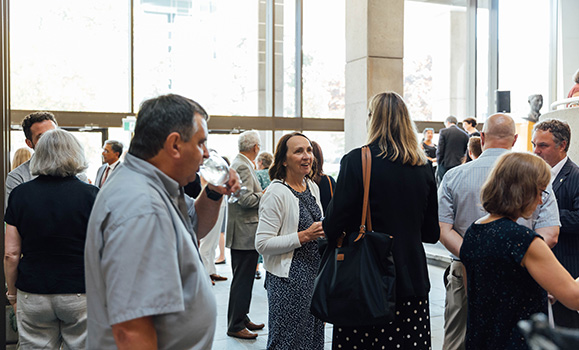 Milestones 2020

Below are the names of individuals recognized for their long service to Dalhousie for 2020.
45 Years

Crace, Christopher - Printing Services, Financial Services
Feltham, Bruce - Facilities Management
Laidler, R Brant - Earth & Environmental Sciences
Landry, Dianne - Killam Library, University Librarian
Meinertzhagen, Ian - Psychology and Neuroscience
Rusak, Benjamin - Psychiatry
35 Years

Armstrong, Brenda - Medical Neuroscience
Burns, Joan - Medical Neuroscience
Cada, Michael - Electrical & Computer Engineering
Caissie, Mary - Killam Library, University Librarian
Chislett, Joanne - Facilities Management
Cluett, Darlene - Ancillary Services
Colp, Patricia - Pathology
Elliott, Donna - Facilities Management
Eskes, Gail - Psychiatry
Forward, Sharon - Faculty of Medicine
Fredeen, Alan - Animal Science and Aquaculture
Halperin, Scott - Pediatrics
Hung, Orlando - Anesthesia, Pain Mgmt & Periop Med
Lapierre, Audrey - Killam Library, University Librarian
MacLellan, Rosemary - Academic Computing Services, Information Technology Services
McGrath, Nancy - Facilities Management
McInnis, Katheryn - Dental Clinic
Oore, Irene - French
Payne, Stephen - Physics and Atmospheric Science
Schwartz, Jacqueline - Carleton Animal Care Facility
Sherwood, Angelique - Student Health
Strowbridge, Suzanne - Facilities Management
Yeung, Pollen - Pharmacy
25 Years
 
Adamo, Shelley - Psychology and Neuroscience
Brown, Geoffrey -  Killam Library, University Librarian
Caddell, Lisa - Ancillary Services
Caines, Shelley — Faculty of Engineering
Cann, Beth — Registrar's Office
Cleave, Patricia — Communication Sciences & Disorders
Colbourne, Shelley — Occupational Therapy
Cox, Jafna - Faculty of Medicine
Cozens, Frances - Chemistry
Darvesh, Sultan - Medicine
DeYoung, Donald - Facilities Management
DuBois, Lindsay - Sociology & Anthropology
Good, Kimberley - Psychiatry
Goodall, Howard - Facilities Management
Hubbard, Ted - Mechanical Engineering
Hunter, Tom - Facilities Management
Hutchings, Jeffrey - Biology
Inacio, Teresa - International Centre, Student Affairs
Jurgens, Tannis - Pharmacy
Kinney, Jesslyn - Faculty of Dentistry
Lee, J Michael - Applied Oral Sciences
MacDonald, Joyce - Dental Hygiene
Mifflen, David - Killam Library
Mills, Carman - Biology
Morley, Stephen - MedIT, Computing & Media Svcs
Peltekian, Kevork - Medicine
Schepp, Norman - Chemistry
Shires, Natalie - Facilities Management
Tentomas, Nick - Facilities Management
Torkkeli, Paivi - Physiology & Biophysics
Wolfe, Shelagh - Financial Services
Wood, Natalie - Arts - Dean's Office
Zachernuk, Philip - History
Zinck, Tammy - Networks and Systems, Information Technology Services