Translating advanced climate science into a compelling lesson plan aimed at teenagers might seem like a tall order, but a recent Dal-hosted event offered junior high teachers from across Nova Scotia a leg up with the task.
Attendees at the Atlantic Science Links Association's 2022 conference explored this and a few other key subject areas during the free one-day event that introduced junior high teachers to new and innovative ways of illustrating contemporary scientific concepts.
"Keeping the attention of junior high school students isn't always easy. Having real-world connections helps, and they [ASLA] do that through how they present, what they present and the materials they give us," said participant Sarah Kuehm, who teaches science to Grade Seven to Nine students at Bedford Academy.
Kuehm has been coming to ASLA's events for teachers since they started in 2017.
"It's much more focused than any conference I've ever gone to," she says. "I can leave here and go, 'I'm going to try this with my students.'"
A volunteer-based charitable organization, ASLA's mission is to bridge the gap between the scientific community, schools and the public via outreach activities. Its five-member board includes President Arunika Gunawardena, Executive Director Rajesh Rajaselvam, and James Brenan, who are all professors in the Faculty of Science. Drs. Gunawardena and Rajaselvam were the lead organizers of the teacher's conference, along with Biology PhD student Shanukie Embuldeniya, who serves as ASLA's part-time administrative assistant.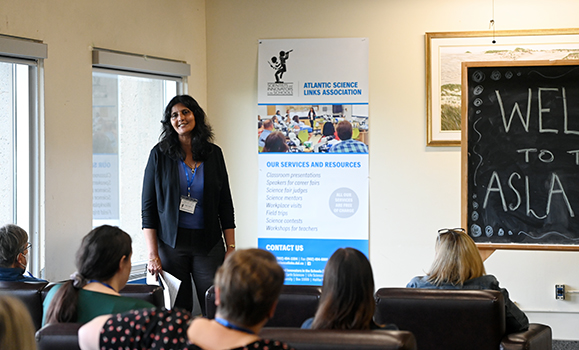 ASLA president Arunika Gunawardena delivers opening remarks.
Exploring science

During the daylong event held in August, the teachers broke up into groups to explore four subject areas:
Using satellite imagery to view changes to the earth's surface over time (instructed by Amy Mui)
Exploring structure and function in biology using plant and animal tissues (instructed by Sophie Tattrie, Gillian Gass and Arunika Gunawardena)
Minerals and crystal structures in earth sciences (instructed by Richard Cox and James Brenan)
Engaging with cell biology through e-books (instructed by Gabrielle Tompkins)
After a break for lunch, Dr. Rajaselvam and Embuldeniya led the group on a tour of the tropical plant section of the LSC's eighth-floor greenhouse before they started their final two activities of the day.
To build on what they were shown, teachers in attendance were given a program and lab manual with lesson plans and ideas to incorporate the day's activities into their classrooms. They also left with a USB stick filled with digital resources, including image files for use with the ArcGIS geospatial software demonstrated during the "Viewing Earth from space" lesson.
"It's always great to have experiences that are hands-on, easy to implement, and are not too overwhelming to teach," commented one teacher in an anonymous post-event evaluation. Another teacher praised the materials. "I love geology, and this is the only conference where I receive materials useful to implement the curriculum at my school. I am glad to have the opportunity to improve my teaching of this course."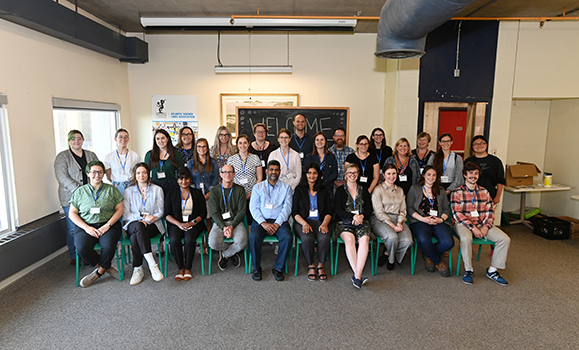 Teachers, ASLA organizers and volunteers pose for a group photo at the end of the day.
Investing in youth

First held in 2017, the conference is a highlight of ASLA's outreach programming. The pandemic halted in-person gathering opportunities in 2020 and 2021, with Dr. Rajaselvam noting that in pre-COVID times, ASLA reached approximately 4,500 students in the province every year through guest speakers, lab visits and other outreach activities provided by its volunteers.
The organization — funded by NSERC, Dalhousie's Faculty of Science and Engineers Nova Scotia — is also in the planning stages for the next edition of its Junior High Science Contest, which was last held in 2019 and saw more than 1,950 students from 29 schools in Nova Scotia take part.
"We want to get back to making in-person connections again," says Dr. Rajaselvam, a University Teaching Fellow. "Our programming allows us to help grow an interest in science in Nova Scotia's youth." The hope is that the day's events will inspire a trickle-down effect: teachers will take their lessons back to their classrooms and share them with students, who will in turn develop an interest in science that lasts throughout high school and university.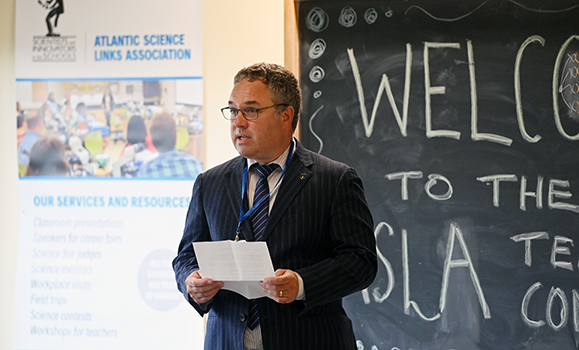 Faculty of Science Dean Dr. Chuck Macdonald speaks to attendees at the conference.

There is an importance in fostering an interest in science among Nova Scotia youth, regardless of whether they ever end up coming to study at Dalhousie, said Faculty of Science dean Dr. Chuck Macdonald in his opening remarks. "Science can take you on so many career paths, and at the junior high age, it's about developing an interest in science. As a faculty, we are pleased to support ASLA's outreach programming, and thank all the faculty members and volunteers who helped make today's event happen."
Visit ASLA's website to learn more about ASLA and how to get involved in its outreach activities.