Alternative energy was the big winner at the inaugural Falling Walls Lab – Atlantic Canada pitch competition Wednesday night (Sept. 21), with Dal PhD researchers focused on advancing hydrogen and battery science taking first and second place.
The close to 100 people who attended the event at the Halifax Public Library's Paul O'Regan Hall were treated to an evening of progressive presentations focused on making the world a better place.
"Falling Walls is all about creating hope for a brighter future through bright ideas, and I think I can safely say that our participants delivered on that promise tonight," said Dr. Alice Aiken, Dalhousie's vice-president of research and innovation. "I am buoyed to know that Dalhousie and the universities across our region are a source of such forward-looking thinkers."
Falling Walls Lab is an international pitch competition that empowers competitors to share innovations for improving our world — in just three minutes. Dal's regional event was one of dozens taking place around the world, from Cape Town to Columbia, San Francisco to Slovakia. 
In addition to the pitches on how to deliver power without fossil fuels, participants presented on bringing clean water to those who need it most, energy conservation, waste reduction, improving our health and longevity, breeding better crops, protecting our oceans, and keeping our most vulnerable safe.
The global competitions will culminate at a finale event in Berlin, Germany at the Falling Walls Science Summit, a yearly event that gathers some of the most important researchers and thinkers of our time to answer the core question: "Which are the next walls to fall in science and society?" Dal's first- and second-place winners will receive trips to the conference to help answer this important question.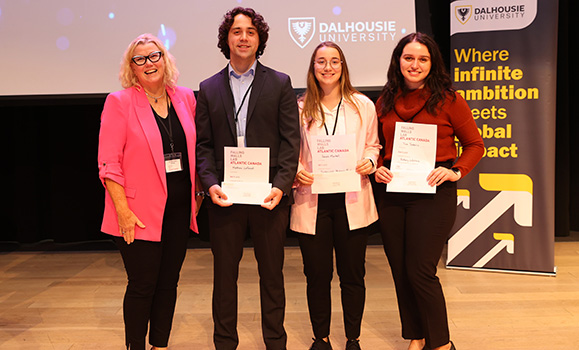 Dr. Alice Aiken, far left, with the winners. 
Winning ideas

First-place winner Sarah Martell, a Dalhousie PhD student studying Chemistry in the lab of Dr. Mita Dasog, is working to create a clean and sustainable method to produce hydrogen fuel. Her novel approach synthesizes porous silicon nanoparticles that react with water to generate hydrogen fuel whenever and wherever it's needed.
"Our innovation could be very useful in the transition away from fossil fuels and towards clean and renewable energy," says Martell. "This technology is a cheap and simple way to produce and store hydrogen in a clean fashion. Ideally, it will be used to power portable devices and vehicles. Whenever you need energy, this technology will be able to produce it on-demand."
Tina Taskovic, who took second place, is focused on improving the lifetime of lithium-ion batteries as a pathway to decarbonize our energy infrastructure. Her work forensically examining spent batteries has led to the discovery of a new combination of chemicals that promises to create a new "50-year battery."
"If we can make a battery last 50 years reliably and without fail, we can get to our energy goals by the year 2060."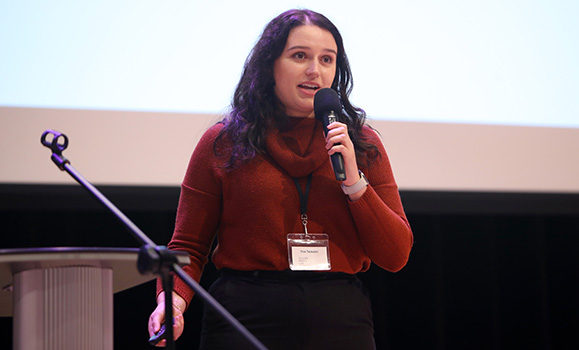 Tina Taskovic.
Third place at the event went to Dalhousie industrial engineering alumnus Matthew Laforest, who envisions using dehumidification technology to bring clean drinking water to those who need it most.
"My innovation was inspired by trying to come up with ways to repurpose waste and by-products from our everyday lives. I was emptying my dehumidifier and thought about how wasteful it is to dump this freshwater," he says.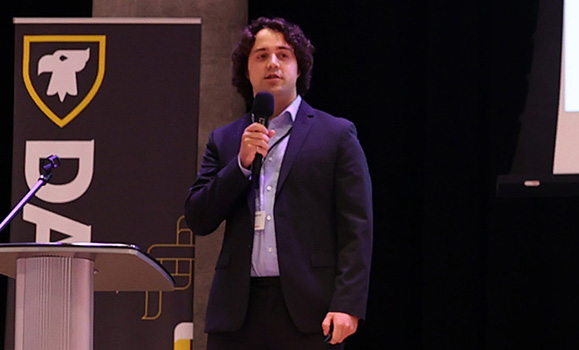 Matthew Laforest.
His solution? A self-filling water tower that wicks moisture from the air with the support of solar power. "When I think of the ideal impact, I see these self-filling reservoirs being used everywhere from farms to hedge against drought, to remote communities with no access to clean drinking water."
The event was capped by an enthusiastic question and answer period with the audience where the innovators got to talk in depth about their ideas. At the end of the Q&A, moderator Jeff Larsen, Dalhousie's assistant vice president innovation and entrepreneurship, asked which participants had started a business to bring their ideas to the world. Half of the group's hands went up. He then asked which participants planned to. Up went the other half.