More than 100 student societies, clubs, and community groups converged on Studley Quad Tuesday for Dal's Fall 2022 Society & Volunteer Expo.
Co-hosted by Dalhousie Student Life and the Dalhousie Student Union, the event offered students a glimpse into the wide variety of societies and clubs available to join at the university. From sports clubs to language societies, there's something for everyone. 
Students moseyed along pathways lined with tables displaying banners and registration sheets, many juggling tote bags, pencils, newspapers, and other goodies distributed by societies. They were treated to plenty of sunshine, popcorn, cotton candy, and food trucks. 
While there were too many societies at Tuesday's expo to list, here are a few highlights:
Dalhousie Theatre Society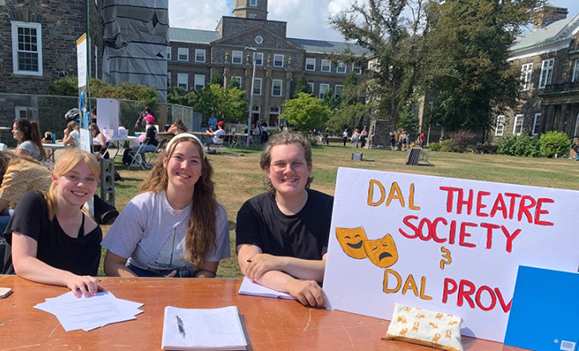 Dalhousie's Theatre Society seeks out new recruits. Photo by Mandy King.

Theatre-loving students, unite!
The Dalhousie Theatre Society focuses on creating new productions, supporting independent productions, offering skills workshops, and participating in performance festivals. Members get the unique opportunity to network with other theatre lovers and get involved in theatre competitions with other universities.
August Van MacKeren, a third-year acting student and the society's president this year, says she hopes to help revitalize the group after a few years of inactivity during the pandemic. This will be the first year since the COVID-19 shutdowns that the society is able to put on live shows.
"We hope to bring people together and give them a nice show," says August.
Why should students join? 
"We put on student-led productions. We fund and facilitate those productions. We also do more student-focused events, like karaoke nights, group theatre showings, and an improv group. That happens about once a week. We've got a lot of things on the go," says August.
You can reach out to the Dalhousie Theatre Society through email at stage@dal.ca, or visit the group on social media through Facebook, Instagram, and Twitter.
DalKing's Swing Dance Society
 
Dalhousie and University of King's College students came together nearly a decade ago to form this nostalgic dance club as a way to offer people a safe space in which to enjoy a time-honoured activity.
The group focuses on a variety of swing dance forms, including the Lindy hop, blues, balboa, and the Charleston. 
A visit to the DalKing's Swing Dance Society table was a real treat for expo-goers. Members of the club played swing music and two danced in the background, while others chatted with interested students. 
Ella MacDonald, a fourth-year year King's student and the society's co-lead of student engagement, says this year is shaping up to be a fun one.
She says a drop-in lesson is planned for this Saturday from 7:15 to 8:00 pm in the Studley gym, with a six-week class rotation starting on September 24. University students from across Halifax and members of the broader community are welcome to join. 
Why should students join? 
"We're an inclusive swing dance community," says Ella. "Anyone is welcome and no partner is necessary. Just bring your friends out and have fun."
Get involved by visiting them online through their official website, or on social media on Facebook and Instagram.
Microtransat Autonomous Sailing Team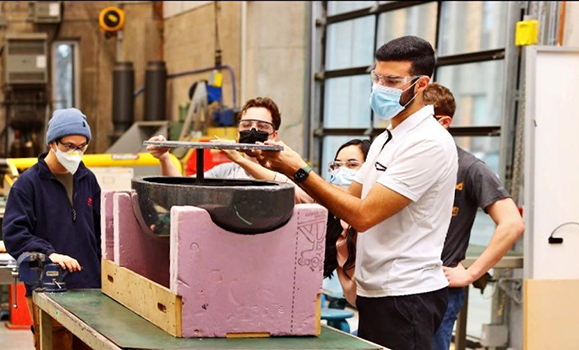 Dalhousie Autonomous Sailboat Team's design team hard at work last year. Photo by Dalhousie Faculty of Engineering.

Each year, students from Dalhousie and the University of New Brunswick team up to deisgn and build a self-sailing boat that they then let loose upon the open Atlantic as part of the annual Microtransat Challenge.
The challenge invites students to enter their autonomous boats in the transatlantic race, which is designed to stimulate design, development, and competition. Those interested in following the race can track the progress of team sailboats online. 
Why should students join? 
Members get to meet students from various Faculities — and even another university — as part of this group. They also get to offer their own expertise as part of specialty sub-teams: there's an electrical team, a software team, a management team, and a design team. 
To get involved, reach out through email at dalmast@dal.ca, or visit the team on social media through Facebook, Instagram, and LinkedIn.
American Sign Language Society

American Sign Language serves as the official language of Deaf individuals living in Nova Scotia. The Dalhousie ASL Society provides opportunities to learn and explore this physical language while connecting with the local Deaf community. 
Last year, the society helped organize the first National Conference for Deaf Awareness in partnership with Queens University in Kingston, Ontario. All are welcome to come together and learn.
Why should students join?
Members of the society participate in classes and special events aimed at supporting inclusivity and communication. 
Get in touch through email at dalhousieasl@gmail.com, or visit the group on Instagram and Facebook.
Dalhousie Gaming and eSports Society

Dalhousie's Gaming and eSports Society has tapped into the growing popularity of electronic sports, an activity that brings compeition to the world of video gaming.
Walking around the expo, it was difficult to miss the Dalhousie eSports Society's table. Expo attendees chatted animatedly with society members and left the table with a hat for a trophy. This group is home to gamers loyal to a variety of gaming platforms and systems and welcomes players of all levels. 
Why should you join?
Dal's eSports society participates in intercollegiate competitions. Previously they've been involved in competitions for League of Legends, DotA2, and Starcraft 2. Game on!
Connect with the Dal's Gaming and eSports Society through its discord channel, Facebook, Instagram, and Twitter. You can also email the club at dess@dal.ca.
Find more information on current societies, society ratification, and other society resources through the Dalhousie Student Union website.