Dr. Afua Cooper is a walker. She says it's when she does her best thinking. She enjoys it. But when she weaves her way through the streets and pathways of Halifax, the past is always with her. It's a history that she wants to make evident to her students and the world beyond the classroom.
"It's important to provide an understanding. Basic facts. We live in this world. We are walking on the streets of Halifax. What's the history of this place? What's the truth of it?"
The facts, she says, provide the foundation to build a common understanding, a starting place for a more productive dialogue and empathy. And, according to the Royal Society of Canada, no one has done more to build the facts of Canadian Black history than Dr. Cooper, who they've named the winner of the J. B. Tyrrell Historical Medal, an award granted every two years.
"It's for the study of the history of Canada. For them to recognize the work that I'm doing, which focuses predominantly on Black history, it signals that they recognize the importance of this other history that has been at the margins for so long — recognizing it as an integral thread of Canadian history."
In the shadows too long

Raising the profile of the African Canadian experience has been Dr. Cooper's life's work since completing her master's degree focused on black teachers in Ontario during the 19th century at the University of Toronto. Over the three decades since completing her PhD, also at Toronto, she has been prolific, producing discipline-defining scholarship, museum exhibitions, art, and literary achievements.
Rising to prominence as a public scholar, she was named to the "The Power List" in 2022 by Maclean's Magazine, a rollcall of 50 Canadians "forging paths, leading the debate and shaping how we think and live."
"I have an impulse to say, 'We are here, we have been here as Black people and it's important — we've been in the shadows too long," says the Jamaican-born scholar who moved to Toronto in 1980.
This impulse led her to write The Hanging of Angelique, The Untold Story of Canadian Slavery and the Burning of Old Montréal, an account of a slave woman condemned to death, which has been credited for dispelling the myth that slavery was absent from Canadian history. A continual best seller since its publication in 2006, the book was a finalist for a Governor General's Award.
Setting the historical record straight at schools

Having played a leading role setting the Canadian historical record straight, she was a natural choice to spearhead 'A Black People's History of Canada,' an ambitious Canadian Heritage-funded project that will address the inadequacy of African Canadian history education across the country at all grade levels. The project, announced in April last year, will support leading Black historians and organizations to create engaging learning materials and digital media about the history of Black Canadians.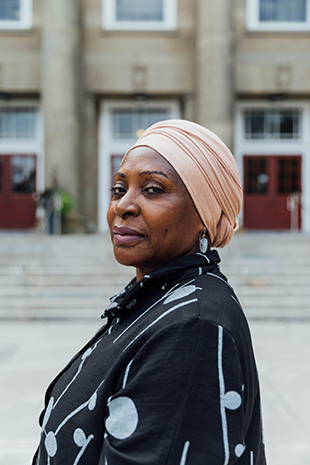 "It's a massive task that I have undertaken as a principal investigator," says Dr. Cooper. "We're looking at diverse themes: civil rights, slavery, abolitionism, the black press, schools and education and much more, for every province in this country and also the territories."
She says that they will be breaking new ground, exploring the black experience as far north as the Yukon, noting that Black history touches nearly every corner of the country. She also says that, while content will lay bare inequities experienced by Black people, it will also celebrate Black achievement.
"It's a history of accomplishment, it's a history of sorrow. It's a history of oppression, it's a history of resistance. And we will stress all aspects because it's a wholistic history."
At Dalhousie, her leadership has left an indelible mark. She was the James R. Johnston Chair in Black Canadian Studies, the only named Black studies chair in Canada, from 2011 to 2017, during which she developed the first Black Studies minor at a Canadian university. She also chaired the Lord Dalhousie scholarly panel tasked with examining questions surrounding Lord Dalhousie's historic links to the institution of slavery and racial injustice.
"Dr. Cooper has played and continues to play an integral role helping our university reckon with its past and pointing us to a more equitable and just future," says Deep Saini, president and vice-chancellor of Dalhousie University. "Her research, art and advocacy are helping to set the Dalhousie community and the entire country on a better path."
Related reading: Unravelling a legacy - Inside the Lord Dalhousie Panel's report
From the sweep to the small


In conversation, Dr. Cooper describes the sweep of Canadian history in narratives that leap across borders, track events over generations, and paint pictures of battles, mass migrations, injustices, and upheaval. And throughout, she weaves the Black experience. The result is a tapestry so big that it can almost overwhelm.
But she is also very interested in attending to the small. For this, she uses poetry, an artform she pursued as Halifax's poet laureate from 2018 to 2020.  
"I feel sometimes facts on their own just can't capture what I would like to capture," she says. "What was the person feeling? A child who lost her parents in the war and was sold to different masters. This child shows up with a group of people in Digby, Nova Scotia as an orphan. How do you account for this child's life? For me, the way is poetry."
In a recent unpublished poem, Dr. Cooper reacts to the list of nameless children included in the Book of Negros, the register created to account for Black people British forces transported from the United States at the conclusion of the American Revolution in 1783. She conjures a scene at a port where Black people, many escaping slavery, were embarking en masse, as scribes scrawled thousands of names in ledgers.
"And sometimes they got tired. And so, for some of the children, they didn't bother to ask their names. They would just write, 'this is the child of Venus, child of Sarah, child of Abigail.' I'm sure the child had a name, but they couldn't be bothered, or they were too tired."
Her poem is a mediation on those children, the nameless about to start a life in Canada. 
Child of Mine
(Some Black Loyalists' infants and babies listed in Guy Carleton's Book of Negroes, 1783, as Black Loyalists prepare to leave New York Port for Nova Scotia.)
Child of Venus
Child of Sarah
Child of Hagar
Child of Chloe
Child of Peggy
Child of Patty
Child of Dinah
Child of Thomas
Child of Betsy
Child of Mary
Child of Guinea
Child of Few
Child of Prince
Child of Abigail
Child of Warner
Child of Cooper
Child of Allen
Child of Violet
Child of David
Child of Westcot
Child of Willoughby
Child of Effy
Child of Ceasor
Child of Sentry
Child of Isabella
Child of Lucinda
Child of Jupiter
Child of Gambia
Child of Campbell
Child of Johnson
Child of Watson
Child of Williams
Child of Bing
Child of Tynes
Oh dear, sweet child of Mine.