Born out of riots in New York City more than 50 years ago, the Pride movement has journeyed to its current moment through both celebration and struggle — sentiments captured Thursday afternoon at Dal's flag-raising ceremony in Halifax.
People gathered on Studley Quad for the now-annual event where they heard from members of the 2SLGBTQIA+ community and others committed to continuing this fight for recognition and representation.
"I'm so honoured to be a part of this community because it's gotten me through many hard times," said Kaitlin Cullen, a Psychology and Indigenous Studies student from Pictou County, N.S., in remarks at the event.
Kaitlin, who serves as social media coordinator with DalOUT and continues to advocate for 2SLGBTQIA+ youth back home in Pictou, said safe spaces are essential in helping queer youth be "true to themselves."
Sadly, she said, the struggle to find such spaces is still very real for many young people.
"A lot of youth back in Pictou County still get barked at in the hallways, they get gaslit for just speaking their truth and representing themselves and how they truly are," she said. "It's a sad reality, but it's something we can do something about as leaders in our community."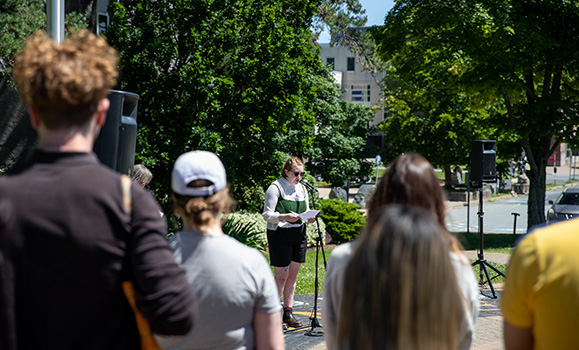 Kaitlin Cullen.
Recognizing progress, remaining vigilent

Pride as it exists today was built over more than five decades by activists, community leaders, and others committed to securing equal rights, recognition, and justice for members of the 2SLGBTQIA+ community.
Engineering student Aparna Mohan, current president of the Dalhousie Student Union, urged those gathered to recognize this progress and celebrate it but to acknowledge the work that lies ahead.
"I wish it weren't so much of a political statement for queer people to just exist. Unfortunately, it still sometimes is," she said. "I think it's important to remember to not take any of this progress for granted, to celebrate, but also to hold onto the caution that what we have worked for can disappear if we don't remain committed."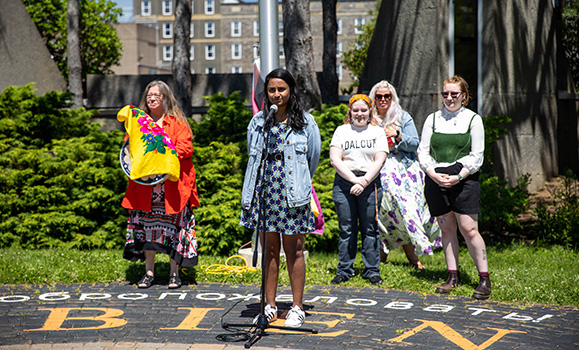 Aparna Mohan.
This year, Tyler Hall, a student success advisor with the Bissett Student Success Centre, carried out the raising of the Pride flag in Halifax — signaling the start of Pride celebrations here. A flag raising was held separately on the Agricultural Campus in late June during Truro Pride celebrations.
Heather Doyle, director of assessment and special projects for Student Affairs, and Shreetee Appadu, outreach and administration coordinator at South House, also spoke at the Halifax event, which was organized by Human Rights and Equity Services at Dalhousie.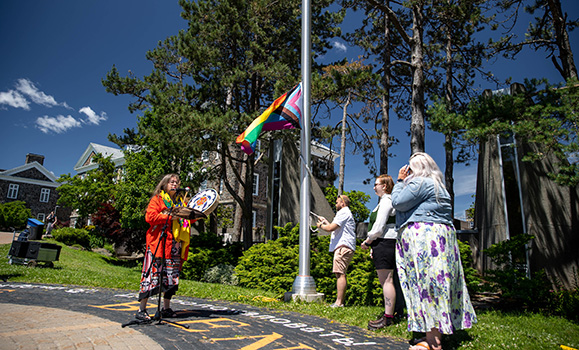 Tyler Hall, centre, raises the Pride flag as Catherine Martin, Dal's director of Indigenous Community Engagement, provides musical accompaniment and others look on.
A community social

Following the flag raising, attendees were invited to join the Queer Community Social on the quad — new this year at Dal. Lunch, music, and lawn games were on offer, as were further discussions about the continued importance of Pride.
"For me, Pride has the same meaning that it had in 1969," said Vincent Mousseau, an incoming PhD student in the Faculty of Health. "Pride is a symbol of the ongoing work that we still have to do 2SLGBTQ+ communities. We can talk about celebration and how important that is, but we also have to recognize that there are still to this day members of our community who are struggling with issues that should have been address long ago."
Maddie Oulton, a third-year Neuroscience student, said she appreciates the sacrifices of those who came before.
"The fact that this can happen and we all feel safe in this community today is really important and really awesome," she said. "In the past, you hear about all these horrible things that happened and the things people had to go through to get to a place where you feel comfortable and safe. That's one reason I'm so happy I live in Canada and Nova Scotia is a really great place where we can do this and make connections and meet new people. I'm not afraid of being persecuted just for existing here."
Pride activities