Since 2017, Dalhousie's Blue Whale Project has left a big impression on everyone who's encountered it, from students and faculty to community members and volunteers. Now, just months away from the blue whale arriving at its final resting place in Dal's Steele Ocean Sciences Building, there is a buzz of excitement around the university.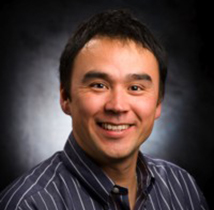 "Things are really picking up," says Gordon Price (pictured right), professor and leader of the Innovation Waste Management Program at Dalhousie's Agricultural Campus. "It feels like we're getting closer to the finish line."
The project, now five years in, has turned the tragic loss of an 18-metre blue whale into a learning opportunity for the Dal community and beyond. 
"For years, I have felt that Dal needed a project like this," says Chris Harvey-Clark, Dalhousie's university veterinarian. "Back in 2017, when I got the call from the Marine Animal Response Society that a blue whale had been found [near Liverpool, N.S.], I knew it was our chance." 
Following a thorough necropsy, a rigorous composting and degreasing phase began with the help of Dr. Price's team and supported by the Faculties of Agriculture and Science, as well as Dal students and community volunteers. During this phase, the bones were also weighed and 3D-scanned to develop a digital archive of the skeleton. In 2021, the full skeleton was sent to Research Casting International (RCI), an Ontario-based company that specializes in preparing and mounting museum displays. 
Once completed, the bones will be sent back to Halifax for installation in the atrium of Dal's Steele Ocean Sciences Building. This phase of the project is on track to be completed this fall, which will result in the first blue whale display of its kind in Nova Scotia.
Further reading: Reconstructing the ocean's greatest giant
Showcasing Dal's strengths

From its inception, the Blue Whale Project has been making full use of the resources available at Dalhousie, including education and research around ocean conservation and marine biodiversity.  
"The project represents a full picture of what we can do as a university," says Dr. Price. "It's bringing together our roles as educators and scientists, using our expertise to create a shared experience between the [Halifax and Truro] campuses, and sharing a tangible result with the broader community."
Dr. Harvey-Clark recalls his time as a veterinary student during which he worked with a bottlenose dolphin, which became a career-defining moment for him. "I hope this is a very similar experience for the students who've worked with the blue whale," he shares. "Dal is a place where those experiences can be made available to students."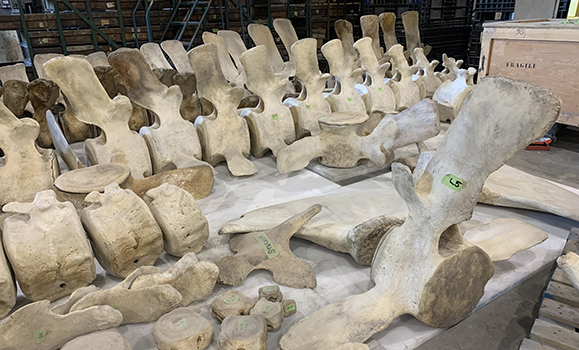 The blue whale bones at Research Casting International in Ontario. (Chris Hogarth photo/RCI)
An outpouring of support

As both Drs. Price and Harvey-Clark are quick to point out, this project would not be possible without helping hands. "It takes a village to build a whale," says Dr. Harvey-Clark. "There's been strength in the project's interdisciplinarity, in its collaboration. The outpouring of support has been tremendous."
The two acknowledge the many individuals and organizations whose roles in this project have been instrumental, including Pierre-Yves Daoust of the Atlantic Veterinary College, Laura Bourque of the Canadian Wildlife Health Cooperative, as well as individuals from the Department of Fisheries and Oceans, Species at Risk Act group, the Marine Animal Response Society and the New Brunswick Museum.
Dal alumnus Chris Hogarth (BComm'19) is now marketing manager with RCI, the company that is restoring the whale bones. He shares that blue whale displays are becoming more common in recent years. "In a big way, it's unfortunate, because more and more [blue whales] are washing up on shores," he says. "But the ultimate outcome is heartwarming. It's a chance for awareness — awareness around ocean conservation, research, and so much more."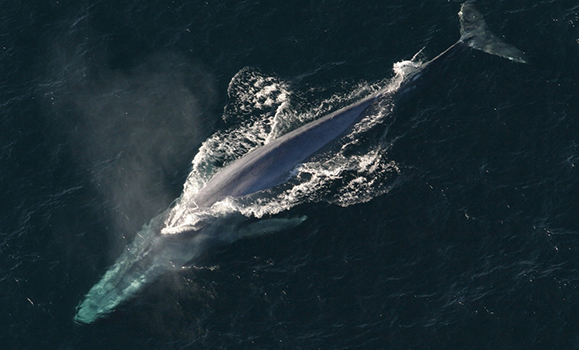 A blue whale in the wild. (NOAA image)
It is this same mentality that has inspired donors from around the world to support the project's fundraising campaign, Dive In. To date, more than 100 supporters (and counting) have named bones of the blue whale, which will be inscribed on part of the exhibit that is set to be unveiled this fall. Through this support, current and future generations will be inspired to help save our oceans and their species. 
"I was happy to support this project in honour of my uncle, Captain Johan Carlson Borgen, who was a prominent captain during the first half of the 20th century," says Dal alumnus Douglas Chaytor (DDS'62, MEd'91). "He always believed there needed to be a stop put to the killing of whales. To me, he was a hero."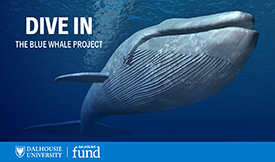 Another supporter from the community, Paul Edwards, shares, "my daughter Addison recently attended a community event where Dr. Sarah Fortune, Chair of Large Whale Conservation at Dal's Department of Oceanography, spoke. I supported this project in recognition of her Grade 6 graduation, her keen interest in the field of science, and her being inspired by Dr. Fortune's work."
Donations made to Dive In will continue to help support the time and resources required to bring this one-of-a-kind exhibit to life later this fall. 
"When visitors enter the Steele Ocean Sciences Building and look up, they'll be in awe," says Dr. Harvey-Clark. "It sends a message that this is something precious, something we need to protect. It's more powerful than a radio or tv message. It's something that will stay with you."
For more information about how you can help support Dive In: The Blue Whale Project, please visit projectdal.ca/bluewhale