One in eight Canadian women will develop breast cancer during their lifetime.  Every day, promising new research is adding to our understanding of this disease, leading to better diagnosis and treatments. So, when Beatrice Hunter Cancer Research Institute (BHCRI) Scientific Director Gerry Johnston and his wife, Judy, lost their only daughter, Jen, to advanced breast cancer last year, they could think of no better way to honour Jen's legacy than by asking family and friends to donate to BHCRI.  
Months later, BHCRI — a Dal-based institute that supports cancer research trainees — created the Jen Johnston Prize for Research Excellence from memorial donations to honour and celebrate her life.  
The inaugural winner of the prize is Marie-Claire Wasson, a Dalhousie graduate student in Pathology. 
Regarded as a knowledgeable and kind person, Wasson is appreciated by peers, colleagues and teachers. She enjoys being in contact with people and is motivated by understanding how cancer affects the lives of whole families, not just researching it.
Wasson's research focuses on discovering new treatments to improve the survival of triple-negative breast cancer patients. This involves researching new classes of molecules, termed long non-coding RNAs, that have been minimally studied but are proving to be potentially important in cancer treatment.  In the future, drugs that inhibit these cancer-promoting molecules could be developed to stop the growth and spread of cancer.
"By looking at a greater option of molecules to target with therapies, we might find a better treatment for cancer," says Wasson. "I really hope to highlight this class of molecules and show that they're really important for breast cancer progression."
Training the next generation

The Jen Johnston Prize has special meaning for BHCRI. The entire BHCRI family knew Jen as a beloved and exceptional person whose three-year battle with advanced breast cancer did not deter her dedication to raising awareness and her commitment to 'putting out a hand' in raising funds for cancer research.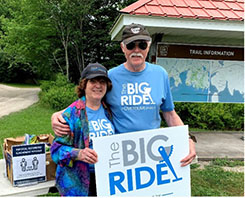 Left: Gerry and Judy Johnston, 2021 Big Ride (photo courtesy of GIVETOLIVE)
"Jen would say 'thank you and keep going' because she recognized the tremendous amount of effort that goes into cancer research," said Dr. Gerry Johnston. "She was a 'go-getter'. She was very joyful and optimistic, and she just didn't let (cancer) get her down. You have to have that kind of personality and attitude, that's critical, to do research in cancer treatment." 
This annual prize recognizes excellence in trainee research from all levels and cancer research disciplines to encourage trainees to establish careers in cancer research. The evaluation criteria include the excellence of the science, potential impact on the care of patients, innovation, and dissemination, outreach, and knowledge mobilization. The award is currently valued at $1,500 and was presented at the annual BHCRI Workshop in May, where Wasson gave a platform presentation highlighting the published research. 
Paola Marcato, an associate professor at Dal and Wasson's supervisor, believes Wasson's work can impact the scientific community and is grateful to guide and mentor her. 
"She is self-motivated, driven, intuitive and creative," said Dr. Marcato. "Prizes in honor of someone like Jen Johnston motivate students to keep going and working hard. The recognition of their work lets students know their work is valued."
Wasson hopes to start medical school after the completion of her doctoral degree. Those who have watched her career, like Dr. Marcato, know that she has the ability to apply research, computer science and medicine to ask the right questions and take care of cancer patients, which will make her a better physician. According to Dr. Marcato, "MC is an amazing student and I'm excited to see the things she will do because this is just the beginning for her."