On Thursday, June 16 at the Rock & Roll Hall of Fame, Dalhousie received an international award for its work facilitating the transformation of student and researcher innovations into commercially viable products and services.  
Dal Innovates staff accepted the prize at the annual Deshpande Symposium on Innovation and Entrepreneurship in Higher Education in Cleveland, Ohio. The event, founded in 2012 by the Massachusetts-based Deshpande Foundation, brings together global academics, policy planners, and practitioners to focus on accelerating innovation and entrepreneurship within higher education.
Dalhousie received the "Deshpande Symposium Award for Technology Commercialization," along with fellow recipient the Indian Institute of Technology-Madras. The award recognizes leading universities globally for excellence in delivering programs that empower students and researchers to turn their research-based innovations into market-ready enterprises.
"It was a tremendous validation of the programs we've partnered to build at Dalhousie over the past several years to help students and researchers gain the skills and mindset to turn their ideas into innovations, and innovations into start-ups," says Jeff Larsen, Dalhousie's assistant vice-president, innovation and entrepreneurship. "It has been amazing to see our students and researchers learning how to commercialize research and start companies to make a positive impact in the world."
Every step of the journey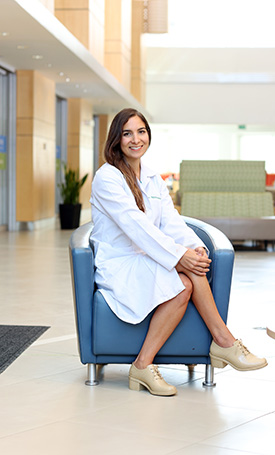 Rafaela Andrade, a Dalhousie postdoctoral fellow and co-founder of the start-up Myomar Molecular says she attributes a good deal of her success to Dal Innovates. 
"From the very early stage, when I had an idea and research findings and I didn't know what to do with them, they guided me. They helped me see how I could elevate that idea to be a business. And then they gave me training on the business side that I didn't have as a scientist," says Dr. Andrade. "Finally, I got the tools and knowledge to apply to ​grant funding that allowed me to work full time on the company, which was key for its rapid development."
Now the biochemist has a patent submitted for her diagnostic tool to identify early stages of muscle atrophy. She is about to announce an initial round of funding and will be going to market in the winter of 2024 with her health tech product that will give individuals and health care providers immediate access to patient information about muscle health from urine, without sending them to a lab for analysis.
Dr. Andrade completed the suite of Dal Innovates programming, beginning with Path2Innovation where she identified her product, then Lab2Market, which is based on the U.S. I-Corps program, where she tested market demand, and then Ready2Launch, which is based on MIT's delta V student accelerator, where she gained the skills to run her business and seek financing.
She also leveraged the Emera IdeaHub – Dalhousie's deep tech incubator – to build her prototype, and CDL– Atlantic, which is hosted at Dalhousie and part of the Creative Destruction Lab (CDL) network. This objectives-based mentorship program for massively scalable, seed-stage, science- and technology-based companies is comprised of eleven universities, including the University of Toronto, University of Oxford, Georgia Tech, and University of Washington.
Building capacity

With the support of donors, the provincial and federal government, and the Atlantic Canada Opportunities Agency, Dal Innovates programs are offered for free to students and researchers in any faculty or university in Atlantic Canada and beyond.
"The comprehensive programming offered by Dal Innovates connects our research enterprise and entrepreneurship. By forging a new path to success for our community through venture creation we are building a flourishing culture of innovation at Dalhousie and across the Atlantic region," says Dr. Alice Aiken, Dalhousie's vice president, research and innovation."
In just two years, Dal Innovates and its alumni have made a measurable impact in the Atlantic Canadian innovation ecosystem. Dal Innovates reports that ventures from Lab2Market (2020-2022) and Ready2Launch (2020-2021) have raised $4.2 million in private and public funding and created 83 jobs in the region. In the five years since it was established, the equity value creation for ventures participating in CDL-Atlantic at Dalhousie is $800 million.
Powered by partnerships

With an objective to develop more and better science and tech ventures, Dal Innovates programs are a launchpad for start-ups that go on to the Emera ideaHUB, CDL-Atlantic and the larger ecosystem of incubators and accelerators in Atlantic Canada. It also leads Mindframe Connect, which helps entrepreneurs elevate their resilience to overcome the stress and pressure of venture creation, enhances the craft of mentoring entrepreneurs, and develops more equity, diversity and inclusion in the innovation ecosystem.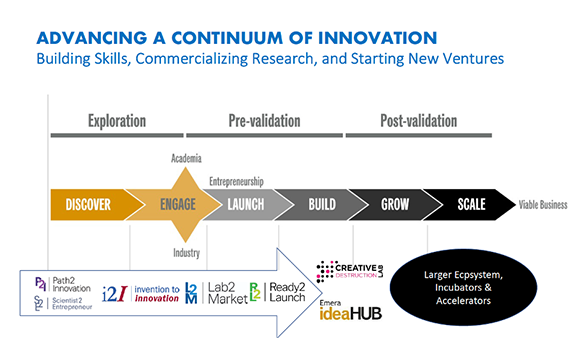 Larsen says the success of Dal Innovates is largely the result of working with partners locally, nationally and around the world, and highlighted the relationship MIT as a key example. He says they have derived substantial value by working closely with MIT's Martin Trust Centre for MIT Entrepreneurship and the MIT Regional Entrepreneurship Acceleration Program (MIT REAP), where MIT faculty collaborate with key regional stakeholders to strengthen innovation-driven entrepreneurial ecosystems and transform economies.
Bill Aulet, managing director of the Martin Trust Center for MIT Entrepreneurship says, "The unique relationship between Dalhousie and MIT has helped rapidly advance the commercialization of science and deep tech through Dal Innovates and other programs. The successes achieved through this partnership clearly demonstrate that ample economic opportunities exist wherever there are intelligent and talented individuals backed by cutting-edge research expertise and academic institutions."  
Dalhousie is also a founding member of the Innovation + Impact Network of Canada (I-INC), which accelerates and drives research commercialization outcomes across Canada's universities through entrepreneurship and innovation training and venture-focused experiential programs designed specifically for scientific researchers. Through I-INC and with the support of Mitacs, Dalhousie partners with Toronto Metropolitan University to expand delivery of Lab2Market nationally with regional partners. I-INC also allows Dal Innovates to offer Concordia University's Scientist2Entrepreneur program and Simon Fraser University's invention2Innovation program in Atlantic Canada in collaboration with Memorial University. 
Other Dal Innovates-supported companies include:
3D BioFibr uses a patented "dry-spinning" manufacturing process to produce high quality protein fibers (e.g. collagen and spider silk) at commercial scales. The fibers they make have shown mechanical properties matching or exceeding their natural counterparts." - 
Zen Electric Bikes Inc. is a Nova Scotia based clean tech company focused on addressing urban mobility challenges by designing and manufacturing light electric vehicles with advanced battery technology.
HOLLO is developing a spacer for use with asthma inhalers that is small enough to fit in a child's pocket, unlike existing, cumbersome products.
Drinkable aims to empower water autonomy, by building a handheld device that detects harmful contaminants and communicates their risks. 
Irrigation Management Pro offers a precision irrigation map generator that helps farmers analyze data from several sources to determine the best way to irrigate their crops. The software integrates seamlessly with major agricultural software platforms and irrigation equipment.
MyPAQ hopes to operate a chain of self-serve refill stations for staple food and drink products.  
Dal Innovates' partners
Atlantic Canada Opportunities Agency (ACOA)
Dal Innovates is supported by the Government of Canada, through the Atlantic Canada Opportunities Agency (ACOA). ACOA is working to make Atlantic Canada a hotbed for successful innovation-based startups. ACOA helps bring research to market by working to provide high-potential firms with access to capital, operational experience, technical knowledge, mentorship, and a network of professionals ready to support and guide them through each stage of growth.
Innovation + Impact Network of Canada (I-INC)
I-INC is a national research commercialization ecosystem, supporting Canada as a global leader in innovation and technology.  I-INC accelerates and drives research commercialization outcomes across Canada's universities through entrepreneurship and innovation training designed specifically for scientific and deep tech researchers, as well as a community of practice and creation of evidence for policy and research. The founding members of I-INC are Toronto Metropolitan University, Simon Fraser University, Dalhousie University, Concordia University and Queen's University, and several other Canadian universities are members of I-INC.  Member institutions contribute to the development and delivery of programs, networks and best practices, improving the effectiveness, scale and impact of research and innovation activities within their institutions and across Canada.
Mitacs empowers Canadian innovation through effective partnerships that deliver solutions to our most pressing problems. By driving economic growth and productivity, Mitacs creates meaningful change to improve quality of life for all Canadians. Mitacs is a catalyzing force in the Canadian innovation ecosystem building a world-class, diverse community of innovators through its collaborative model, attracting and deploying top talent to industry, and matching need with expertise to create ambitious solutions to real-world challenges.