Our bodies are still very much a mystery. What causes tissues to chronically swell and pain to strike without reprieve can often elude doctors. But two Dalhousie medical researchers shedding light on these issues will have their investigations boosted with new funding provided by the Canada Research Chairs (CRC) program.

Today (June 2), Gregory Fairn was announced as a Tier 1 CRC and Javeria Hashmi was renewed for a second term as a Tier 2 CRC. The CRC program provides the funding necessary for Canada's post-secondary institutions to attract and retain the world's best research talent.

"Millions of Canadians suffer every day from the effects of chronic inflammation and pain. These conditions have a profound impact on physical and mental health, family life, society, and the economy. It is gratifying to know that breakthroughs by Drs. Fairn and Hashmi are moving us closer to finding the solutions to the suffering," says Alice Aiken, Dalhousie's vice president research and innovation.
The painful truth
 
Among other areas of study, Dr. Fairn (pictured below) is attempting to pinpoint the painful truth behind Crohn's disease, a condition resulting from chronic inflammation in the gut. He says that while inflammation serves a valuable function in clearing out pathogens and damaged tissue when we get cuts or infections, it can cause serious problems if it lingers.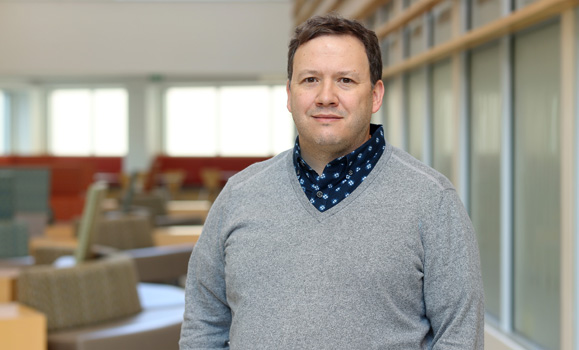 "A perfectly healthy person has low inflammation. Their body can respond to a threat and then return to normal," he says. "With Crohn's disease, a person's set point has changed. They can mount a response to an acute threat, but they never go back to a normal baseline. This is because the lining and the microbiome in the gut is changed resulting in chronic inflammation."

It's a painful condition leading to flare ups, hospital stays, lost days of work and continual discomfort. It is something many Nova Scotians know all too well, says Dr. Fairn, noting that the province has the highest incidence of Crohn's disease in the world.
Refusing the fat

A recent discovery by Dr. Fairn and his research group should provide Crohn's patients some hope for a healthier future. Mutations in the "NOD2" gene are a major risk factor for developing Crohn's disease. The team discovered that NOD2 proteins require the addition of two fat molecules to respond to bacterial threats while also contributing to a healthy microbiome. But in people with the mutant versions of NOD2 the fats aren't attached.

"So, we went after the machinery in the cell that regulates the modification," says Dr. Fairn. "There are enzymes that put the modification on NOD2 and different enzymes that take them off. So, we said 'Okay, we just need to change the balance to restore NOD2 function.'"
Related reading: Dalhousie grows its ranks of Canada Research Chairs

Dr. Fairn and his team have identified "drug-like" molecules that allow them to modify NOD2's defects to make it behave as it should. The results have drawn interest from pharmaceutical companies that see promise in the innovation to bring treatment to Crohn's patients in the future.

"We've got the cell biology and the test tube work done. The next step will be conducting animal studies to determine if this really could be beneficial for patients. I would say we're halfway there."

Alongside his CRC, Dr. Fairn will receive $322,660 from the Canada Foundation for Innovation and the equivalent amount from Research Nova Scotia for research infrastructure.
The truth about pain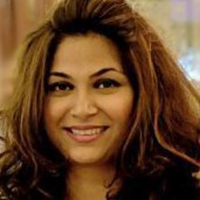 "One of the least understood and most tasking problems that we face as Canadians is chronic pain. So many people have debilitating pain and yet we don't even know the basics of the mechanism," says Dr. Hashmi, pictured right.
 
It remains largely a mystery why an estimated 7.63 million Canadians, or one in four people aged 15 or older, live with chronic pain, according to the Canadian Pain Task Force Report: October 2020. Now considered a disease in its own right, Dr. Hashmi says pain robs people of their ability to fully engage in life and leaves them desperate for answers.
 
"For some people there are things that can be fixed through surgery. But for others there is nothing physically wrong that doctors can say 'your pain is due to that,'" she says. "Think about that. Here you have a person who is feeling that something is wrong with their body. That is a very anxiety provoking and stressful thing. And then the doctors are saying, 'No there is nothing wrong with you.'"
The whole truth

This is why Dr. Hashmi is taking a more holistic approach to studying pain. She says there is only so much you can learn from focusing on receptors and spinal mechanisms. She asserts that a lot more can be understood from pain perception and its neural mechanisms, noting that involuntary predictions our brains make about the pain we expect to feel can alter the pain we actually feel.
 
So, in addition to the brain scans common to traditional pain research, Dr. Hashmi maps brain activity while participants evaluate pain, conducts cognitive tests, employs questionnaires, and analyses clinical data to understand the full scope of the pain experience. She and her team are building a large data set that pulls in the full range of information collected to build models that are more capable of providing comprehensive results.
Her lab is also developing novel analytical and machine learning tools for studying structural and functional connections in the brain that contribute to our perception of pain and the decisions we make as a result. Their work has identified some key neural pathways in the brain and brain stem that are known to change pain intensity based on expectations. This has allowed them to identify ways to improve diagnosis and treatment for chronic pain patients.
"Often it is thought that patients are too fearful of pain and aren't thinking about their pain experience correctly. However, our data is showing that there is something that has shifted in their brain so that they perceive pain differently from the way a person without chronic pain does. Our research shows that chronic pain has its origin in neurobiology, and it is not a voluntary choice where we can simply ask patients to snap out of it" says Dr. Hashmi.