This article is part of a series focusing on the grads of the Dalhousie Class of 2022. Spring Convocation runs from May 24 to June 3 in Halifax and Truro. Read all our profiles here as they are published, and for more information visit the Convocation website.
Ramlah Mahmood credits her decision to become a dental hygienist to a "collection of experiences". First and foremost was the inspiration of her father, a geriatric psychiatrist practising in St. John's, where she grew up. "My dad was a big role model in terms of my choosing a career," she says. "I saw how satisfied he was working in a health profession, so I knew I wanted to work in health care, but I wasn't sure which field."
While earning an honours cell biology degree at Memorial University, Ramlah worked in a lab studying aging and degeneration in fruit flies in relation to Parkinson's disease. The work was interesting, but she quickly ruled out research as a career path. "I'm a social person, and I found the lab work very isolating," she says.
During her third year at Memorial, Ramlah's dentist offered to show her around his clinic. Every two weeks, she spent a couple of hours in the evening shadowing him and the dental hygienists. "I saw so many cool procedures, and a lot of patient interaction, whether it was comforting a fearful patient or talking about cost," she says. "Many patients see their hygienists more than their dentists, and you develop a rapport. I also appreciated the dental hygienist's role in educating patients about disease prevention. I thought, I can see myself working in this environment."
So many courses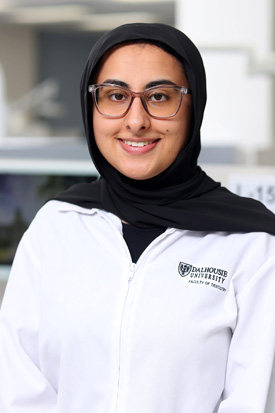 Ramlah was pleased when she was accepted to the dental hygiene program at Dal. The biggest surprise when she started first year? The sheer volume of the course load. Oh, yes—and a global pandemic."I went from five courses in one semester in undergrad to 10," she says. "It was quite the leap! Our first year of learning was entirely online because of COVID-19, which was challenging. It took away from what could have been, especially when it came to trying to get to know my classmates. But we made the best of our time, and I don't think it affected our learning."
Her favourite experience was working in the school's outreach dental clinic on Monday evenings, where her patients were newcomers to Canada in the Government Assisted Populations (GAP) program. Most didn't speak English, and she enjoyed interacting with the translators, and especially speaking Urdu when an opportunity arose.
"It's rewarding to speak to patients in their own language," says Ramlah. "I felt I was doing a lot more for them than just treating their teeth. It makes me happy to help make patients feel comfortable however I can."
Books for kids
The Dental Hygiene Class of 2022 is leading an initiative to add a bookcase with children's books about oral health on the first floor of the dental clinic for pediatric patients. Many children start their dental journey at Dal, and the students want to make it a positive and welcoming experience.
The book initiative was Ramlah's idea. "I thought it'd be nice to have something in the clinic for the kids while they're waiting, maybe a book to read about oral health before going in for their own appointments," she says. With instructor Shauna Hachey's support, Ramlah reached out to faculty members and students to donate books in different languages for diverse populations, as well as financial donations (the response for the initiative has been positive).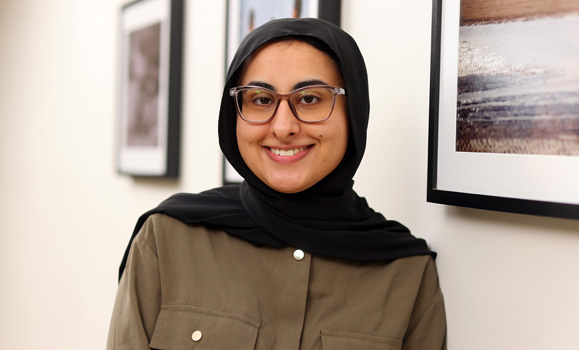 Faculty support has been a constant throughout the two-year program. And in spite of the challenging first year of online learning, Ramlah and her classmates forged strong bonds. "I've made some really good friends — likely lifelong friends — and good memories, and there have been lots of laughs," she says. "It's a very short program, but jam packed, and such a good learning environment."
Look ahead to giving back

The last time Ramlah walked across the stage at a convocation ceremony was in 2019, at Memorial. This time, convocation will be memorable not only because it's the first in-person ceremony for the program since 2019, but for another reason. "This one is special because it feels like I'm starting a new chapter in my life," she says.
As Ramlah gears up to graduate, she's looking ahead to returning home to Newfoundland, where she'll start working at Paradise Dental Care in St. John's, owned by Dr. Omer Mallhi (DDS'16). "I'm excited and nervous," she admits. "But I'm also looking forward to getting better at my skills."
Ramlah hopes to one day provide free dental care in the community, and a master's degree in dental public health is on her bucket list. "I liked the opportunities we had at Dal to do rotations and to treat a wide variety of people, including kids and low-income and government-assisted patients," she says. "Those experiences have made me consider going into public health and giving back to the community in some way."