For Alec Grabinski, the decision to become a dentist started out as an inside joke with his mother. Growing up in northern New Jersey with his parents and three siblings, when his mom took her kids to the dentist, she'd say, "I wish someone in our family was a dentist." Young Alec would reply, "Maybe I'll do it!"
Fast forward a few years, to when Alec was in high school. "I was trying to choose a career path, and I thought, maybe I actually will be a dentist," he says. His mom and one sister are nurses, so he was interested in the health-care professions, but he didn't think medicine was the right fit. After shadowing his own dentist, who served as an informal mentor, he decided on dentistry.
Armed with a biology degree from Montclair State University in his home state, Alec applied to 10 dental schools in the United States. "Getting into dental school in the U.S. is very competitive, and when I didn't get any interviews, I started working for an endodontist to get more experience," he says.
Alec's second round of applications went out to 20 dental schools, 19 of them American. Noticing a lone Canadian institution at the bottom of the list, he googled Dalhousie and saw that he could get his licence accredited in the U.S. Although he had visited parts of his northern neighbour, he'd never been to Atlantic Canada or even heard of Halifax. After flying up for an interview in early 2018, he knew immediately that he'd like the small class sizes, as well as the city itself.
Total immersion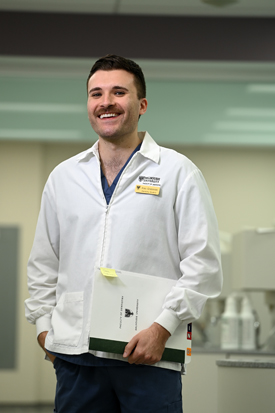 Alec found the transition from undergrad studies to dental school challenging, as was leaving his close-knit family and country (throw a global pandemic and online learning into the mix, and that's a whole other story). While he knew the entire experience was going to be hard, he also knew he could do it. He quickly became close with his classmates, some of whom he now considers bonus brothers and sisters (he was one of 10 American students in his graduating class). "You hang out with each other every day, Monday to Friday, and sometimes on the weekends," he says. "All of these friendships are going to last forever."
While at dental school, Alec immersed himself not only in his classes but also in extracurricular activities – playing intramural soccer on the Dentistry team, and getting involved with the Dalhousie Dentistry Student Society. "Growing up, I always volunteered," he says. "During my undergrad, I volunteered with the Red Cross. It's just who I am."
Although Alec enjoyed all of his outreach clinic experiences, his favourite was the paediatric dental clinics at the IWK Health Centre and Harbour View Elementary School in Dartmouth. "Any appointment with a patient is rewarding, but it's extra rewarding to treat patients from marginalized communities, and also kids. I appreciate every patient who let me work on them as a student. It takes a lot of trust. I want all of them to feel healthy, comfortable, and confident."
In fact, Alec enjoyed treating children so much that he has been accepted to a one-year general practice residency (GPR) at the IWK, where he'll have an opportunity to enhance his clinical skills and training in paediatric dentistry. During the GPR, he'll explore whether he'd like to focus exclusively on treating children. "I always leave clinic with a smile on my face when I've treated kids," he says. "I'll either continue specializing in paediatrics or use what I've learned in general practice."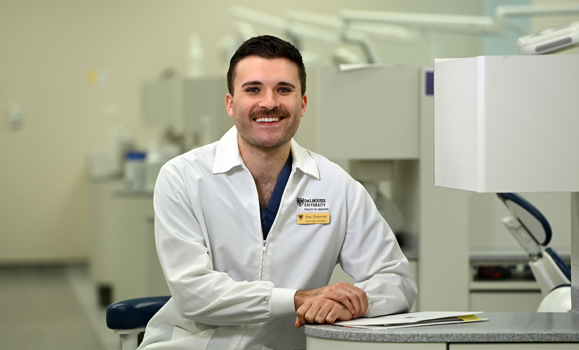 The art of dentistry

While at dental school, Alec was able to tap into his lifelong passion for art. For one paediatric patient-education project about caries control, he drew illustrations for the presentations in PowerPoint, and he designed a poster for an instructor.
"Dentistry is a mix of art and science. You see paediatric dentists using cartoons to reach out to the paediatric population," he says. "Drawings are more approachable for kids. I'd love to illustrate a children's book on brushing your teeth, something extra for parents to take home. It'd be a labour of love and a passion project."
Alec is looking forward to convocation and to welcoming the 10 members of his family who are driving to Halifax for the May 31 ceremony, which happens to be the day before his 27th birthday. Eventually, he plans to return to the U.S. to work and live. "I'd like to be closer to my family, and it would be nice to go home," he says. "But Halifax will always be my second home, and Dal Dentistry is my second family."
The story of his journey to become a dentist still makes Alec chuckle. "It started as an inside joke with my mom, and now here I am, and I love it," he says. "I love restoring teeth that are more noticeable, like a broken front tooth, and restoring a patient's confidence and self-esteem. They'll leave my chair in happy tears because I brought them back to where they want to be. That's the best part."