This article is part of a series focusing on the grads of the Dalhousie Class of 2022. Spring Convocation runs from May 24 to June 3 in Halifax and Truro. Read all our profiles here as they are published, and for more information visit the Convocation website.
A shared passion for agriculture, animal science and barley rings presented 40 years apart connect a father and daughter together on Golden Meadow Farm in Central Waterville, New Brunswick.

Samantha Christie and her father, Nelson, both studied Animal Science on the Truro Campus — Samantha transferring in from UPEI and Nelson completing his diploma in Farming Technology in 1982.

"I thought it would be nice for us to each have a symbol that a father and daughter could share to represent both of our times at the Agricultural Campus (AC)," said Samantha.  "Just to have that keepsake to remind us of our time at the AC and the community we were in while there, I think that was special and dad saw that too."

With her Animal Science degree, Samantha hopes to bring home to the family farm some valuable knowledge that could not only keep the farm going, but also potentially improve the farm, to stay current, as science and technologies are always advancing.

"It's just my parents and I on the farm. We have no hired hands, so I've grown up working on the farm and being involved in every aspect that I can, from the dairy side to business management, to even crop management and more," explained Samantha. Samantha hopes to take over the farm once her father is ready to pass it on.

Samantha is the fourth generation on the family farm, which began with her great-grandfather. They milk around 20 pure-bred guernsey cattle in a tie-stall set up, which is often considered small for today's standards.

"I think there is something to knowing each cow individually and living a smaller scaled way of life," she added.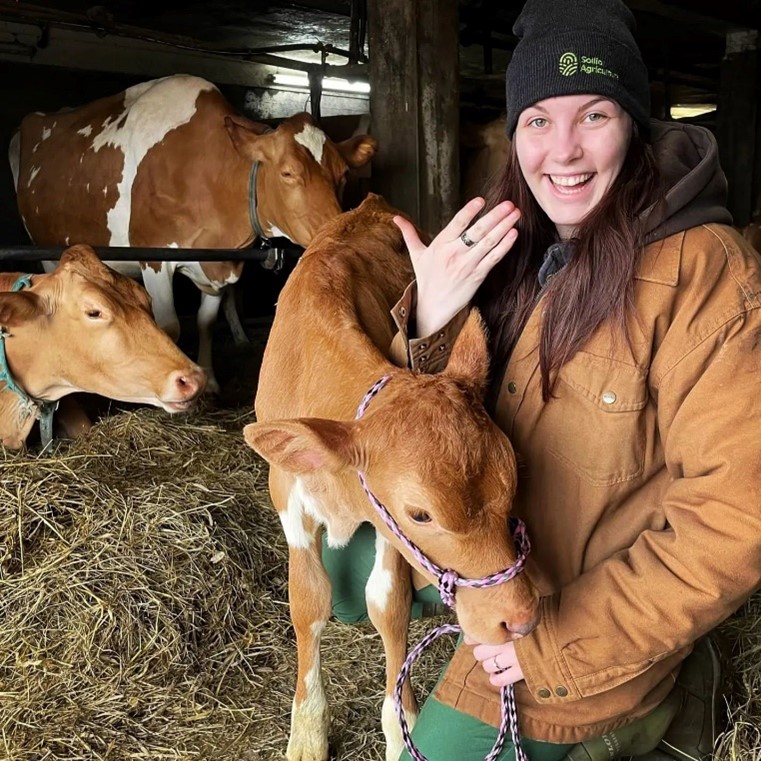 With an email address of iloveguernseycows, Samantha is always promoting the breed and hopes that by either helping or running the family farm she can demonstrate the value of the guernsey cow.

"Maybe someday I will be able to specifically market our guernsey milk in our local communities if that were something viable for the future. I am always one to dream of what we could do with our farm, to perhaps grow or expand, but I also keep a realist view in mind as well."

In the immediate future, Samantha plans to keep an eye open for agricultural positions and opportunities near her hometown in New Brunswick working in industry for a supplemental off-farm job.

"If you were to ask me of my plans, my answer will always be farming; there are just side roads I have to take first to get there full-time! But I've been born into agriculture, and it's something I don't ever plan to leave."