Conventional wisdom suggests a certain sequence of events in a person's educational life: you graduate high school, head to university or college, and then put the knowledge you've gained to work in building a career.   
As common as such a scenario may be, it's simply not the reality for some — and that's okay.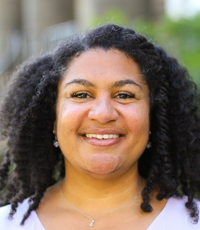 "It is your journey, no one else's, and it can look like whatever it needs to look like for you," says Michelle Patrick, special projects manager in Dal's Office of Equity and Inclusion (shown right). "If you're a little bit older or life circumstances didn't allow you to follow the 'normal' path of going straight from high school to university, there are other ways. The doors are still open."  
That's the message she and others will offer as part of the upcoming Community Weekend of Lifelong Learning, an event organized by Dal's African Nova Scotian Strategy Advisory Council, Vice-Provost Theresa Rajack-Talley's Office of Equity and Inclusion, and other partners.  
The event is open to all African Nova Scotians and consists of an on-campus portion held Saturday (May 28) in the Mona Campbell Building and a special service at Emmanuel Baptist Church (EBC) in Hammonds Plains on Sunday (May 29). 
Overcoming fears, building skills
 
Saturday's program is co-hosted by the Faculty of Open Learning & Career Development and begins with opening speakers, followed by two breakout sessions for attendees to choose from: Access & Preparation for Post-Secondary Programs at Dal and beyond or Career and Professional Development Pathways.  
Patrick, a member of the advisory council who will be speaking on the former topic, says fear and concern about meeting admissions criteria and overcoming other barriers are natural but that shouldn't deter people from exploring their options.  
"I'll be talking about some of those fears and how Dal provides support to help alleviate some of them and dispel some of the myths," she says. She'll also highlight some of the different types of degree programs at Dal.   
Explore: Faculty of Open Learning and Career Development program areas
The other breakout session Saturday caters to members of the African Nova Scotian community looking for ways to build additional skills or credentials to advance their careers, without necessarily enrolling in a full degree.   
Jeff Myers, director of community partnerships and projects with Open Learning, notes that the sessions aren't so much about turning attendees on to Dal as they are getting them thinking about the variety of different types of opportunities in higher education more generally.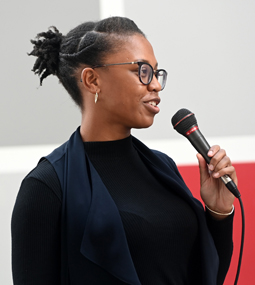 He says Jalana Lewis (shown left), Dal's director of African Nova Scotian community engagement and lead organizer of the weekend event, saw a natural fit with the work Open Learning does in enabling lifelong learning — particularly in ways that can suit the needs of diverse communities such as the African Nova Scotian community, which "has often felt marginalized from traditional spaces like Dalhousie."
Dr. Myers says the weekend event illustrates how Dal is engaging more actively with the African Nova Scotian community, which is a key element in the university's updated African Nova Scotian strategy.  
"Gone are the days when we can sit back and expect communities to come to us. We have to reach out. This is specifically an effort to reach out and bring people in to a comfortable, low-risk easy setting to learn about their options," he says, noting that several members of his Faculty are volunteering to help out.
Creating space, connecting community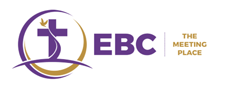 Sunday's church service at EBC (10:30 am-12 pm) will build on the weekend theme of lifelong learning by highlighting some of the great work being done in the community — including at churches — to support students at all stages of their education.
Patrick says it's the first of many efforts to come where Dal is going out into the community directly to offer support.
"We often put the invite out there for people, come to Dal to do this, come to Dal for an information session. But to really build those relationships and connect with folks, we also need to take Dal on the road and meet people where they are at," she says.
Online registration for the community weekend is open now. Learn more.