K.R. Byggdin is having quite a busy year. Not only are they finishing up a Bachelor of Arts degree with combined honours in English and Creative Writing in the Faculty of Arts and Social Sciences at Dalhousie — they are also launching their debut novel, Wonder World.
Wonder World as the story of Isaac Funk, a young queer man who returns to his conservative Mennonite hometown of Newfield, Manitoba due to the death of his Opa. Having come back home after a decade on his own in Halifax, Isaac must finally confront his difficult past with both his father and his community and consider whether reconciliation is possible or even desirable for him.
Byggdin, who grew up in rural Manitoba, says they drew from their own childhood when crafting the setting for this book.  They add that they hope the characters in this story will resonate with people who may have grown up queer and from a rural background.
"That said, I'm not Isaac and he's not me," says Byggdin. "That's the joy in writing fiction for me, to take ideas and places I am familiar with and then let my imagination run off with them to new narrative ground that it is connected to, but at the same time very different from, my own experiences. In a way, I'm also writing Isaac's story for the younger me. I didn't really have access to any queer writing about people like me when I was growing up, but I sure wish I had. I hope this book can be that story for those who might need it now."
A storyteller's journey

While this is their first novel to be published, Byggdin says they've always been a storyteller.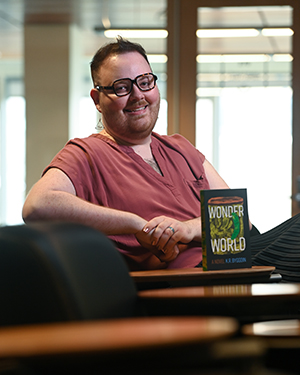 "I think my first written story was a bit of Franklin the Turtle fan fiction I typed out on my parent's electric typewriter and illustrated by hand when I was five," says Byggdin. "But it wasn't until I moved to Halifax that I got really serious about crafting work that could be publishable."
For several years, Byggdin worked in university administration jobs while developing their creative writing skills and portfolio on their own time. They joined the Writers' Federation of Nova Scotia; participated in several workshops, mentorship and intensive programs; and had pieces published in anthologies and journals nationally and internationally. But when the pandemic hit, they started to re-evaluate their life and came to a simple conclusion.
"I really, really wanted to be spending my time writing. I knew that coming to Dal for an honours degree would be the best way to move towards my future goal of an MFA, and I had heard good things about the Creative Writing program here, so I decided to apply. Luckily, I was accepted, and now here I am just a month out from graduation! Honestly, it's a bit surreal to realize I'm actually this close to the finish line."
A supportive environment

Byggdin says that throughout their time at Dal, their profs have all been very accommodating and encouraging of their writing and offered a lot of practical assignments that helped them think more deeply about their writing practice both inside and outside the classroom. At the end of each semester, Byggdin would often return to those stories, poems and essays, using instructors' feedback to polish each piece to the point where it might interest a journal. One of their stories from class went on to win the Clare Murray Fooshee Fiction Prize at Dalhousie and was accepted for publication in a literary magazine based in New Zealand.
"It was great to have opportunities in each of my classes to strengthen my creative writing and critical thinking skills, as both of those things will help me continue to hone my craft as a writer once I leave Dal."
Byggdin says that this past year has been particularly busy, especially the fall term, working on a full course load, their honours capstone, and final novel edits for their publisher all at once.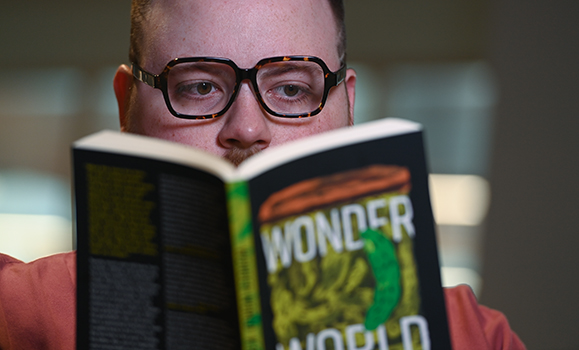 "There were definitely some long nights, and I didn't really get a weekend for four months," Byggdin says. "I'm not sure I'd exactly encourage other students to choose the same intensive path I did, but then again I guess I'm proof that it is possible when you have a fabulous support network like I did."
Ready to launch

Heather Jessup, coordinator of Dalhousie's Creative Writing program and one of Byggdin's instructors, was very encouraging of their writing both in and out of the classroom.
"K.R. Byggdin's writing is funny, daring, vulnerable, and human," says Jessup. "I'm so happy that Wonder World exists in the world, and it's been a pleasure and profound gift to have them at our Creative Writing 4020 Advanced Fiction workshop table this year sharing their talents."  
Byggdin adds they are thankful for the encouragement from their instructors and the doors they've opened to some amazing academic, literary and networking opportunities over the past few years and they are also thankful for their spouse who provided crucial support to them and acted as a sounding board they leaned on as they worked to finish both the book and their degree simultaneously.
Byggdin will celebrate the Halifax launch of their book on Saturday, April 30 at 7:00pm in the Council Chambers of the Dalhousie Student Union Building.  They will be joined at this event by special guest Francesca Ekwuyasi (author of this year's Dal Reads selected book Butter, Honey, Pig, Bread). Both Byggdin and Ekwuyasi will give readings at the event. Staff from local bookstore and education-based sex shop Venus Envy will be there selling books and will facilitate a conversation with Byggdin and will take questions from the audience. Byggdin is excited for the event, which is open to the entire Dalhousie community as well as the public.
"It will be a truly wonderful thing to connect with readers after all the time I spent alone hunched over a laptop writing this book!"