How does the ocean regulate climate change? How do zebra fish help us understand cancer?  
Humans have never had more access to information, but, at the same time, it can feel overwhelming to parse through all the data without a scientific background. Now more than ever, scientists must learn how to articulate the importance of their work and share their message with people outside of the scientific community.

Effectively knowing how to showcase research and demonstrate discoveries can help make science more transparent, can educate the public and decision makers, and also inspire the next generation of scientists.

"All scientists should be communicators, from industry R&D scientists to academics to journalists, data analysis and policy makers," says Chuck Macdonald, dean of the Faculty of Science. "Learning how to share the message about research and why it matters can make science accessible to not only peers from other disciplines, but the wider public, including audiences that traditionally have been excluded from the process of science. It can help make science more diverse and inclusive."

With this in mind, the Faculty launched the John R. Dingle Science Communication Internship in 2021 to provide training and experiential learning opportunities in science communication to undergraduate students.

Made possible by a generous estate gift from Dr. Dingle (BSc '41, MSc '42), the internship program enables students to work on a project over the summer months, strengthening their skills and exposing them to new career paths.

"To be a successful scientist, you must be an effective communicator," says Dr. Macdonald. "We looked at the internship program as a way of educating our students on the importance of science communication and wanted them to feel empowered to make science more transparent."

This year, The Faculty of Science is accepting undergraduate applications for four different units — Solutions for Kids in Pain, Ocean School, Ocean Tracking Network, and UniVenture. Each unit will take on one science student for twelve weeks of the summer for a paid internship.
Honing skills
Interns start with in-depth training that covers knowledge translation, oral, written, digital communication and strategic communications, community engagement, and media relations, and how each relates to science. Guest speakers and professionals from each area share their unique insight and express their perspective on science communication and how it relates to their specific fields.

Interns are then placed in units to hone their skills and put the training into practice.

Last year, Ernest Ng, a third-year neuroscience student, was placed in the Department of Psychology and Neuroscience to help broaden their student reach and amplify the ongoing research news and events.

"My science communication internship within the Department of Psychology and Neuroscience showed me that science communication is becoming part of the core professional skills that every science student and professional should have," says Ernest, who will be graduating in 2023. "The internship program also provided me with a good starting point in taking my first steps in exploring this career path — a career path that I had never thought I would be interested in heading down."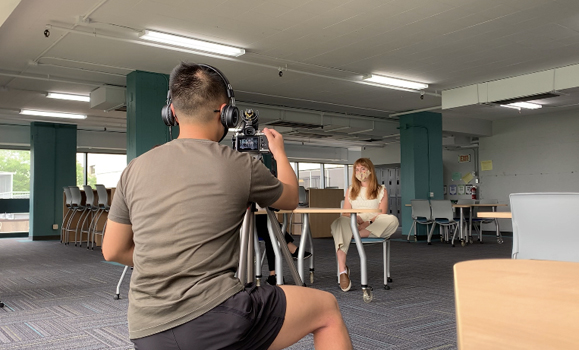 Ernest Ng

During his internship, Ernest worked on strategic communication planning, social media management, video and content creation, and website development. He also led the creation of frameworks to give the department a unique path forward in building and maintaining a robust, well-established online and communication presence.

"In general, a program like this is invaluable for launching effective knowledge mobilization strategies. It is important that our research is accessible outside the confines of academia," says Julie Blais, an assistant professor in the Department of Psychology and Neuroscience and one of Ernest's supervisors.

"However, while knowledge translation and dissemination are increasingly central to conducting good science, it can be hard to find time in an already hectic schedule to lay the groundwork for an effective knowledge mobilization strategy — that's where we knew we could use a science communication intern."
Fresh perspectives for all involved

The experience ended up being invaluable – for both the department and the intern.

"As a science student, I am no stranger to the inner workings of the sciences.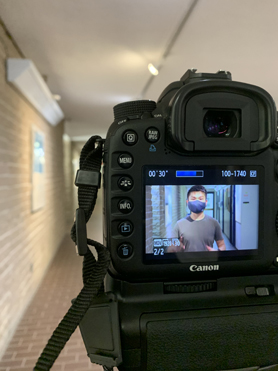 However, it has been a whole new experience in taking complicated science full of scientific jargon and transforming it into a way that is digestible by the general public and other relevant stakeholders," says Ernest.

Ernest also learned a whole host of both foundational and more advanced
skills, from simple things such as understanding a target audience's demands all the way to more advanced things like putting together a strategic communications plan.

"The work he has done in science communication helps support the dissemination of science toward a larger population," says Dr. Blais. "The communication skills Ernest developed over the course of the internship brought a fresh perspective to many of our projects and improved their efficacy."
An inspiring donation

Dr. Macdonald says without the support of Dr. Dingle's estate gift, this internship program would not have been possible.

"This gift is a perfect example of how alumni and people in our community can and do positively influence our students' futures — and how one donor's generosity can impact the lives and careers of students for many decades to come by helping to foster a passion for science from a young age, inspiring members of our community to understand the importance of science, and clearly and effectively communicating the impacts of Dalhousie's research," he says. To have an impact that will be felt for generations to come is quite a legacy."

Ernest says he would encourage anyone who has even a slight interest in science communication to apply to the program this year.

"When people talk about science, they primarily think about scientists doing 'sciencey' things in lab coats. The internship really hammered home the notion that doing science is one thing, but being able to talk about the science is a whole different ball game," he says. "We all have to start somewhere, and the internship is going to give you the tools to improve in those parts that you may not be so strong in. Take the chance."
Interested? Apply now.