Be patient: Those are the words Cindy Blackstock would like to hear a little less from governments in Canada when it comes to tackling Indigenous issues. We are making good steps, they'll say. We're doing more than any other government before us. We'll get there for you, and we are working as hard as we can.
Dr. Blackstock, who has spent more than 15 years seeking compensation for Indigenous children over inequities they've experienced in child and family services, isn't buying it — and doesn't think other Canadians should either.
"That speech is given by someone who can turn on their tap and get clean water. That speech is given by someone who isn't trying to recover from the multi-generational trauma of residential schools," said Dr. Blackstock, executive director of The First Nations Child and Family Caring Society, during Dal's annual Shaar Shalom Lecture last Thursday.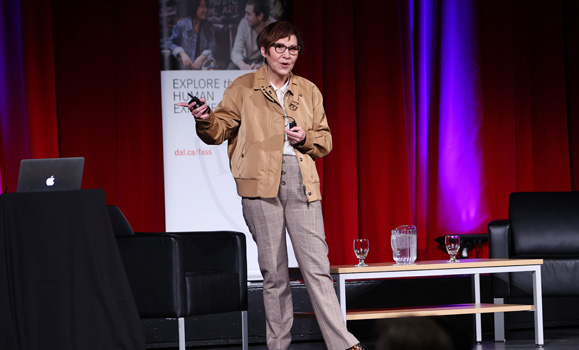 Yes, governments are taking steps to address issues, but serious action to combat the long list of inequalities facing First Nations, Metis and Inuit communities — lack of access to clean water, sanitation, broadband internet, housing, education, recreation, to name a few — requires sustained pressure from Canadians, says Dr. Blackstock.
And that can be a challenge when concern often fades in tandem with the news cycle.
"When the headlines die, so do the children. That's been the cycle," she said, referring back to past eras when Indigenous issues dominated headlines for short periods before once again shrinking from public view.

During her talk, Spirit Bear: Echoes from the Past, Dr. Blackstock — a member of Gitxsan First Nation and professor of social work at McGill University  — took attendees on a journey back in time to explore some of those earlier episodes, busting a few common myths along the way and offering counsel to Canadians on how to move forward and become part of the solution.
Here are a few more takeaways from her talk:
"They didn't know better back then" is just a myth.

Dr. Blackstock took aim at the explanation sometimes used when trying to comprehend the injustices of the past that those in power at the time just didn't know any better. Even she accepted the myth once upon a time, writing reports expecting they would be acted upon with the belief that times were different.

In November of 1907, for instance, Peter Henderson Bryce, Canada's chief medical officer in the Department of Indian Affairs at the time, published a report showing extremely high rates of death from tuberculosis in industrial schools and later residential schools where hundreds of Indigenous children lived closely together. With research showing Indigenous people weren't getting the same quality of healthcare as other Canadians, Bryce advocated for reforms and better service so fewer would die. News of the report and the high death rates was splashed across newspapers in Canada, yet Bryce's superior in the department and the Canadian Prime Minister at the time, Sir Wilfred Laurier, refused to implement any of his suggested reforms. Eventually, after years of criticizing the department's inaction, he was forced out of government. Then in 1922, he published a national pamphlet called The Story of a National Crime: An Appeal for Justice to the Indians of Canada that pleaded with the government to take action.
Later flashpoints included a CBC radio play in 1978 that flat out called residential schools a form of genocide at a time when some were still in operation.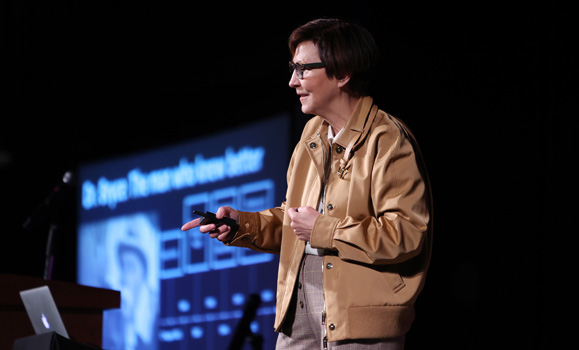 "Invisible colonialism has blanketed all of us."

How is it that caring, non-Indigenous Canadians who are up in arms about injustices around the world, somehow sit still when injustices are playing out in their own back yard? asked Dr. Blackstock. "How does that disconnect happen?"
The answer, says Dr. Blackstock, is colonialism, which has become ever more "textured" and "normalized," even for Indigenous people.
"And that's really when discrimination is the most dangerous. It burns like a fire that we could even warm ourselves against. It becomes comforting. We start to think about things like Indian Act cards as status cards. We start to tell tales about how we are so good to the Indians, that they get a free education."
This "invisible colonialism" is not just the taking of land, as in the past, but also the taking of the mind and identity — including of non-Indigenous Canadians, who don't feel the need to take action despite seeing evidence that it is desperately needed.
"It's dampened our moral consciousness, allowed us to distance ourselves from so much."
Trust children with the truth — and teach them how to get into trouble.

Part of the solution to combating inequalities is to teach children and trust them with the truth, said Dr. Blackstock.
"When you teach children about residential schools and other injustices, they grow up with the skills to be able to detect injustices and be able to stand against it."
She highlighted books and films, including those of Alanis Obomsawin whose Jordan River Anderson: The Messenger shares the story of how the life of Jordan River Anderson initiated a battle for the right of First Nations and Inuit children to receive the same standard of social, health and educational services as the rest of Canadians.  
Dr. Blackstock noted that we need to teach our children to get into trouble — but the right kind.
"We need to teach our kids to get into lots of trouble. But as I tell teenagers, 'Any fool can get into trouble for doing the wrong thing. That's for amateurs. What you really need to do is to develop the skills to get into trouble for doing the right thing because that's a lot harder. And sometimes the pushback you're going to get is a lot bigger.' And that's what we all need to do is get into trouble. And I think that's one of the teachings of the past."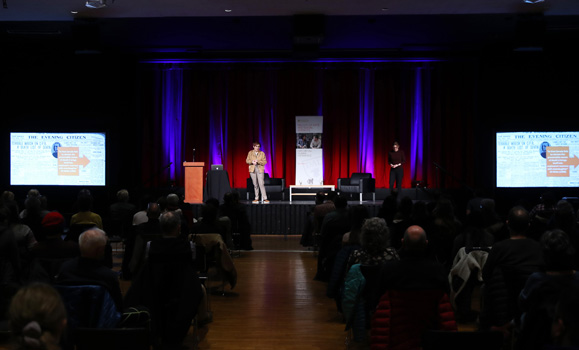 "Don't look away."

Residential schools may be gone, but other injustices facing Indigenous people and communities persist — and are happening on our watch, said Dr. Blackstock
"The key teaching for all of us is to not look away, it's that simple," she said. To ask those in power, how are you addressing the issue of murdered and missing Indigenous women and girls, how are you tackling the water crisis, and so on.
"These are the cycles we have to break for ourselves, but when we do break them, we can create change."
Ultimately, Canadians need to maintain their focus on these issues as they do the injustices playing out around the world.
"Yes, we should stand with the people of Ukraine, we should stand with the Rohingya, we should stand with those in Yemen, we should stand with those in Sudan and in Venezuala and other parts of the world where injustice happens. But let's stand with First Nations, Metis and Inuit kids, too.
"Let's make sure that this generation of kids never has to recover from their childhoods."
Watch Dr. Blackstock's full lecture on YouTube.
The Shaar Shalom Lecture at Dalhousie University is made possible through the generosity of the Shaar Shalom Synagogue of Halifax. It seeks to explore themes of tolerance, multiculturalism, diversity and difference in contemporary society, and demonstrates our shared interest in bringing in-depth discussion of these themes to wider civil society.