Reflecting on the past six years studying at Dalhousie, Erica Seelemann can't help but think of the little moments that have defined her experience at Dal — like an early morning rowing race competing with her best friend.

"You're trying to go as fast as you can and we're just yelling at each other in the boat. We didn't do very well. We did pretty badly actually," she jokes. "But it was just a really, really great experience."

While Erica may not be known for her rowing excellence (although she notes that they did win Dal's rowing team's 'Rowmance' award for two friends that met through the sport), she has certainly left her mark on campus since she first came to Halifax in 2016 from Thornhill, Ontario for her Bachelor of Science degree, where she majored in neuroscience and minored in applied ethics.

Now a master's student in the Faculty of Medicine's Department of Physiology and Biophysics, Erica has been awarded Dal's most prestigious student honour: the Board of Governors' Award. The award, presented to Erica at Tuesday's meeting of the Board, recognizes students for exceptional contributions or leadership in extracurriculars.
Seeking better balance in science

Erica studies cardiovascular physiology, specifically examining sex differences in different types of heart disease in a bid to ensure that research is not entirely male-focused.

"Females have been left out of scientific research and it's unfortunate because there are differences in the ways that males and females develop diseases and respond to treatments. The best medicine will come from having all the information," she says.

While Erica's research seeks to address longstanding disparities in scientific research, she's also a strong advocate for increasing representation of underrepresented groups in the scientific field.

"I am a woman in science, and I feel very lucky. In my department, there are a lot of strong women leaders, so I do see that representation around me, which is wonderful," says Erica, who also volunteers with the Canadian Association for Girls in Science.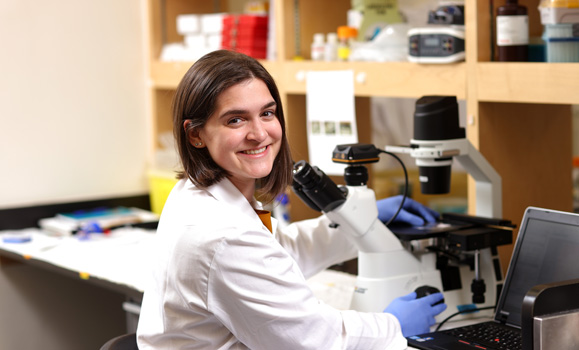 The road to research

Her personal interest in research was cemented almost 5,000 kilometres away from Dal's campus, where Erica studied abroad at the University of Bergen in Norway and completed a bachelor's thesis.

"I never thought I would like research just because all the work I've done has always been very people oriented," she says.

But after her time in Norway, she started volunteering in the same lab at Dal that she will complete her master's degree in. Even as an undergrad, her research work impressed experts in the field.

She's continued that excellence in her graduate research, which she has presented at five different conferences, and at two of which she won best presentation awards.

"Her hands-on skills for research work are exceptional," wrote Ketul Chaudhary, her master's supervisor in a letter of support for her nomination for the Board of Governors' Award.
 
A voice for students

Outside of her extraordinary research work, Erica has found time to give back not only on campus, but to Nova Scotia as well.

Erica served as the Dalhousie Student Union's vice president academic and external last year where she pioneered an addition to the student learning experience questionnaire that addresses how courses deal with issues relating to equity, diversity, and inclusion.

"The only feasible path we saw was having a way for the students to comment on it," says Erica, who worked on the project with the DSU and got it approved by the university's Senate.

While a DSU executive, Erica served on numerous university committees and taskforces including the Code of Student Conduct Review Committee and the Ombudsperson Advisory Committee.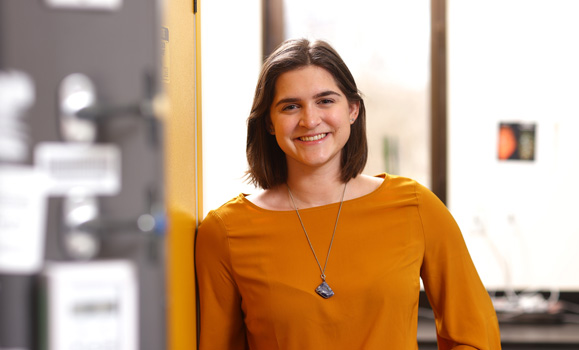 Compassionate and committed

It didn't take long for Erica to get noticed by Dal administration for her exceptional engagement with university governance.

"On our shared committees, I observed that Erica was always prepared, engaged, and contributed fully to the discussions," wrote Marty Leonard, dean of the Faculty of Graduate Studies, in a letter supporting Erica for the award. "I should note, as well, that Erica's outstanding contributions to University Governance are not at the expense of her academic or research records, which are also excellent."

Even after her term at the DSU, she served on the vice-president of research and innovation review committee. She also sits on the Senate Discipline Committee.

"Erica approaches her duties with a high level of concern, compassion, and commitment to meaningful outcomes. I can say without reservation that everyone involved in these processes has benefitted greatly from Erica's involvement," wrote Bob Mann, Dal's manager of discipline & appeals in his letter of support for Erica.

That level of concern and compassion is seen across communities, including as a respite worker for Autism Nova Scotia and a volunteer at Camp Brigadoon. She has also volunteered with the Canadian Cancer Society.

"No community exists in isolation. So, I've always tried to branch out and find ways to connect my interests with other ideas and work around me," says Erica.