A quarter century ago, Dalhousie made history when it became the first university in Canada to create a dedicated academic position devoted to Black Canadian Studies.

Since then, the four scholars who have held the James R. Johnson Chair in Black Canadian Studies — including current Johnston Chair, OmiSoore Dryden — have carved out a unique and lasting impact in the field through their work.

"It's important to recognize just how influential the Johnston Chairs have been in helping to develop the field of Black Studies in Canada," says Dr. Dryden, who has organized a series of public events for the coming months to mark the 25-year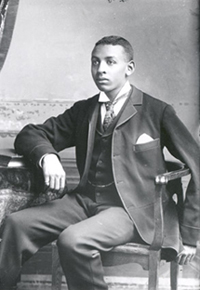 milestone.

Those gatherings begin this Thursday with an online lecture and conversation with second Johnston Chair, Prof. David Divine (2005-2009), titled on Talking to 'Others' from within my Authentic Self.

In March, members of the broader community and the Johnston family — descendants of chair namesake Mr. James R. Johnston the first African Nova Scotian person to earn a Dalhousie degree (Bachelor of Letters, 1896) — will join in a university-wide anniversary event to celebrate.

James R. Johnston is seen above left in an archival image.

A unique position

That Dal helped lead the way in the establishment of Black Canadian Studies was significant in itself, but as Dr. Dryden and others point out it is the unique structure of the chair that has made it even more ground-breaking.

Rather than a typical two-to-five-year appointment, the Johnston Chair carries a six-year term that provides even more time for chair holders to establish and advance their research programs and engage the community through a variety of activities, including conferences and events.

The chair position is also unique in that it rotates around to different Faculties depending on the chair holder's area of specialty. Inaugural chair holder Prof. Esmeralda Thornhill anchored and piloted the position from 1996-2002 in the Faculty of Law (now the Schulich School of Law), while Prof. Divine, Dr. Cooper and Dr. Dryden have been situated in the Faculties of Health Professions (now Health), Arts and Social Sciences and Medicine, respectively.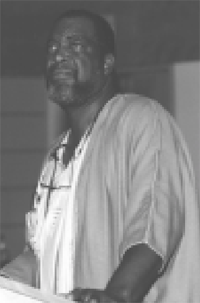 This rotating model has helped ensure Black Studies becomes a priority focus across different research areas at the university rather than just one.  

The Johnston Chair also comes with tenure, enabling chair holders to stay on at the university and continue to build on their work after their term finishes. 

"It was kind of brilliant, I thought," says Fred Wien, professor emeritus in the School of Social Work, of the chair's structure and its emphasis on helping to better integrate scholars into the university.

Dr. Wien was involved in many early discussions around the establishment of the position and recalls the idea for this model came from Mr. Burnley 'Rocky' Jones — the late Halifax-based African Nova Scotian lawyer, educator, and activist (shown above right).
Engaging the community

From day one, the Johnston Chair has been rooted in engagement with African Nova Scotian and Black communities.

Around late 1989, when Dalhousie was first approached by the federal government about setting up an endowed chair in Black Studies, one of the first things Howard Clark — Dal's president at the time — did was to ask Mr. Rocky Jones and Dr. Wien to bring the idea to the larger African Nova Scotian community to gain support. Meetings with prominent Black scholars at Dal also took place.

With seed funding worth $350,000 from Ottawa, Dal had a decent initial sum to officially set up the endowment in 1991 — 30 years ago this fall — but the university needed far more to build a sustainable chair program.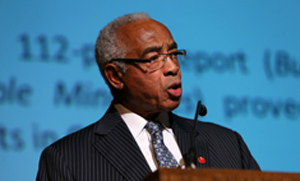 Nova Scotian-born law school alum Donald Oliver, who was a Canadian Senator in Ottawa at the time and closely engaged with Canada's business community, was instrumental in helping the university reach its $2.5-million target.

"The big picture was after 400 years of slavery and the existence of very bad anti-Black systemic racism, this was something that was very important if we could get it up and running," says Oliver, shown above left.

Along with Isabel Bassett, who served as his co-chair in the fundraising efforts, Oliver was successful in gaining substantial contributions from some of Canada's biggest companies, including TD Bank and Power Corporation of Canada. Oliver also negotiated substantial funding for the chair from The Province of Nova Scotia.

"I couldn't have been more pleased to have been involved one way or another with the chair to make it a reality," says Oliver. "It was a labour of love and not work. It was just something I believed in very strongly."
Fighting racism, building networks, probing history

The upcoming events organized by Dr. Dryden will provide a detailed glimpse into the significant impact past chairs have had on Black Studies at Dal and nationally.
Prof. Esmeralda Thornhill
During her tenure, Professor Thornhill, in partnership and collaboration with an ensemble of local, national, and international organizations, convened an international symposium on the needs of people of African descent throughout the diaspora. Titled Racism and the Black World Response, it was an initiative marking the United Nations third Decade Against Racism, Racial Discrimination, Xenophobia and Related Intolerance.

Prof. David Divine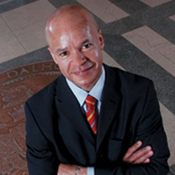 And Prof. Divine, a scholar of social work with an expertise in social housing, addressing social exclusion, Black men's sexuality, service delivery, HIV/AIDS, and immigration, planned a number of national and international conferences during his time as chair — including 2005's national conference Multiple Lenses: Voices from the Diaspora located in Canada, which acknowledged the 400-year anniversary of the first recorded presence of a Black person on Canadian soil (Mathew Da Costa in 1605).
Dr. Afua Cooper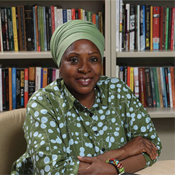 Dr. Cooper developed the Black Studies minor at Dalhousie — a first for a Canadian university — and established a number of networks such as the Dalhousie Black Faculty and Staff Association and the Black Canadian Studies Association. In the final chapter of her term, Dr. Cooper served as chair of the Lord Dalhousie Scholarly Panel on Slavery and Race — a major undertaking that resulted in an historic report that contained recommendations that have served as an important guide for decision-making at Dal around issues of equity, diversity and inclusion.
Dr. OmiSoore Dryden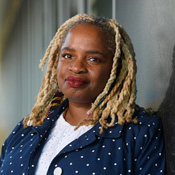 Now, as Dal celebrates 25 years of the Johnston Chair and 30 years since the inception of the endowment, it does so against a backdrop of increased awareness about anti-Black racism — something Dr. Dryden works hard to address, confront and disrupt in her role as Johnston Chair, including as co-lead of the newly created national group – the Black Health Education Collaborative,  the creation of a new Black Studies Research Institute (BSRI), and the student focused Johnston Chair Chats for Black students in health professions and Black graduate students.

"It is thrilling to be part of this stellar group of Black researchers and scholars and to become part of this national conversation on Black Studies, scholarship, and research," says Dr. Dryden. "I am very proud to be the first queer person to hold the Johnston Chair and am thankful to the descendants of Mr. Johnston who have welcomed me warmly to both Halifax and this chair. I'm very excited to see who comes next in the chair, and hope to be around in another 25 years to see what the Johnston Chair is doing at 50."