At first glance, it looks like a simple painting of a face. Look a little closer, though, and suddenly you're immersed in an underwater scene filled with sea creatures.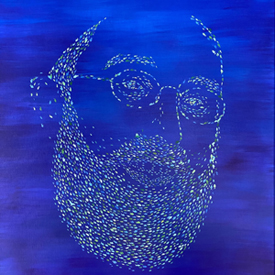 There are leatherback sea turtles, swordfish, white tip sharks, Atlantic cod, blue fin tuna, and humpback whales — six marine species that featured most prominently in the marine research of the late Ransom A. Myers.

Dr. Myers, known to many friends, students and fellow scholars simply as 'Ram,' was a beloved educator and conservationist whose decades working in Dal's Department of Biology were accompanied by the growing international influence of his work highlighting the effects of overfishing on marine species such as cod.

"As a kid I always loved Where's Waldo? In a way, this is kind of the inspiration behind the painting," says Carlo Myers, artist and son of Dr. Myers, of the interactive painting he created that depicts his father's face in micro-sized marine species.

Carlo created the work, Together, over the past year to commemorate his father's legacy. (For many years, Carlo has also donated his art to guests of the annual Dal-hosted Ransom A. Myers public lecture).
Recognizing Ram's legacy

The painting was unveiled this fall during a small ceremony for family and friends to celebrate Dr. Myers, the recipient of the 2021 Dal Science Legacy Award. First established by the Faculty of Science in 2018, the annual award recognizes members of the Dalhousie community who have made a significant contribution to science on a global scale.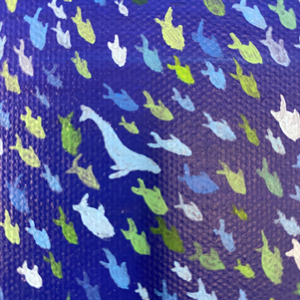 Dr. Myers was known world-wide for his accomplishments as a fisheries biologist and conservationist.  Among many accolades, he gained international recognition in the 1990s and the 2000s for his research on the effects of overfishing on marine species, such as Atlantic cod, pelagic sharks and bluefin tuna. He also drew global media attention for a paper documenting the dramatic decline of large predatory fish, which landed him on Fortune magazine's 2005 list of top 10 people to watch.
 
As an alumnus and faculty member, Dr. Myers' passion for ocean conservation significantly impacted Dal's Science community and his legacy lives on through the research of his former students and colleagues who continue to broaden understanding of the ocean.

Charles Macdonald, dean of the Faculty of Science, presented the award to the Myers family at the gathering, which was held in the Wallace McCain Learning Commons and drew others whose work has been influenced by Dr. Myers.

"Ransom Myers was my postdoctoral mentor, friend and colleague and has shaped my scientific path in so many ways," says Boris Worm, a marine conservation biologist at Dalhousie. "Several of his students are now professors at Dal, or abroad, others work on improving sustainability outcomes at DFO or Environment Canada, still others work for NGOs, trying to move ocean conservation forward."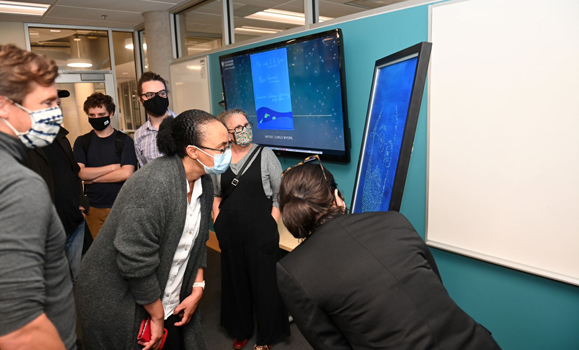 Dr. Worm says Ram was also an original thinker with big results.

"His innovative research and societal impact was decisive in putting Dalhousie on the global map as an ocean science and conservation powerhouse — a reputation that is still growing every day," he says.
A fun addition to a growing collection

Carlo's idea for the painting was spawned during an afternoon chat one day.

"Dr. Worm and I had a great idea of going up the memorial stairwell in the Life Sciences Centre. This is where most of my father's papers live. I took a tally of all the marine species. From there, I selected the top six that were most prevalent in his work," he explains.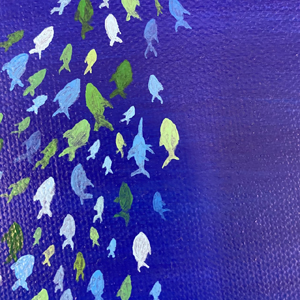 Carlo hopes viewing the painting will be a fun activity for the community.

"From far away, it just looks like a face. As you get closer, it's a face made out of fish and up-close it's a fun, interactive piece."

In partnership with Library Services, the Faculty has designated space in Wallace McCain to showcase Legacy Award recipients. The Dr. Myers painting is the second installment of art in the building, which also includes 200 Circles — an origami sculpture created by Dr. Erik Demaine (BSc'95) and his father, Martin Demaine. Dr. Demaine was the inaugural recipient of the Science Legacy Award and continues to be the youngest person in history to graduate from Dal.

The hope is to fill the popular student learning space with art that represents each recipient.

To learn more about the Dal Science Legacy Awards, please visit: dal.ca/science.