Students in a new beer-making course launched this fall at Dal took time to gather together at Dalhousie's T-Room pub on Sexton Campus last month to share a sampling of their newfound knowledge and the ales they made.

Gianfranco Mazzanti created the Brewing Science course — which, if you're wondering, is FOSC 4081 in the course calendar and not Beer 101 — to offer students interested in process engineering a compelling real-world application to test their knowledge.

"This was the first time I ever brewed, and I loved it," says Dr. Mazzanti, an associate professor of the Department of Process Engineering and Applied Science. "The majority of these students are chemical engineers who want to expand their knowledge of processes. What I'm doing is combining some science with engineering aspects with the act of making the beer."

Dr. Mazzanti was joined at the event by a guest lecturer from Shelburne, N.S.-based brewery Boxing Rock, which helped students hone their skills throughout the term.

"We partnered with Boxing Rock, and they took us to the factory and spent all day training us. Teaching us how to do industrial beer," says Dr. Mazzanti.

Students delivered poster presentations of their efforts upstairs from the T-Room in the TUNS Brewing facilities — a research-based brewing operation based at Dal.
Class, er, tasting notes

Students in Dr. Mazzanti's course made four types of beer, all of which were available on tap at the tasting and presentation event. They included an American Pale Ale, American Pale Ale Floor, India Pale Ale and a Belgian-style Witbier.
They created the brews following guidance from lcoal brewing expert Lorne Romano, who has worked with several popular Nova Scotia breweries.

As students tasted the beer throughout T-Room, opinions varied. From lightest to darkest, the brews tended to grow more hoppy in flavour. This brought on bitter, but not unlikeable flavours of molasses and coffee. A medium-coloured beer offered notes of citrus, specifically grapefruit. It was a favourite among a few tables.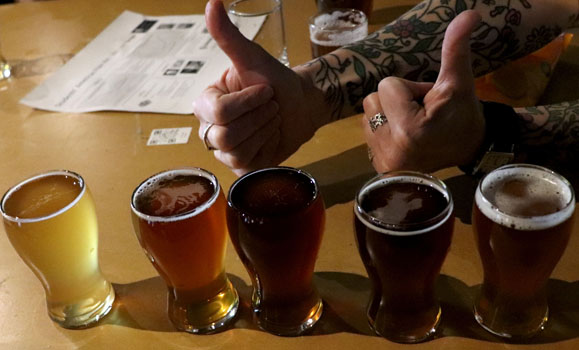 A flight of beers brewed by students in FOSC 4081 at T-Room.

Each beer was brewed in small batches of 18 litres. Students worked in groups of three to match assigned recipes rather than original recipes.  

"This term, I didn't know enough to have each student make their own beer. I was too ignorant to be safe doing that. So, the challenge I gave the making a beer as good as the brew master. They followed a recipe and had to understand each step and make that beer," says Dr. Mazzanti.

The students also learned to differentiate scents and tastes in the beer that make them unique. Dr. Mazzanti hopes to expand the course next year, offering a more individual approach to brewing.

"I think next year I might move the course a little bit earlier and train them better and give them the freedom to make their own beer," he explains.
Raising the bar with Dal's teaching experts

As Dr. Mazzanti developed this novel course, he worked with Tereigh Ewert, a senior educational developer with the Centre for Learning and Teaching at Dal.

Ewert's job was to guide Dr. Mazzanti on the best pedagogical practices. This included defining objectives and outcomes and helping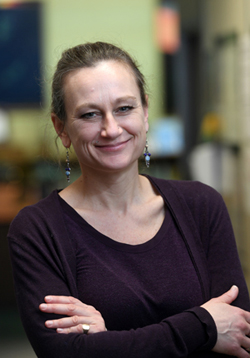 think through rubrics and assessments.

"We brought in some elements of Universal Design for Learning by including multiple means for students to engage in and demonstrate their learning. It's an experiential course, so there were lots of opportunities to do this," says Ewert, shown right.

The structure of the class let students learn in a hands-on environment with real-time results.

"Gianfranco encouraged students to take risks and to learn from elements of the process that didn't go quite as they'd planned," she says. "When it's safe for students to take these risks, mistakes allow for deeper learning and are a beautiful thing."

Ewert attended the student presentation and beer tasting last month, supporting Dr. Mazzanti and his students in their accomplishments.

"There have been so many unique opportunities for students to demonstrate what they've learned in the course and it's really exciting to see it all come to fruition," she says.
Hands-on learning with hops

The Brewing Science course was designed for students from all departments, encouraging learning in a fun environment.

Fourth-year chemical engineering student Emily Murphy recommends the course for other engineering students.

"It has a lot of aspects of process engineering, which is what chemical engineering is about. So, you really get hands on experience with the whole pilot scale process which you don't really get learning in class," she says.

Emily took the class as a fun elective and enjoyed the entire process.

"It was really good. I've never made beer before, and I didn't know how to make beer. So, we started from the beginning and just learned the whole process of brewing," she explains.

Dr. Mazzanti encourages students from all faculties to take part in the coming semesters.

"The nice thing about this course is anyone can take it and make their own beer and focus on your own preference."