Sachin Seth (BSc'96, DDS'00) was the Faculty of Dentistry favourite in the 2018 Great Canadian Baking Show season, turning out cakes and confections each week that almost looked too good to eat. He baked his way to the show's final episode, only to see someone else take the cake in the end.
Now he's back (think Arnie in an apron), pushing his skills to the limit on the 2021 Great Canadian Holiday Baking Show. Will he be the topper on the cake this time? Find out on December 12, 8:00 PM on CBC and CBC Gem.

Your fans will be delighted to hear that you are appearing on the Great Canadian Holiday Baking Show. What was it like to return to the tent?
Sachin Seth: This is the second holiday special the CBC has had. Like last year, they brought back contestants from previous years and the filming took place over a few days in Toronto.

Planning for the show began early last spring. At that point, people weren't vaccinated, so it was difficult to know whether to commit to the show or not. But the timing ended up being perfect. The filming took place in July, which is when our clinic shuts down for a few weeks in the Faculty of Dentistry. It was my first time on a plane since before COVID started, so going to Toronto was a step back into the world again. It was sort of a fantasy world in a way – we were making Christmas goodies in the heat of July, after all – but also a very new real world.

Unlike in 2018, we had to deal with all the COVID restrictions. The production crew took everything very seriously and there were great protocols for safety. We had a closed set and when you were interviewed, you had to wear your mask right up until the interview started and then replace it immediately afterwards.


How would you compare participating on the holiday show to being on season two of the Great Canadian Baking Show?

SS: There was a familiarity with the setup in the tent this time around. All of us had watched each other's shows, so it felt like a bit of a reunion even though we were meeting for the first time.

Even though the holiday show is a competition, it was just one episode. I felt much more relaxed about it this time, even though — as you will see — there were some stressful moments for me! At the end of the day, this show is always about having fun. I really learned from my experience the first time around and I feel lucky to have been given another opportunity.

Where were you when you received the call from the CBC about the holiday show and what were your thoughts?

SS: It was a nice day, and I was out for a walk. As I was walking, my phone rang and I wondered who was calling me from a 416 number. Sure enough, it was the production team, asking me if I wanted to come back for the holiday special. Of course, I love the holidays and making holiday food for my family, so I was really happy that it all worked out and I could be on the show.

Did competing feel as intense as it did during the series?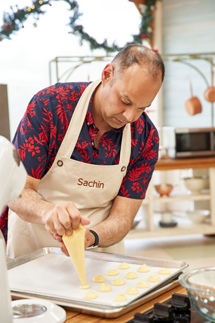 I would say that the holiday special was not as intense as the series, but it was equally challenging. All the contestants this time were finalists in their season, so I was competing against the best of the best. I found myself working even harder as this was my second chance for victory.

Are you able to talk about structure of the show and the number of challenges you had to fulfil?

SS: The holiday special mimicked the structure of the series, with a signature, technical, and showstopper bake. But there was a holiday spin on it all. I always enjoy the technical bake. Even though it was the holidays, the challenges were as rigorous as ever — there was not one gift from the producers!

Q: Is holiday baking something you normally enjoy?

SS: I absolutely love holiday baking for so many reasons. Number one, it's the one time of year that no one complains about eating sweet stuff. I also love the flavours and spices of the season, which warm everything up. Also, it may sound cheesy, but I love seeing people enjoying themselves and my food. It's great to have a bit more time over the holidays to indulge in making things like almond and chocolate croissants, cinnamon buns, squares, biscotti, and pies. I've also recently started making fruitcakes because I get a lot of requests for those.
Has the Great Canadian Baking Show changed your life?

SS: It has definitely changed my life. For one thing, I get recognized a lot more in restaurants and when I'm walking around Halifax. People are so supportive — it's really touching. Beyond that, I had an eight-episode lesson in how to deal with stress, heat, and multiple competing priorities. I find I function differently in high-stress environments now. I always felt I was able to stay calm under pressure, but I think this show made me even better at it.  As far as my baking goes, I'm making things that I never would have dreamed of attempting — and that's always very exciting.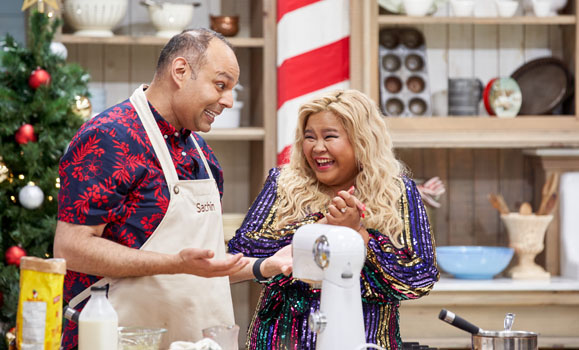 How do you get your two worlds — baking and dentistry — to fit together?

SS:  I believe in a healthy work-life balance — I make time for work and I make time for play!  After the filming was finished in July, I took on the role of acting associate dean of academics in the Faculty of Dentistry, so I didn't have a lot of free time. But the great thing with baking is that I can put it on hold and a couple of weeks later pick up right where I was before. Having a bit of a breather can be good. I'm planning to do a lot of baking over the holidays, so by the time January rolls around I'll be happy to focus on school again.

Do your work and baking worlds ever converge?

SS: I have students who sweetly say to me "You know, Dr. Seth, if we could taste a cookie or a cupcake, that would be so cool." I will try to find time in the new year to treat my students — bearing in mind I have almost 300 students to feed!

Students, you heard it here.