After expanding from 10 to 12 members during its second year, Dalhousie's OpenThink initiative for PhD students is now recruiting for its third cohort — set to launch in January 2022.
The year-long professional development program is run by the Faculty of Graduate Studies and positions a select group of PhD students as thought leaders in their respective fields, providing them with the communications training and platform to reach public audiences and share their research-based opinions. OpenThinkers receive a $1,500 scholarship and are also eligible to apply for additional funding to attend relevant conferences and workshops throughout the year.
Building on last year


The 2021 cohort of OpenThinkers represented five faculties and included three students from the Interdisciplinary PhD program. Their regular posts on the OpenThink blog explored topics as diverse as the Taliban's resurgence in Afghanistan, the strain faced by healthcare workers in the wake of COVID-19, the complexities of organized crime, antimicrobial resistance, how parasitic wasps effectively transform their hosts into zombies, and more.
In addition to their blog posts, five of this year's OpenThinkers had articles appear in the The Conversation Canada, which were later republished by Dal News and other media outlets.
Due to public health restrictions, the entirety of the communications training received by the group took place online, which included workshops led by experts from Dalhousie, the University of King's College, NATIONAL Public Relations and The Conversation Canada on how to respond to media requests, pitch stories, effectively use social media and more.

The current expectation is that the 2022 cohort of OpenThinkers will be able to take part in more in-person workshops and meetings as COVID-19 restrictions ease in Nova Scotia.
Better together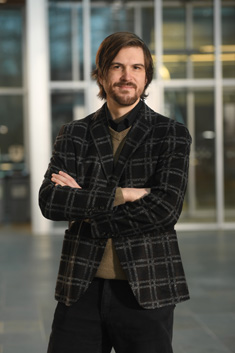 "I can only imagine how much better it would be to work with fellow OpenThinkers in person," says English PhD student Michael Cameron (shown left), a member of the 2021 cohort. Cameron, whose research explores post-apocalyptic/dystopian literature and its parallels with contemporary politics, touched on a variety of subjects in his monthly posts, from climate change fiction, to "Indigenous Gothic" literature, to the billionaire space race between Jeff Bezos and Richard Branson.
Despite the online-only aspect, Cameron described his experience in the program as "enjoyable and rewarding," and noted that he found his fellow OpenThinkers to be "helpful and encouraging." He also praised the workshops and training provided. "The interplay between the training at the beginning and the experience of writing and publishing the blogs was where everything really clicked, as what we learned in theory could then be proven in practice."
While PhD students regularly juggle many commitments, Cameron recommends anyone interested apply for the program: "It's not that much extra work, but you get a lot out of it."
Apply now for the 2022 OpenThink cohort

Applications from currently enrolled PhD students from all faculties are now being accepted until Friday, December 17, 2021 at 5:00 p.m. You can find the application form and more information about the program on the Faculty of Graduate Studies website.
Profiles of current OpenThinkers and their posts from throughout the year can be found on the OpenThink blog. Have a question? Contact OpenThink@dal.ca.