It's a common worry for athletes of all stripes, especially those as dedicated to their sport as Ashley Jackson was to the Dal Tigers varsity basketball team: suffering injuries that make it tough to play.

For Ashley, these setbacks came far too early in her varsity career.

"I broke my ankle in second year, had a couple of concussions and basically had to sit on the sidelines the whole time," she recalls. As the year went on and difficulties continued, Ashley gradually came to accept that it might be wise to wind her time as a varsity athlete down.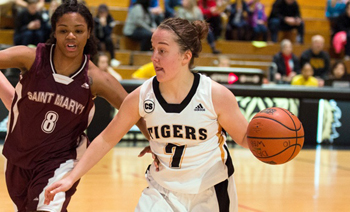 She felt at peace with the decision but also disappointed and adrift. The Medical Sciences student had been known as "the basketball player" for most of her life. The loss cut deep into Ashley's sense of her own identity, carving out a big hole.

She began to fill the hole with other pursuits. She took up a coaching job as a student assistant for the University of King's College women's basketball team. She threw herself deeper into community work as a volunteer. She began to spend late nights in the lab developing an interest in medical research.

In short, she adapted.

"That was definitely something I had to learn how to do. It was kind of trying to fit in and contribute wherever I could. And I think with medicine, you need to be adaptable as well," says Ashley, who graduated from Medical Sciences last spring and is now in her second year of medical school at the University of Ottawa.

Adaptation isn't just useful during challenging circumstances and moments of uncertainty, though. It can also be key during times of triumph as well — like the one Ashley experienced this past weekend when she learned she'd been selected as one of this year's recipients of the Rhodes Scholarship. Now, as she prepares to head to the University of Oxford with one of the world's most generous and prestigious scholarships in hand to pursue her interests in medical research, she'll be adapting to a new university in a new country halfway through her current degree.

With her application sponsored by her alma mater, she becomes Dalhousie's 93rd Rhodes Scholar — a total that rivals all but a handful of universities across North America.  She is one of only 11 students across the country to be chosen as a member of Canada's Rhodes Scholars Class of 2022.

Nick Harris, a fourth-year student at the University of King's College who is completing his Bachelor of Arts degree at King's and Dalhousie with a combined honours in Political Science and Law, Justice & Society, was also selected this weekend to receive the Rhodes. Read more about Nick on the King's website.

"A Rhodes Scholarship is one of the world's most esteemed student awards," says Dal President Deep Saini. "Rhodes Scholars are chosen based on character, commitment to others and the potential to become a world leader. I am delighted to share this news that members of our Dal community have once again been selected for this incredible global honour."
An unlikely path

Medical research isn't an avenue Ashley ever expected she'd be invested in. As a teen growing up in the small town of Chatham, Ont., her common answer to what she wanted to do as a career was both decisive and indecisive at once: "I would always say, 'I don't know. I just know I don't want to be a lawyer or a doctor.'"

Ashley's perspective changed drastically after her father was diagnosed with colon cancer when she was 17. She attended some of his doctor's appointments and would read the reports that came back. "I found it really fascinating," she says.

While the diagnosis was obviously a blow to Ashley and her family, it motivated her to learn more about cancer and the different treatments for it. At Dal, she used some of those newfound hours off the basketball court to explore cancer research even further — breast cancer, specifically — under the tuteledge of Christopher Sinal of the Department of Pharmacology. Dr. Sinal would become her honours supervisor.

"He gave me a lot of free reign," says Ashley. "I'm a night owl, so he was comfortable with me being in the lab late. He just gave me a lot of space and freedom and was very encouraging."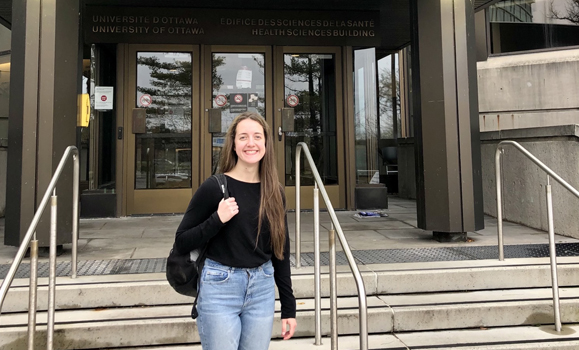 Even during the intensity of studying the first two years of medical school during a global pandemic, Ashley has kept one foot in the research world through her involvement with the University of Ottawa's Oncology & Anatomy Interest Group — collaborating with physicians, learning about the field, and gaining access to related research projects. It's an experience she plans to build on at Oxford, where she hopes to pursue her Master's of Science in Oncology.

Julie Jordan, an instructor in the Faculty of Science and the program and honours coordinator for the Medical Sciences program, remembers Ashley's dedication well.

"Ashley always proved to be a hard-working student, committed to reaching her long-term goals," says Jordan. "Despite her many accolades and awards, she remained humble. Through my interactions with Ashley, she demonstrated respect and kindness and was always very thoughtful in her actions."

Among the many awards she received while at Dal were the Chancellor's Scholarship (received every year), the Dalhousie Medical Sciences Character Award and the Department of Pharmacology's John G. Aldous Prize.

"Ashley is very deserving of this prestigious award," says Chuck Macdonald, dean of the Faculty of Science. "She exemplifies exceptional leadership, academic excellence, and a commitment to making a positive impact on her community. We are very proud of her achievements."
Change you can see

Ashley's time as a student in Halifax also afforded her other opportunities to develop new perspectives. She spent a summer before her third year working at the North End Community Health Centre on a project to improve use of its youth dental program.

"They wanted me to figure out why these dental services weren't really being accessed, and what I found was that a lot of people were facing barriers because the clinic was only open 9-5 when a lot of parents were working," she explains.

She reached out to the Halifax Regional Centre for Education and went to work helping create a transportation program with supervision for the children so that they could come the health centre for dental services during the day. The project ignited in her a passion to explore the social determinants of health, which are those non-medical factors that influence health outcomes.

"It was a very tangible change where I was able to see how it would help people directly," she says.

The contribution was one of many Ashley made to the Halifax community and beyond during her time at Dal. As coordinator of an independent book drive, she collected more than 3,000 books across Dal campuses and raised the money to ship them overseas to fill two libraries in Ghana and one in Sierra Leone. She facilitated recreation therapy programming for residents at the Camp Hill Veterans' Memorial Building at the QEII (think bocce ball and BINGO). And she also helped out the United Way, the local Make-A-Wish foundation and more through fundraising and advocacy efforts.
A guiding principle

At the core of all Ashley's efforts, whether in the community, the lab or the clinic, is a commitment to leaving everything better than how she found it.

"One of my high school basketball coaches used to say that a lot," she recalls. "He was very much of the stance that he wasn't just making good basketball players, he was wanting to make great people. He talked to us a lot about that.'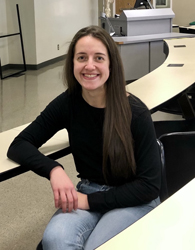 That's how she approached her own coaching efforts, too, as she worked with high-school age girls and coached games in the Halifax Metro Basketball League. And by the time she left Halifax and her role as an assistant on game strategy and recruitment with the University of King's College women's team, the club had made tremendous strides from previous years to eventually qualifying for the conference finals.

Tim Maloney, executive director of Athletics & Recreation at Dal, says his department is thrilled to hear the former Tiger and Academic All-Canadian has been named a Rhodes Scholar.  "During her time as a Tiger, Ashley exemplified commitment to her studies, sport and community," he says.

Setting the bar high in basketball is one thing. But how does the approach hold up in the field of medicine, especially in high-stakes encounters with cancer patients and in surgical scenarios requiring split-second decisions?

"I think I've learned to just be confident in what you know and your skills, but also just be humble and know that you may not always have the answers to every question," she says. "It is important to recognize your limitations and work collaboratively with others when there are gaps in knowledge. That takes a bit of the stress off."

In a sense, it once again comes back to adaptation and being able to work well through sometimes uncertain situations. Yes, there will be difficult decisions to make, says Ashley, but if at the end of her career the state of medicine is better off than it is right now then that's a win — especially in the field of cancer research.

"People always say, 'Oh, when are we going to find the cure for cancer?' And I think a lot of people understand that every cancer acts a little differently, so there probably will never be a catch-all one cure for cancer. It might not be in my lifetime that we come up with some massive technology or change, but I think if I'm able to contribute to the research field in some way that down the line will eventually lead to improving cancer care or patient outcomes or quality of life for cancer patients then that would be leaving something better than how I found it."