A new bench designed by a recent Dal architecture grad was installed this month in downtown Truro to pay tribute to another past School of Architecture student who lost his life to addiction in 2014.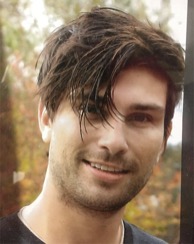 The Approaching Centre Bench was designed by Andrew Falls (MArch'20) as part of a design competition honouring the memory of Lucas Austin (shown right).
Lucas, who created the Lead with your Heart Society just months before his own death to raise money for mental health, was well known in the Dal architecture community as a dynamic and creative young student.
"I knew Lucas, his talent and the life he brought to the classroom, and I know Andrew well," Roger Mullin, a professor in the School of Architecture and chair of the design contest, told a small crowd gathered for an unveiling event last weekend.
"I think they would have been friends, and I know Lucas would love Andrew's design," he added.
When Lucas and his partner, Jill Ritchie, first launched the Lead with your Heart Society, they would tango dance on the Halifax waterfront to raise money. The society has grown over the years and now provides alternative, creative therapies and a mental health peer support group.
'A cocooning formation'

Several members of Lucas's family and friends attended last week's event, which included remarks from Lucas's mother and Susan Henderson, executive director of Canadian Mental Health Association (CMHA).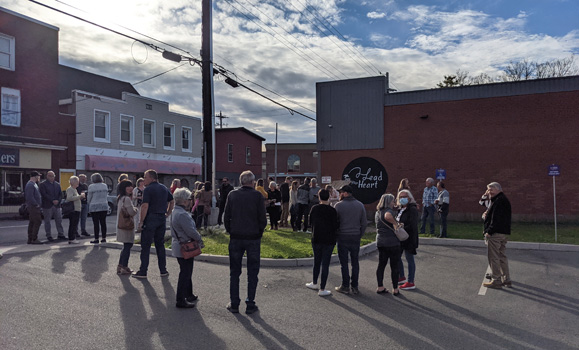 Friends and family gather on Prince Street in Truro for the bench unveiling last Saturday.

Andrew's concept for the bench — installed next to the CMHA building in Truro — was to create a space where someone can go for conversation to help with feelings of alienation and loneliness.
A plaque affixed to the bench describes it as "a cocooning formation that encourages open conversation and growth through a focus on a lightness beyond one's current state."
The bench was constructed in September of 2021 by builders Rob MacCormick and Brad Lowe. It features long planks of timber arranged in a curved shape (reminiscent of a cocoon on one side) with adequate space between boards to let light filter through — a nod to Lucas's "creative light."
Andrew's bench design was chosen out of seven submissions to the The Lead with your Heart design competition launched last summer. The contest was open to Dal architecture students and graduates, who were asked to submit detailed drawings of their bench designs, site plans, as well as a 100-word description of the design including a name

Selection of the winning design was carried out by a jury consisting of members of the Lead with Your Heart, the builders and a representative of the School of Architecture.
Donations can be made to Lead with Your Heart or to the Canadian Mental Health Association.

Explore the bench from various angles below