COVID testing has been one of Nova Scotia's biggest pandemic success stories. Now, it's a Dalhousie success story as well.
Thanks to the work of a small dedicated team and hundreds of volunteer hours from members of the Dal community, nearly 25,000 asymptomatic rapid tests have been administered or distributed on campus since the start of September — 24,390, to be exact, as of October 12.
More than 15,000 of those tests have been in the last two weeks alone. Since moving to its new home in the Macdonald Building at the end of August, and with the launch of take-away test kits people can complete on their own time, Dalhousie's on-campus rapid testing program has grown by leaps and bounds every week.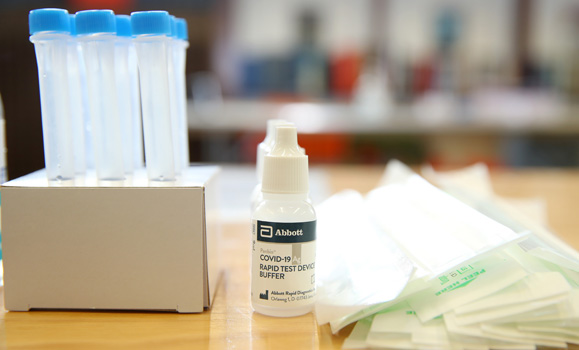 Test kit materials.
Credit a combination of word of mouth, Campus Check testing requirements, and general interest in health and safety during COVID's fourth wave with helping make rapid tests such a hot campus commodity. 
The popular thing to do

"During the summer we were doing 20 tests on a good day [at the clinic] — now, we go through that in an hour," says Dylan Thornton, a fourth-year Kinesiology student who volunteered with the testing program during its pilot phase this summer and now works as one of the program's site leads.
During that pilot phase, all tests were done in-person. Now, with students back and more people returning to on-campus work, the program has expanded to two physical testing sites — in the Macdonald Building in Halifax and Health Services in the Dairy Building in Truro — along with a network of seven different locations across Dal's campuses where people can pick up their own test kits.
The take-away test kits, in particular, have proven exceptionally popular. Simple, easy and speedy to complete, the test produces a result in less than 15 minutes. Over the past two weeks, these kits represent 95 per cent of on-campus testing.
"I've had people say, 'Oh I did that during an online meeting!'" says Liane Sandula, who normally works as facilities and safety manager for the Faculty of Engineering but who is temporarily overseeing Dal's testing program. "I think a lot of people are surprised how easy it is, and that it's not a 'brain tickler' like other tests are." (Unlike lab tests and rapid tests done at provincial pop-up sites, the swabs for these rapid tests only need to go a few centimetres into the nostril.)
Getting tested on campus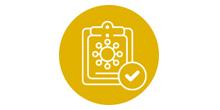 There are two ways you can get tested on-campus:
To get tested on campus, you CANNOT be: under 16; symptomatic (a cough, or two or more other symptoms); required to isolate due to travel or COVID-19 exposures; required to test due to COVID-19 exposures; tested COVID-19 positive in the last 90 days
Learn more: On-campus rapid testing
A positive experience (but not that kind of positive)

Rapid tests are only for asymptomatic individuals; people with symptoms, who are required to isolate, or are required to test due to COVID-19 exposures still need to undergo a lab test. And all positive rapid tests still need to be confirmed by a full lab test.
But given that people with COVID don't always have symptoms, or can spread COVID before they are symptomatic, widespread rapid testing can help slow or stop outbreaks before they happen. During the third wave this past spring, it was estimated that 10% of Nova Scotia's cases were identified through rapid testing.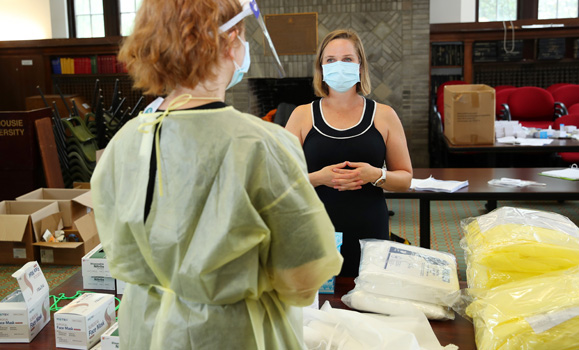 Test program manager Liane Sandula (right) chats with student team lead Eileigh Kadijk.
Dalhousie's rapid testing program is part of the province's workplace testing program, which makes rapid tests available to businesses and organizations. Judging by responses from the Dal community, it's been well received.
"It's been really positive — people are almost excited to be doing COVID tests," says Sarah Pietarinen, who recently joined the team as a testing coordinator. "They're excited this is here, and we see a lot of return users who are happy the kits are here for them and happy to be using them."
While the reactions have been positive, the results have been almost entirely negative — in a good way. As of October 12, only three positive results have been identified and reported through Dalhousie's tests, all of which were subsequently referred to PCR/lab testing for confirmation. (Those lab results are not reported back to the university.)
A Dal-wide effort

Dal's testing effort wouldn't be possible without the impressive support of volunteers, from those conducting registration, swabbing and testing at the two clinic sites through to the more recent push to assemble as many test kits as possible. Previously, tests were limited to a one-week shelf life, but recent new procedures in the workplace testing program allow the team to stockpile more tests: this week alone, the testing team is expecting supplies to arrive from Nova Scotia Public Health that will allow them to assemble another 20,000 kits.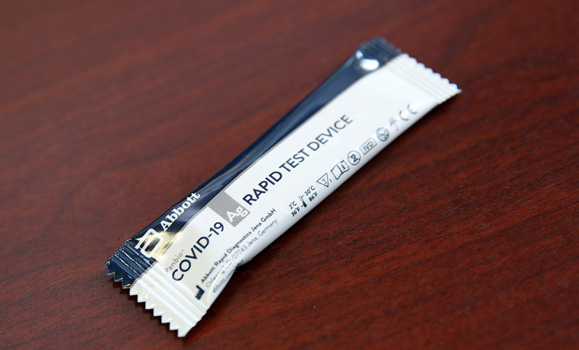 A packaged test cartridge.

Volunteers from across the Dal community have been coming out in strong numbers over the past few weeks — as individuals and as groups — to assemble test kits. For many departments and faculties it's become a team activity, with entire offices or labs signing up to put test kits together as a group. With busy schedules, volunteer sign-ups can happen in ebbs and flows. For this reason the testing team now includes a dedicated group from Teamworks who make sure kits can always be produced when needed.
"It's been awesome to see everyone come together," says Pietarinen. "Everyone is so thankful for what we're doing here."
It's been a particularly illuminating experience for Thornton, who transferred to Dalhousie two years ago and whose experience getting to know Dal and Halifax have been limited due to the pandemic.
"I didn't really get a chance to engage myself in the community that much. So it's been a really cool experience seeing the whole community come together, especially in the past few weeks, with everyone doing their part to keeping each other safe."
HOW TO VOLUNTEER
Want to help Dal's testing program continue to be successful? Volunteer to help assemble test kits for the Dalhousie community or conduct in-person tests at the test centre.
Signing up as an individual? Complete this web form and you'll be directed to the volunteer schedule to sign up for a shift.
Signing up as a team or group? Email dalcovid@dal.ca with your group information (name, number of individuals) and the testing team will contact you with more details.