The lights and sound equipment have been dusted off, the costumes assembled, and the stage set for the return of live, in-person performance with an audience at Dalhousie.

For the first time since the COVID-19 pandemic took hold in early 2020, members of the public are being invited back in to enjoy the thrills of a live Fountain School performance with The Dog in the Manger — a theatrical production opening Tuesday evening (Oct. 12) in the Sir James Dunn Theatre.
The play is one of four productions being planned this year as part of DalTheatre's 2021-2022 season, all centred around the theme of masks and faces.
All productions follow Nova Scotia provincial health guidelines, including requiring proof of vaccination for audience entry into performances.
'Volcano of desire'

Originally written by Lope de Vega, a 16th century Spanish playwright, poet and novelist, The Dog in the Manger has been updated for pandemic times under the guidance of director Roberta Barker — an associate professor in the Fountain School and the former acting dean of the Faculty of Arts and Social Sciences.
The production is described by DalTheatre as a "socially distanced sex comedy" in which a "mask of propriety conceals a surging volcano of desire." When central character Countess Diana learns her secretary is courting her lady-in-waiting, "she longs to have him for herself."
"As these passionate young people navigate the image-conscious society of early modern Naples, their true faces and desires are exposed — but perhaps some new masks will appear in their place," reads the Fountain School's synopsis.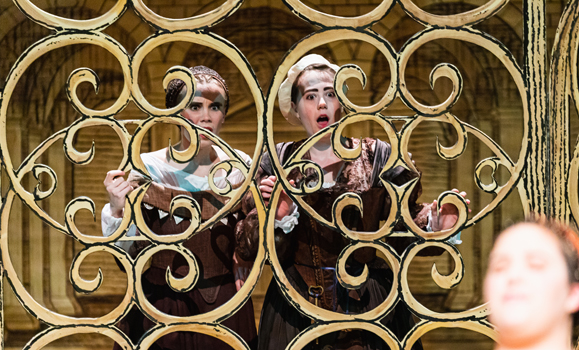 Hermione Davis (Anarda) and Stephanie Simons (Dorotea).
Dr. Barker's previous directing credits include Troilus and Cressida, Fuente Ovejuna, The Witch of Edmonton, The Mill on the Floss, She Herself is a Haunted House, Drums and Organs (DalTheatre / Fountain School), Orfeo ed Euridice, The Rake's Progress, Luisa Miller, and Aunt Helen (Opera Nova Scotia).
Original set design for The Dog In the Manger (translated by David Johnston) was done by Karyn McCallum and adapted by associate set designer Danielle Wilson. Costume design was also done by McCallum.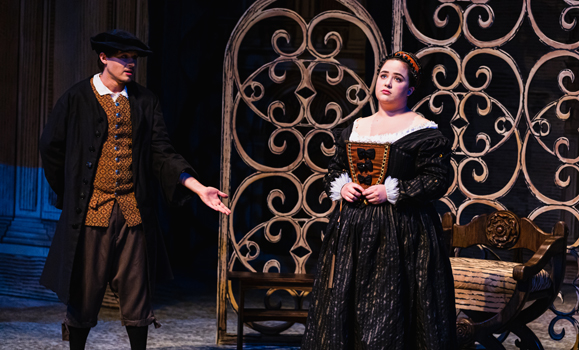 Gabriel Christie (Octavio) and Marianne Labrie (Diana).
Just the beginning

The Dog in the Manger runs October 12 to 16 at 7:30 p.m., with a matinee October 16 at 2:00 p.m.
The DalTheatre season continues later this year and into the next with the following productions:
● PEOPLE, PLACES & THINGS, November 30 – December 4

● 2022 DEVISED PRODUCTION, February 8-12

● THE CRUCIBLE, March 29 – April 2
The Dal Wind Ensemble, Dal Jazz Ensemble, Dalhousie Chorus and other musical ensembles will also host a variety of performance throughout the coming year.

Information about and tickets for these and all Fountain School productions are available at the Dalhousie Arts Centre Box Office.