It's a wrap on year one of Dal Insight Circle — an online volunteer community that provides feedback to Dal Advancement on key initiatives — and the team behind it looks forward to expanding its reach in year two.

Dal Insight Circle launched in September 2020 attracting over 585 volunteers, including alumni, donors and friends of Dal. Participants answered a questionnaire once each month on a variety of topics, initiatives and programs, including: equity, diversity and inclusion; communications; career services; alumni benefits; impact and stewardship; and Dal's global rankings and internationalization efforts.

"It was designed to listen to community members who lend their unique voices and expertise to the work of Advancement and the broader Dalhousie mission," says Stacey de Molitor, manager of alumni programs, who oversees the program with strategic support from Juuso Vesanto, business intelligence analyst.

The non-anonymous data Dal Insight Circle informs strategic decisions, highlights new opportunities, tests how existing initiatives are being received and ultimately enables Advancement to customize and improve future engagement.
Serving Dal partners

The Faculty of Open Learning and Career Development used the Dal Insight Circle to gather alumni perspectives when planning DalOpen — a non-traditional way of learning at Dal that will be accessible, flexible and convenient. It's going to offer online, self-paced learning, microcredentials, badges and more.

"The feedback we received from alumni participants was invaluable. The alumni participants represented a wide range of backgrounds, sectors and life journeys, giving us an equally wide range of perspectives on the questions posed, providing us with a rich set of data upon which to base our decision-making," says Dianne Tyers, dean in the Faculty of Open Learning and Career Development.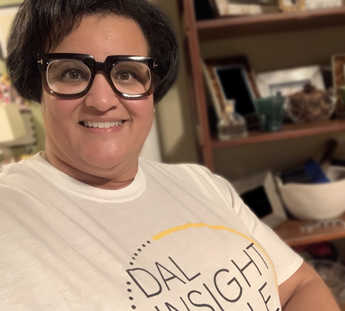 In year one, 3,912 surveys were completed for a total of 63,450 unique data points. Highlighted insights are reported back to participants, 80 per cent of whom rated their year one experience as four stars out of five or higher.

"As an alumna with a busy life, it is hard to find ways to stay in touch with what is happening at Dal. The Dal Insight Circle helps me be connected to Dal, doesn't require a huge time commitment, and allows me to give back in another way," says participant Natalie Borden (BScPh'94), shown left.
Gold medal win

Dal Insight Circle exceeded its initial recruitment goal by 13 per cent and established a diverse, statistically representative sample. Monthly participation rates were consistently between 65 and 75 per cent in its first year.

For its simplicity, reach, broad application and low cost, Dal's Insight Circle was awarded the Gold Medal for Best Volunteer Initiative in the 2021 Canadian Council for the Advancement of Education's national Prix D'Excellence Awards.

In year two, goals include retaining and recruiting volunteers for a total of 750 participants, expanding key internal partnerships and collecting more targeted demographic information.  

People interested in learning more may email volunteer@dal.ca or call 902.494.6857.